HHS Drama Club's "Not-So-Scary" Trunk-or-Treat
[slideshow_deploy id='5739′]
On Saturday, October 24th, Haverford's Drama Club held the first "not-so-scary" trunk-or-treat fundraiser filled with costumes, music, games, and crafts for children from the community. In the back parking lot of the high school, trunks of cars were elaborately decorated with creative themes such as The Wizard of Oz, under the sea, "Metpupolis" (a dog-themed parody on Superman's home city), a gumball machine, and many others. Decorating trunks was not limited to members of Drama Club, as other people from the community were welcome to participate. Drama Club provided the candy for each trunk, and the children who attended could go to each car and select a Halloween treat. In addition to the main event, there were craft tables, a temporary tattoo station, field games, and freeze dance. The fundraising aspect of the trunk-or-treat came from ticket sales, Drama Club merchandise, a 50/50, and a raffle. 
Members of the club began to arrive well before the festivities started to set up and decorate for the guests. A smoke machine as well as a bubble machine added to the exciting Halloween atmosphere of the trunk decorations.  An outdoor stage with microphones was also set up by the tech crew ahead of time for announcements and a live performance.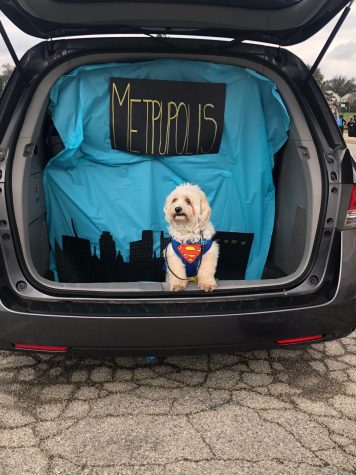 The trunk-or-treat was a fun opportunity for Drama Club to fundraise while following COVID-19 safety restrictions. At the entrance of the parking lot, there was a check-in table equipped with a hand sanitizer dispenser. Also, everyone was required to wear a mask and asked to stay six feet apart for the duration of the event. During freeze dance, participants were confined to their own hula-hoop, which was far enough away from others in order to maintain a safe distance.
In addition to running the event, Drama Club members were dressed in costume to add to the Halloween festivities. Some students dressed as Anna from Frozen, Elsa from Frozen, Princess Leia from Star Wars, Merida from Brave, Rapunzel from Tangled, and Dorothy from The Wizard of Oz. 
The director of Drama Club, Sarah DeNight, explained that since this is a self-funded club, this type of event helps to raise money. DeNight also pointed out that Drama Club's spring princess party was canceled, making this trunk-or-treat a perfect replacement.
Drama Club president, senior Sophia Borgesi, has had to rely on virtual planning to get prepared for events this year. However, she is really appreciative of the support from the Drama Board and members of the club.  As she explained, ". . . whenever we say jump, they say how high." This well-orchestrated fundraiser was planned by Drama Board students, who promoted both the event and ticket sales through various online media platforms in order to reach the community. 
Culminating the trunk-or-treat was a costume contest and a live performance of "Let It Go" by sophomore Kateri Simmons. Through this successful event, the Drama Club was able to safely bring the community together and create the Halloween spirit, despite the effects of COVID-19.