Haverford Township Day is a yearly festival that is enjoyed by people of all ages. This year, Haverford Township Day was scheduled for October 7th, but it was postponed due to weather conditions. All activities and events were moved to Sunday, October 8th. Local businesses, entertainers, and Havertownians took time out of their day to attend and have fun.
Entertainment:
Live music and entertainment filled the streets all day long. Kicking off the festivities was a parade, led by on-site first responders, followed by the Haverford Heat and Haverford High School's marching band, and ending with a variety of floats. Appearing throughout the parade were little kids' favorite characters such as Elmo, Mickey Mouse, Minnie Mouse, and Chase from Paw Patrol. 
A favorite entertainer of the Haverford community, Spiderman, has been coming to Haverford Township Day since 2021. Max Wilson described Spiderman as, "Fun" and "Energetic," adding "…He means a lot to the community. He is an iconic figure, loved by all… He is the epitome of what our town should be…." 
Live music filled the air at both the Skatium and Brookline stages. The Skatium featured an array of family-friendly tunes, while anticipation built for the upcoming performance by the Beatles tribute band, Newspaper Taxis.  The Haverford High School Orchestra had been scheduled to grace the stage, but the performance was canceled due to the date change. Lila McGreevey, a dedicated student and violinist, expressed her sentiments, saying, "Honestly, I was pretty disappointed, but some of my friends were relieved… at least I got to enjoy the day!" 
Activities:
Starting the day at 8 a.m. was a 5k run based at the middle school. Happy the Clown painted faces, kids jumped in bounce houses, and performers made balloon animals. Happy the Clown has been face painting at Haverford Township Day for about seven years, and she enjoys being involved with the community. The bounce houses stretched along Brookline Boulevard, their usual spot. Next door was a booth featuring stuffed ax throwing, a fun activity for kids. Many activities were featured and free for those who attended, which definitely helped improve the atmosphere of the event.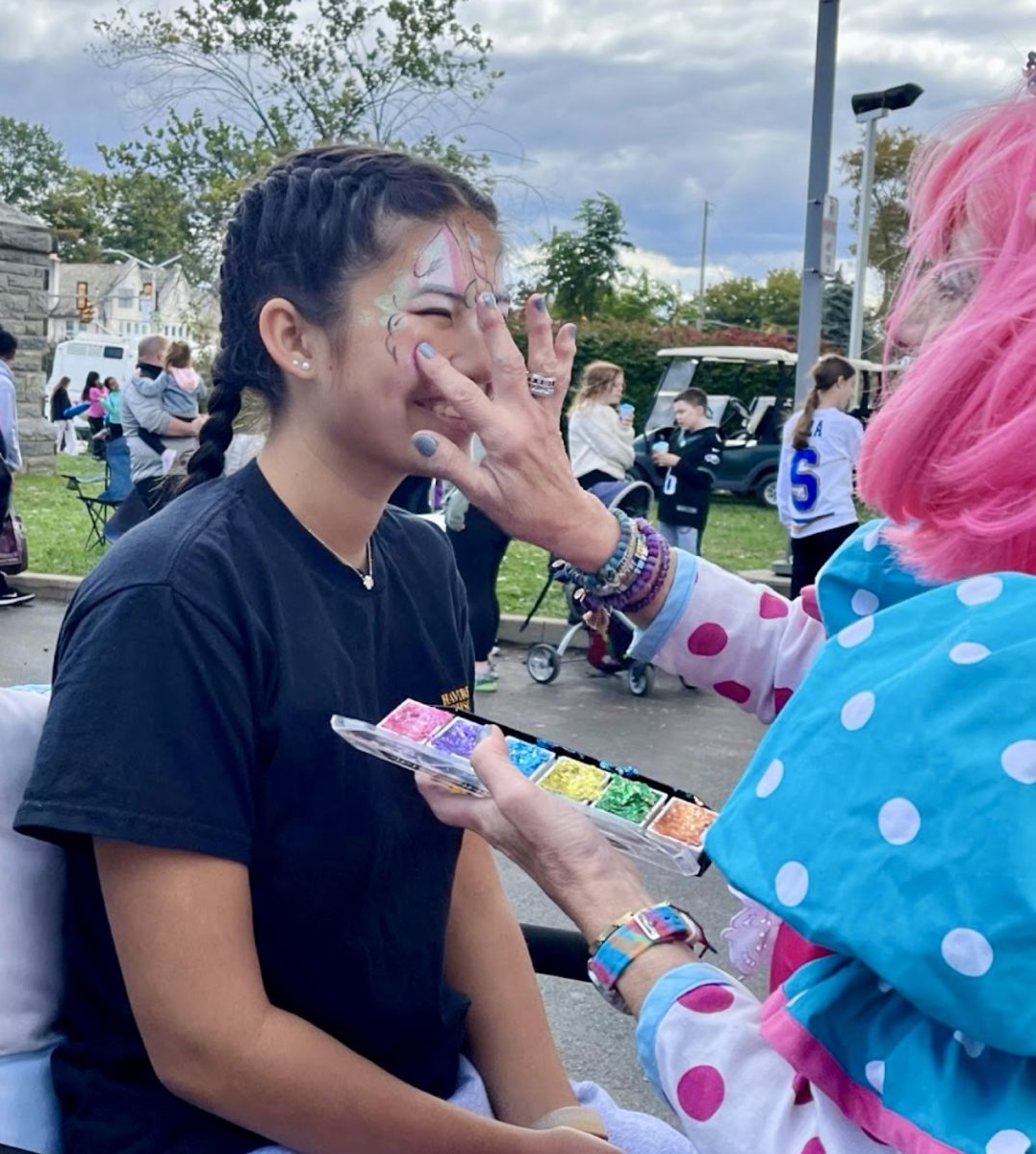 Local Businesses:
Various small businesses specializing in food, clothes, enrichment, and collector's items all participated to promote their trade. If those attending were in the mood for food, they could grab some barbecue, stop at a food truck, get a sweet treat, support one of the local businesses on Brookline, or buy food from one of the Boy Scout troops that come every year. 
Sweets on Darby is a newer business that attended its first Haverford Township Day this year, as last year's festival was canceled; Gina Szathmary opened Sweets on Darby on June 28th, 2022.  The shop sells a variety of cupcakes, cookies, donuts, and muffins.
Additionally, the event featured vendors selling an array of items, including purses, artisan crafts, and jewelry. Shoppers could find unique and affordable clothing. There were also stands handing out information about the environment and life in Haverford Township. Some businesses were there to advertise their services, such as Mr A's Martial Arts, while others promoted their Etsy shops. 
There was so much to do and so much to see. Hopefully, next year will be just as jam-packed with entertainment and activities.