16th Annual Best Buddies Wing Bowl Ahead of Eagles Super Bowl
A long-standing tradition at Haverford, this year's 16th annual Wing Bowl took place on Friday, February 10th. The concept started in Philadelphia when local radio show hosts held the first event in the lobby of the Wyndham Franklin Plaza Hotel. In 1993, it was quite apparent that the Philadelphia Eagles would not be attending a Super Bowl any time soon. To make up for this, Philly began its Wing Bowl so that Eagles fans had something to celebrate during Super Bowl weekend. The idea quickly gained traction, turning out crowds of over 20,000 people waiting to watch someone eat a copious amount of chicken wings. In 2007, the Best Buddies organization at Haverford hosted its first Wing Bowl, and the event quickly gained lots of attention. This year, with only participant fundraising for Wing Bowl tabulated, the competition raised $1500 for the Best Buddies program. 
With an excited student body anticipating not only the Wing Bowl, but also the Eagles playing only 48 hours later, the energy of this year's Wing Bowl was unmatched. English teacher Mike Mullen, Wing Bowl's long-standing MC, began the games by announcing the students as they made their entrance down the auditorium walkways. Junior Abato Dantanko, entered first, combining  #IAMABATO shirts, worn by the members of his entourage, with a "No Place for Hate" cape draped around his shoulders.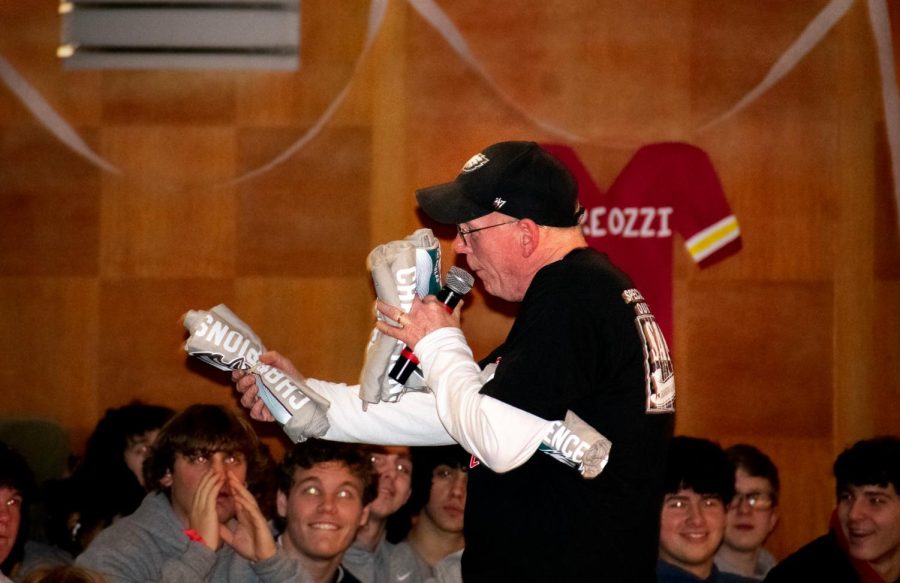 Next up was Junior Connor Salveson, better known as  "Wing Kong." He and his cohort walked into the auditorium to "Dreams and Nightmares" by Meek Mill, a song that brought back memories from the Super Bowl LII Eagles team, who embraced it as their anthem. Dressed in tuxedos and gorilla costumes, Salveson and his entourage made it clear they were hoping for a win. 
Senior Mollie Carpenter followed  Salveson's entry, calling herself "Mr. Wing Wide" in a nod to Pitbull's "Mr. Worldwide" the song she chose as her intro music.  Taking on the singer's signature look, Carpenter and her entourage wore bald caps, and her team applauded her as she walked up to her seat in a fantastic demonstration of team spirit. Shortly after Carpenter's entrance,  Senior Chris Minardi entered wearing a boxing robe and blaring the 80s anthem,  "Eye of the Tiger."  Rocky embodies the true ethos of Philadelphia, and Manardi was ready to take on that quality in his wing-eating performance and represent his love for his home. 
Senior Toshan Gosain closed the student winger entrances with a classic Eagles theme, expressing his support for the  team as they headed to Arizona and amping up the crowd in the process. As Gosain reached the stage, he pulled out a paper Chiefs logo and ripped it right down the middle. With all the contestants on stage, the games were ready to begin.
Out of the gate, Dantonka moved fast, with Minardi right behind him. About a minute into round one, Minardi stood up from his seat; he continued standing for the rest of the round for a different, but potentially game-changing, approach. Carpenter's entourage's spirit did not die down at any point. Throughout the ten-minute window, cheers and claps were always heard for Carpenter. By three minutes, the pace had slowed noticeably, and the contestants approached the tally. Finally, the ten-minute timer buzzed and the results were counted. In fifth place was Salveson with nine wings. Next was Manairdi with twelve wings followed by Gosain with sixteen wings. In a tie for first place were Dantonka and Carpenter, with grand totals of 22 wings each. That's over two wings per minute! In an unexpected turn, both student wingers advanced to the next round against the staff winner.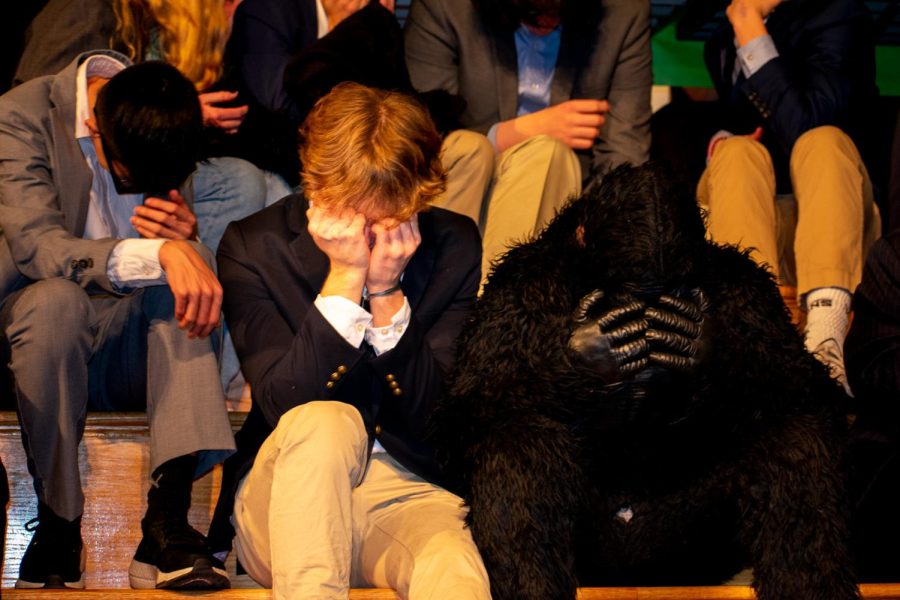 Following the student round the staff entrances began with history teacher, and veteran winger,  Leon Smith, known as the "Wakanda Wing King." Smith entered the auditorium dramatically, wearing a  Black Panther mask and joined by his entourage of the boys freshman basketball team. Smith's reputation preceded him as a multi-time champion of the Wing Bowl. 
Wrestling coach, Joe Jones followed shortly after, calling himself the "Wing King. Coach Jones' wrestling team cohort wore Burger King crowns, and Jones himself wore a cape and bejeweled crown as he strutted down the runway. 
Math teacher, Shannon Moore, entered next with the parody mantra, "It's a Philly Wing" and a throwback to West Philadelphia's own Will Smith with the song, "Gettin' Jiggy Wit It."  Moore entered throwing green and gold necklaces to the audience as they cheered her down the walkway. 
New physical education teacher and basketball coach, Jake Mingey was next, and he went with the clever name of "Mr. Wingey."  The varsity boys basketball team escorted him, dressed in their red and gold uniforms, and as one member of the basketball team held up a mini hoop at the end of his walkway, the rest of the team lined up along the sides of the aisle. Coach Mingey ran through the center and dunked over a student personifying the Chiefs quarterback, Patrick Mahomes. 
And finally, athletic trainer, Dave Ardroezzi, better known as "Mr. or Trainer Dave" entered the auditorium along with his cohort who were dressed in all black as a gang of dark wizards. With the players in their positions, round two was ready to begin.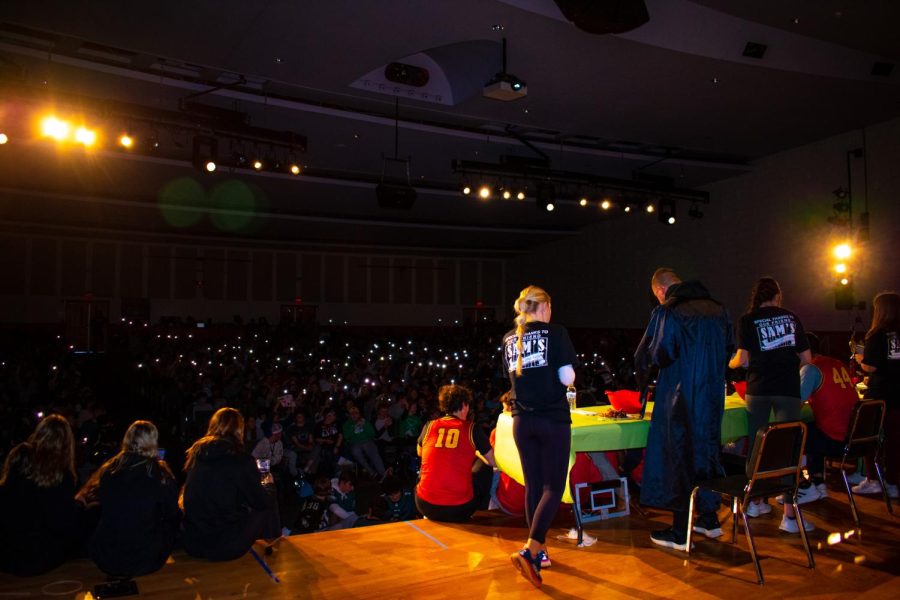 Right off the bat, there was loads of team spirit for Mingey. His basketball team entourage had lots of practice cheering on a team. As seen in the previous student round, Trainer Dave decided to stand up during the round. There were not only differences in standing or sitting, but the wing eating itself. There was a traditional approach, and then Moore began eating her wings in a never-seen-before-at-Wing-Bowl way. One noticeable difference between the teacher and student rounds was the pacing at which wings were eaten. The teachers had a far steadier pace than that of the students. And for an interesting turn of events, with only thirty seconds on the clock, Moore began throwing necklaces out to the audience. Time was up, and the bones were counted. It was announced that Moore placed fifth, eating five wings. Following was Jones with fifteen wings and Smith with seventeen wings. Only three wings behind first place, Trainer Dave placed second with nineteen wings. And lastly, Coach Mingey won the teacher round with 22 wings eaten, exactly the same as his soon-to-be competition in the third and final round.
The third round was a sprint. With only three minutes, and stomachs full to the brim with Sam's chicken wings, competitors had to give it their all. There was competition not only between the competitors but their entourages as well. Carpenter's and Mingey's entourages were both cheering loudly, trying to drown the other out. Dantonka was seen dancing with about thirty seconds left, waving his arms and moving his head from side to side. The buzzer notified the crowd that three minutes had passed, leading the Best Buddies wing counters to tally who would win the 2023 Wing Bowl.
First announced was Mingey, eating seven wings. Next, Carpenter placed second with nine wings. With a whopping ten wings in only three minutes, Dantonka was this year's Wing Bowl champion! As his name was called, he held up his "No Place for Hate" flag, showing what he was representing going into this year's competition. There were high fives on stage and cheers rang throughout the entire auditorium. Abato Dantonka had won a trophy and a one hundred dollar cash prize for his efforts to consume grand total of 32 wings.