Choral Cabaret Returns
On Saturday, March 19th, Choral Cabaret returned for the first time in two years, after being canceled due to the pandemic. As the biggest fundraiser of the year for the HHS Choral Arts Program, Choral Cabaret is a night of auctions, food, fun, and of course, singing. 
The night started with the silent auction and dinner, giving all attendees a chance to look at and bid for items. There were baskets ranging from board games to beach parties. In addition, there was artwork, tickets to a variety of different events, and much more. There was also a 50/50 raffle and two separate raffles for musical tickets. Dinner ranged from mac and cheese and chicken fingers to salad to hoagies. In addition, everyone had a wide range of desserts to choose from, including cupcakes that resembled the aliens from Toy Story to rice crispy treats and more.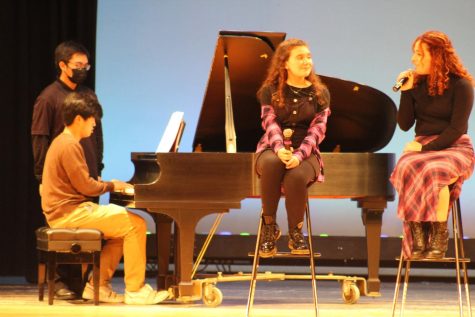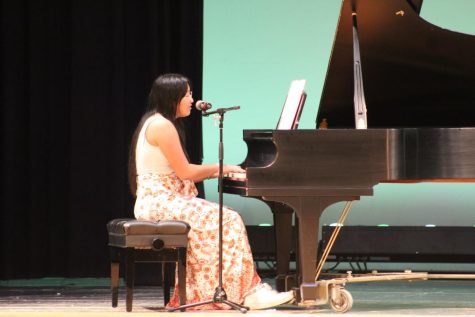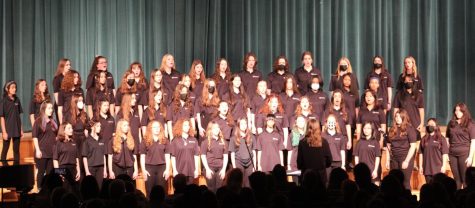 After everyone had eaten dinner and placed bids in the silent auction, the concert began. Act 1 provided a Valentine's Day throwback, during which eight different Singing Valentine's Day groups performed a song for the audience. After Singing Valentine's, Act 2 were solo acts. Soloists and small groups sang familiar songs such as "Nothing New" by Taylor Swift and Phoebe Bridgers and "Happier Than Ever" by Billie Eilish. After a brief intermission, it was time for act 3, which was themed acts. The theme was Disney and Pixar, so act 3 included songs like "A Whole New World" from Aladin and "How Far I'll Go" from Moana. Finally, the final act, act 4, was choral numbers. Sticking with the Disney and Pixar theme, Concert Chorale began by singing "It's All Right" from Soul. Following that, the combined sopranos and altos sang "Vuelie" from Frozen, and then the combined tenors and basses sang "Into the Unknown" from Frozen II. Next, the chamber singers sang "You've Got a Friend in Me" from Toy Story and added motions from the entire group creating a fun and beautiful piece. As the final song of the night, both Chamber Choir and Concert Chorale sang "Touch the Sky" from Brave, serving as a harmonious, uplifting closure to the show
The talent from every single singer and every single song was mind-blowing. Every soloist, small group act, and large group act was so impressive and well put together, that it was easy to forget these were high schoolers and not professional performers. Overall, the entire evening was amazing and very fun, and each chorus member did an outstanding job.