Haverford's Halloween Spirit Emanates at Annual Carnival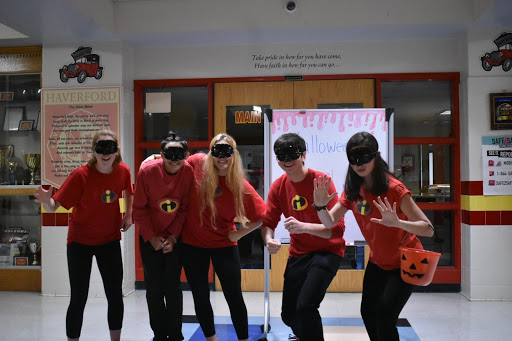 Another Halloween has passed, reminding students of their gradually vanishing childhoods. However, Haverford High School's Class of 2020 made the holiday memorable for the next generation of children at the annual Halloween Carnival. 
Every year, the senior class officers, with the help of their junior and sophomore counterparts, organize this fun-filled event. 
Tommy Barnes, Senior Class Officer, said, "The Class of 2020 is continuing a six-year tradition with tonight's carnival. Planning for the carnival takes about a month to arrange all of the logistics and make the festivities to come to life." Barnes explained that in addition to providing a fun costume party for children in the community, the carnival also raised funds for the senior prom and BLAST, the post-prom party. 
As guests arrived through the main entrance of the high school, they were greeted by the junior class officers who helped with the ticket orders. On the path to the cafeteria, a table was set up with an array of candy, followed by a large banner welcoming families to the carnival. When proceeding into the East Commons, the upper level had a line of children waiting to have their turn in the moon bounce. On the lower level of the cafeteria, a variety of games and candy prizes were offered to entertain families. For more artistic participants of the Halloween Carnival, face-painting and pumpkin-decorating were popular activities. Lastly, Havertown's very own Sam's Pizza was served sprinkled with candies. Loud, youth-oriented music was heard over the buzz of the crowd to make the carnival even more exciting.
The most interesting part of the event for Barnes was the game he helped run, a spooky parody of the popular party game Limbo, called "Limboo."
R.J. Buehler, Sophomore Class Officer, assisted his fellow class officers in organizing the carnival. He explained that the process of setting up the carnival had begun soon after school was over that afternoon. Buehler, wearing his Big Bad Wolf ensemble that coordinated with the other officers' Three Little Pigs costumes, was in the Halloween spirit. His favorite costume that evening was a duo dressed up as Cruella de Ville and a dalmatian.
Some of Haverford's teachers brought their children to join in the spooky festivities. Math teacher Matthew Wells brought his sons James and George, who were dressed up as Buzz Lightyear and Batman. Other teachers, including math teacher, Michelle Cleary, health teacher Megan Malligan, and 8th Grade social studies teacher, Mary Clouse, enjoyed sharing the event with their children.