Spirit Week culminates with the Homecoming Dance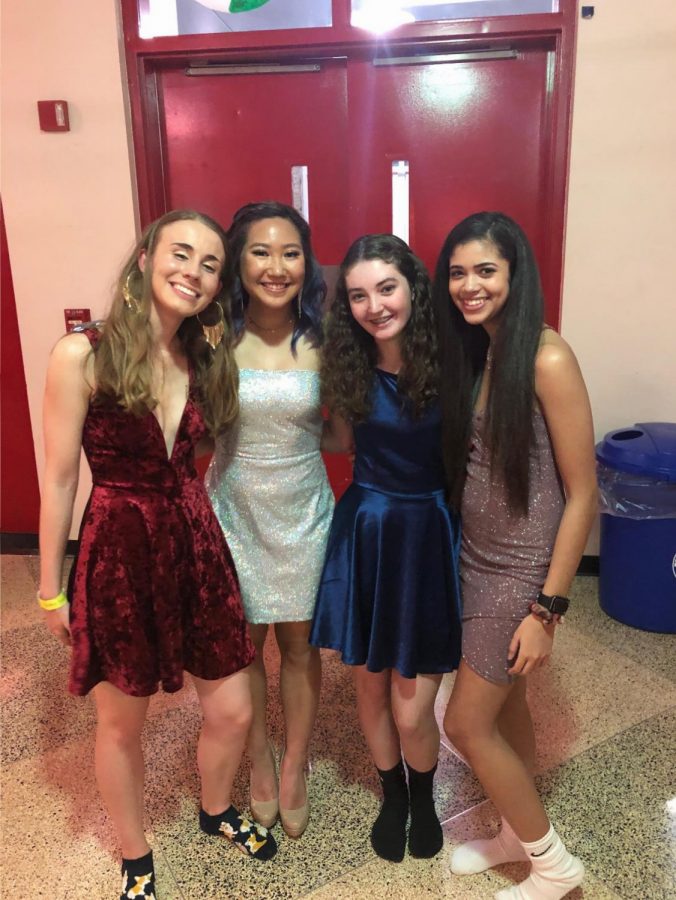 A week of Homecoming festivities built excitement for the culminating Homecoming Dance and traditional Thanksgiving Day football game. Spirit Week gave students an opportunity to show their H-Pride.  Each day had a theme: American Monday, Tie-dye Tuesday, Hawaiian Wednesday, Meme Thursday, and Red and Gold Friday. According to sophomore Shannon Horning, the best part of Homecoming was Spirit Week. "All the themes for dressing up made the week very fun," she said.
 Topping the week was the Homecoming Dance held in the Juenger Gymnasium on Friday night, November 22. This year's winning theme for the dance was Las Vegas Casino. Volunteer students and teachers decorated the first-floor hallways, West Commons, and gymnasium with cards, dice, and bright signs.  
In addition to the music and dancing, there were many other entertaining activities at the event including a free photo booth, complete with props and a casino-themed background. Students were dunking basketballs, dancing and jumping to every song, starting mosh-pits, and even crowd surfing (the threat of the "Electric Slide" being played whenever this occurred was never carried out). The cafeteria was also open for party-goers to relax in. While the main attraction of the night was the dancing, mingling in the hallways and sitting with friends were also popular options. 
The $10 ticket fee covered the free photo booth and props, the decorations crafted to embellish the school, and the chance to jive to the beats carefully selected by the hired DJ. However, there were some concerns regarding the food that was being offered this year. In the past, there were many snack and drink options sold, a dollar for each. Though there were still vending machines available, the machines have limited options and often cost more than a dollar. In addition, students would have liked there to be more decorations.  
The main criticism of this year's dance was the song selection. Unlike in previous years, the DJ chose the majority of the tracklist for the night and did not take any song requests. Though he included many crowd favorites, the song selection was not as popular with the attendees. Sophomore Jackie Snyder said,  "The song selection was a little disappointing compared to last year, and [the DJ] definitely should have taken suggestions from the crowd." 
Nevertheless, most of the dance-goers enjoyed themselves, despite being slightly disappointed with the food, the number of decorations, and the song choices. Like all the attending freshmen, this was Janina McIntosh's first high school dance. "I would definitely attend again," she said, "My favorite part of the evening was when everyone knew a song and would scream-sing it together."