Countdown to the AP Art show: Jordan Barbee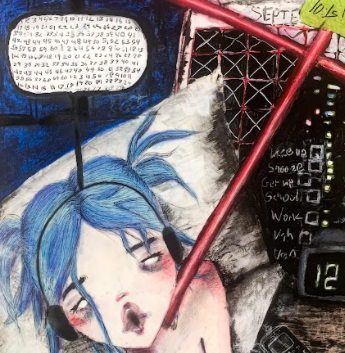 For many students, high school is a time to explore interests and discover passions that can lead them to their next step after high school. For Jordan Barbee, freshman year Art I was when she knew she wanted to take AP Art and continue on to art school. Barbee decided to take AP Art in both junior and senior years to build her portfolio.
"I wanted to do it again because I really enjoyed the class," said Barbee. "Even though it's really stressful, it is really rewarding. . .There's a really good sense of community in AP Art."
For Barbee, art has always been a part of her life. However, she often experienced external validation from the compliments she would receive about her art when she was younger. Once she got to high school, her experience taking Art I made her focus more on art. In addition, Barbee's discussions with her art teacher and other AP Art students were influential for her.
Barbee focuses mostly on painting and has recently been interested in oil painting, while continuing with acrylics which she had started with. She also enjoys doing mixed-media artwork where she combines both wet and dry mediums in her pieces. Charcoal is a dry medium that she enjoys because, like paint, it is looser material to work with.
Last year, Barbee's focus in AP Art was looking at standards of beauty around the world and in different cultures.  She also considered the phrase "beauty is pain". This year, her sustained investigation focuses on the different elements of time. 
"Time is something that is so confusing and odd to me and interests me a lot," said Barbee. "It's kind of daunting because it's such a vague topic. . .but I wanted to really delve into it at its roots." 
Recently, one of her favorite pieces, separate from her sustained investigation, was a large charcoal work that she created in order to develop her skills with the medium. She describes it as a "visual journal" that includes aspects of her daily life, dreams, issues she was experiencing, internal battles, and "random things."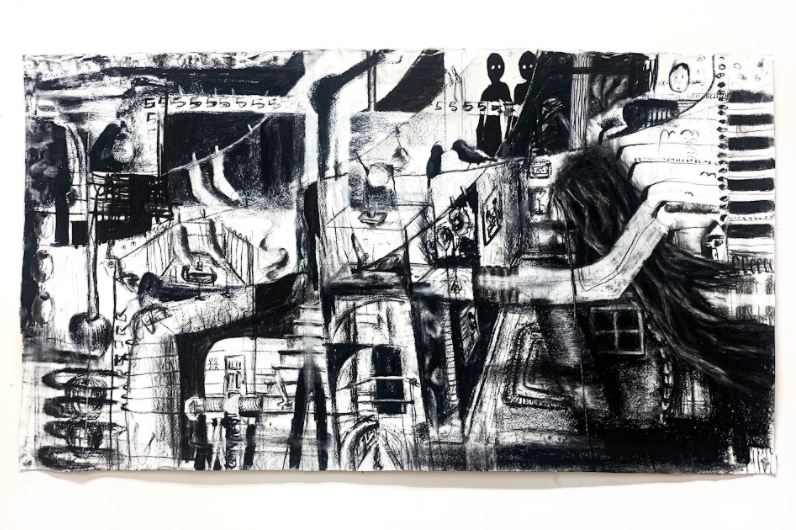 "It was really rewarding to be done with it because it's really large. . .and I had a lot of fun with the process," said Barbee.
Looking ahead, she wants to move to the city as she often finds inspiration for new pieces when she visits, and next year she hopes to attend college in New York.
"I know I want to do something in art, but I'm sort of struggling with whether I want to commercialize my work. . .I feel like I could see myself trying to get into galleries, but I don't know how sustainable that is," said Barbee. "but I'm just going to wait and see where college takes me."