Countdown to the AP Art show: Grace McAlexander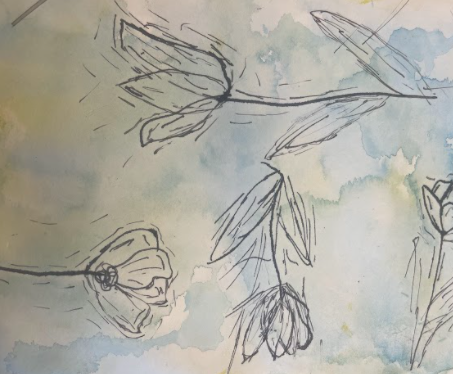 AP Art caters to students with a variety of interests and goals, and the skills obtained through this class go hand-in-hand with passions outside of the classroom as well. During sophomore year, Grace McAlexander knew that she wanted to pursue theater, so she decided to take Art I to help develop her drawing and designing skills. Then, after taking Art II and deciding to go to school for art, she knew that AP Art was the right choice for her.
"I feel like before taking AP Art, I didn't have a super defined style, but now I think that I really do," said McAlexander. "While I still developed a lot of technical skills, I also got to work on abstract pieces, developing who I am as an artist."
Outside of AP Art, McAlexander is involved in theater, including serving as Props Master and Assistant Stage Manager in Drama Club. She also spends her summers at Summer Stage where she was the props apprentice this past summer.
"I think that just being in Drama Club and then being at Summer Stage and being surrounded by all these cool people that have theater as a hobby or as a career is kind of inspiring to me," said McAlexander. "So that's how I knew that I wanted to do theater."
Before taking AP Art, McAlexander enjoyed doing embroidery, and freshman year, she took Haverford's sewing class. Now, she makes mixed-media art where she continues to incorporate embroidery in addition to adding natural elements such as dried flowers
"My sustained investigation. . . is about how religion can affect women's mental health, and so then I've been thinking a lot about my own experience. I've never been a part of an organized religion. . .but I do feel a spiritual connection to nature, so I've been trying to incorporate that in my art," said McAlexander.
Grace's favorite piece of art  was an embroidery piece that was for a creativity challenge in January of 2021 that asked 'How can we express radical body positivity in art?' This piece of art even became the topic of her college essay.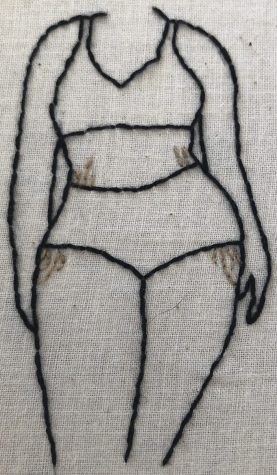 Next year, McAlexander is going to attend Bennington College where she plans to take many visual arts classes and learn about costuming. She also wants to pursue her interest in the administrative side of theater as she hopes to continue with her work in stage management in college. 
"I don't even know if working in theater is something that I want to do my whole life," said McAlexander. "I just want to do something with art. I feel like if it's theater if it's fine art, if it's working in museum curating, I feel like I'll have such a fun time in any of these."