Perkiomen Valley Edges Haverford in District Championship at Temple 
The Liacouras Center at Temple University was rocking by the tip-off for the girls' basketball 6A District Championship match: Haverford High School vs Perkiomen Valley. Haverford fans filled the lower bowl and were prepared to lose their voices, cheering on the undefeated girls' basketball team playing in its first District Championship in team history.
Perkiomen Valley and Haverford entered the District Championship with nearly flawless records and over 20 wins on the season. Before the game started, the match was to be decided down low. Catholic University commit Mollie Carpenter and University of Maine basketball commit Caroline Dotsey would be put to work against Perk Valley's own Grace Galbavy and Quinn Boettinger. 
Carpenter was active on the boards in the first half, creating second and even third scoring chances for Haverford's stars Dotsey and Senior guard Sky Newman. Yet, Carpenter's efforts only awarded Haverford a chance to keep the game close due to Perkiomen Valley guard Bella Bacani. Bacani led the Vikings in points after the first half with ten. After a hard-fought first half, the score was tied, 21-21. 
Coming out of the half, it was clear that Perkiomen Valley had adjusted to Dotsey. She was well-defended, forcing her to work twice as hard for each point, With Dotsey taken care of, the door opened for Galbavy to rack up points. With a combination of lay-ups, foul shots, and mid-ranges, Galbavy tallied 14 points on the night.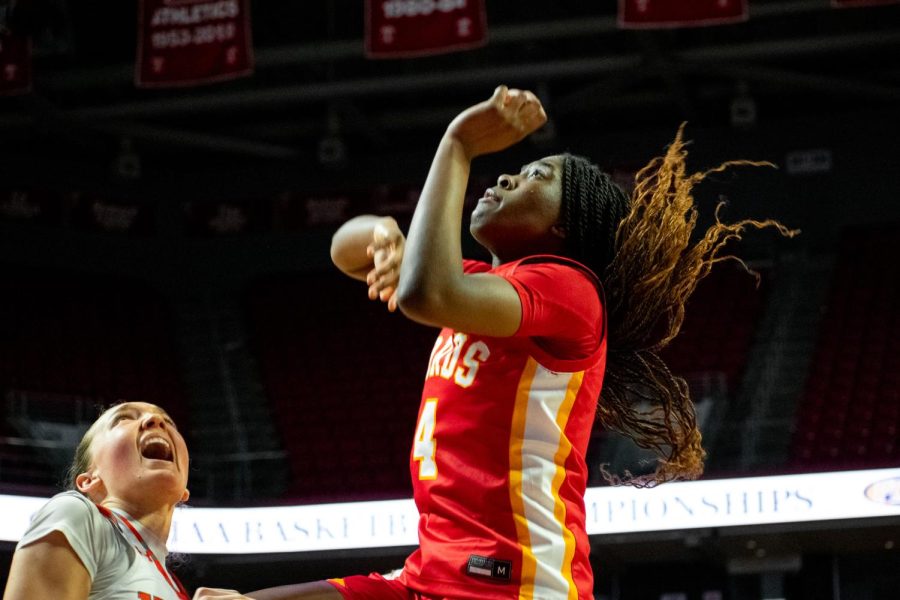 As Perkiomen Valley's lead started to grow, one of Haverford's juniors stepped up in a big way. 
That junior was guard Aniya Eberhart. 
Along with being one of the most skilled players on the court, Eberhart also exhibits a breezy confidence that few athletes have. Starting mid-third quarter, Eberhart put the team on her back, knocking down shot after shot to keep the game close. No one could touch Eberhart in the second half, as she added to her first-half points for a total of 15 points for the game, making her one of the top scorers for the Fords.  
Thanks to Eberhart's relentless scoring, along with maximum effort from Dotsey, who racked up 17 total points, and Carpenter, with 6 total points and aggressive defense, the game came down to the wire with a minute left. 
Haverford trailed 44-42. With Bacani going to the line after an intentional foul, it was up to the crowd to throw her off. The Parking Lot, Haverford's student section, rose to their feet and roared as loud as their lungs would allow. Bacani crumbled under pressure, bricking both free throws. Haverford immediately called a timeout, giving them a chance to win the game with 19 seconds left. 
The energy at the Liacouras Center became palpable as Haverford took their last possession. Goosebumps made their way throughout the arena, as every fan rose to their feet. The  sound of the crowd mixed into one loud ground shaking roar as the teams lined up for the inbound.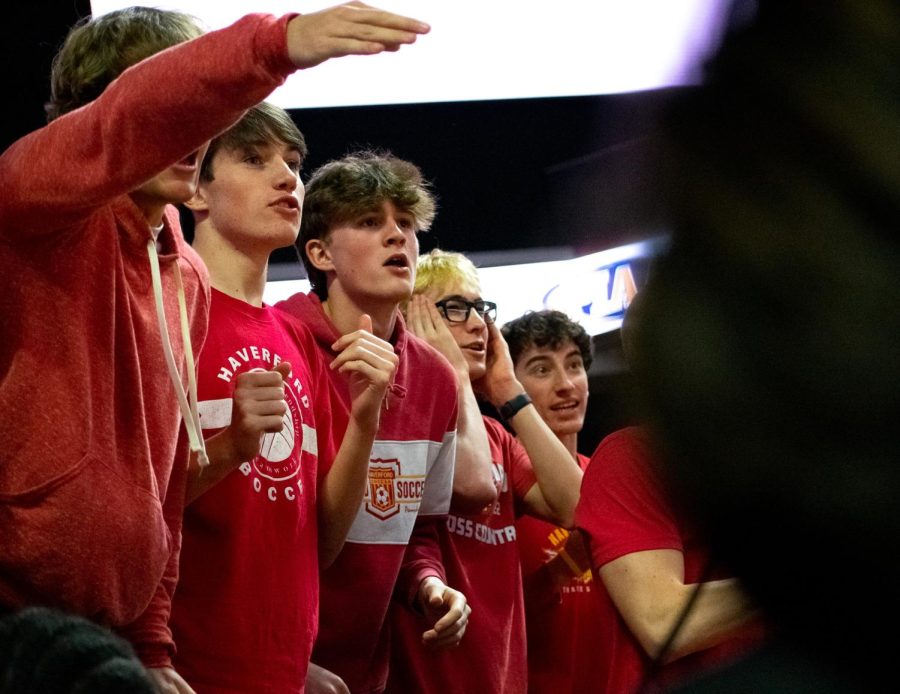 Sophomore guard Rian Dotsey quickly dished it to Eberhart, setting her up for a game-tying mid-range jumper. Eberhart's shot just barely rimmed out of the hoop. With hope dwindling, Carpenter went to foul Boettinger. Boettinger swung Carpenter to the ground, leading to some words exchanged between the two. These events led to a questionable personal and technical foul being called on Carpenter. Both fouls combined allotted Boettinger four shots at the line, sealing the deal for Perkiomen Valley with a final score of 48-44. 
Although Haverford lost the District Championship, the team had a historical run. Most people can't name a basketball team that went 28-0. This team will never be forgotten, and their names will ring in the hallways of Haverford for a long time. 
Haverford's next match-up will be in the state playoffs bracket on Friday at 7 pm against Lebanon High in Juenger Gymnasium. Haverford's district hopes may be gone, but who needs districts when states are ripe for the taking? 
Looking for a new house? Wagner Real Estate will help find the right home for you and your family. The real estate professionals at Wagner are Havertown locals who have passed down the real estate savvy through four generations. Call 610 446 2300 to set up a consultation with Wagner Real Estate today!