Haverford Community Comes Together to "Fight for Life" 
On the first breezy Friday of October, Haverford prepared to take down Mansfield High School in the annual Fords Fight For Life game. The game supports the Kevin Cain Foundation in efforts to help provide financial and moral support for families of patients suffering with cancer. Kevin Cain was the grandfather of Haverford Junior, Kevin McNicholas. He tragically passed away in June of 2005 after his valiant battle with cancer. 
Before the game, Haverford Sports Media teamed up with Wilson's Secret Sauce to put on a tailgate, bringing the school together to raise even more money for the cause. Many students showed up to hang out, eat food, and watch Senior Brendan McNichol and Juniors Connor Salvesen and Nikolas DiPaulo discuss Haverford and Delco football live. 
The Fords battled their way through the game, not relenting until the final whistle was blown. The first quarter started off with Mansfield Junior Trevor Foley quickly scoring a touchdown. However, the Fords returned the Hornets' drive when Sophomore Zeke Bates rushed six yards in one quarter, and Senior Tommy Wright rushed eleven. 
Both teams were able to rack up multiple touchdowns in the second and third quarters. Almost immediately into the second quarter, Senior Fords Quarterback, Tommy Wright, scored a touchdown. This was followed by yet another Foley touchdown, with a field goal by Hornets kicker Travis Hennessy. Senior Jake Snell then made an impressive return of 53 yards, motivating the team to complete multiple carries throughout the end of the quarter. However, the second quarter finished with an additional touchdown by Foley. 
The third quarter consisted of very similar gameplay, with Snell making another return at the start. Bates also made an eight-yard return, resulting in a Haverford touchdown by Senior Ethan Mahan, followed by a two-point conversion. The quarter finished with a bang as Fords players Snell and Junior Keith Heinerichs sacked two Hornets. Quarter four saw another Hornets touchdown, ending the game with a score of 24-14 and a win for Mansfield.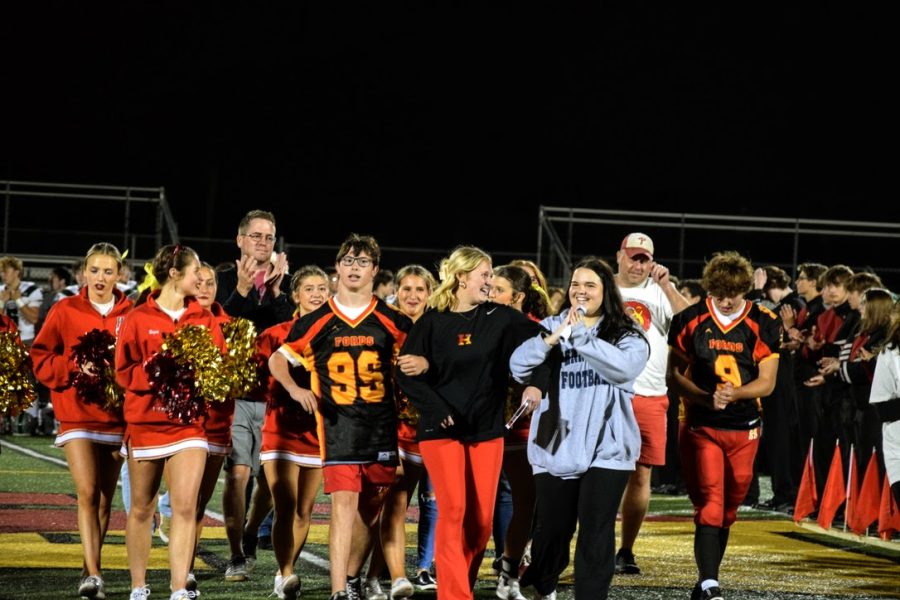 After the game, both teams met on the field along with dozens of families to celebrate "Fords Fight for Life." Each Fords player's jersey was sponsored by a family, allowing the entire community to support them as they walked down the field and were announced by Haverford teacher Leon Smith. McNicholas said, " It's an extremely special night. It's emotional, it's happy, and you know you're doing a great thing because people all over the township come to watch." 
The "Fight for Life" game will continue to be a significant Haverford event in the coming years, as it is only growing larger. Everyone can support the Kevin Cain Foundation by visiting their website and donating, or joining them on April 15 and 16 for their annual Make My Day Event. 
You can watch the Haverford Sports Media broadcast here.