Pennsylvania's Current COVID-19 Vaccine Distribution Status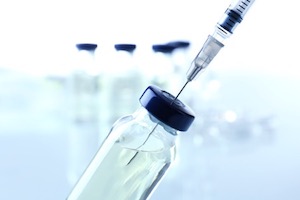 Almost two months ago, the distribution of the Moderna and Pfizer COVID-19 vaccines began in the United States. States such as North Dakota and West Virginia have administered around 90% or more of the vaccines allotted to them, while Pennsylvania has only administered 73%; 33% of its current total allotment. In Delaware County, out of its total population of 566,747 people, 20,731 people have received the full two-dose vaccination and 38,625 people have received the first dose as of February 19, 2021. 
The Pennsylvania vaccine rollout plan, which organized the rate and location of the state's vaccine distribution, is made up of four stages: Phase 1A, Phase 1B, Phase 1C, and Phase 2. The state is currently in Phase 1A and is distributing vaccines to health care workers, people aged 65 and older, and people who are considered high-risk due to various health conditions. As the stages progress, more individuals will qualify for vaccine registration based on their occupations.
The state is preparing for Phase 1B which involves vaccinating first responders, U.S. Postal Service Workers, teachers, and other essential workers. This phase is a crucial step for returning to in-person education. Next, Phase 1C will take place and further distribute the vaccine to an even wider population such as food service employees, housing construction workers, and communications professionals.
Pennsylvania vaccine providers are selected locations, usually pharmacies and hospitals, that have been licensed by the state to administer vaccinations. Many pharmacies have not yet received access to the COVID-19 vaccine, but are fully prepared to do so. In Havertown, GIANT Pharmacy, Rite Aid, and CVS are a few locations that are registered for administering the vaccine. Many of these commercial pharmacies have begun receiving vaccination dosages across the country. Delaware County pharmacies should start administering the vaccine in the next month or by April. The Pennsylvania Department of Health has a detailed map showing all of the registered locations in the state on its website. Some locations are starting to receive vaccine doses before others due to the overall slow rollout process. Currently, hospitals such as the Children's Hospital of Philadelphia are the sole administrators. There are differences among counties with both Montgomery and Philadelphia County ahead of Delaware County in total vaccines administered. It is important to be aware of the various pharmacies or hospitals that are registered to administer the vaccine in order to be ready to schedule an appointment when the next phases roll out.
As of February 21st, it is still very difficult for Pennsylvania residents to secure a vaccination appointment.  This is especially a problem for those who have difficulty using a computer.  While many are anxious to get vaccinated, the vaccine supply remains scarce.  This lack of the vaccine was made worse by the winter storms of the past week. However, this should soon change;  the Biden administration has purchased an additional 100 million doses of COVID-19 vaccines from both Pfizer and Moderna.  These orders bring the total doses from these two companies to 600 million, enough to vaccinate 300 million people. (hhs.gov)
Pennsylvania's final goal is to reach Phase 2, which is when the vaccine will be fully available to the public. Dr. Anthony Fauci, Chief Medical Adviser to President Joseph Biden, recently claimed in an interview that he is estimating that the general public will receive the vaccine by mid-June. Although this goal may seem far away, it is important to realize and appreciate the steps that come before it. By vaccinating health care professionals, teachers, and other essential workers, Pennsylvania, and Delaware County specifically, are taking great strides towards returning to normalcy.