Best Buddies's 14th Annual Wing Bowl Competition
Andrew McGinley, Team 'McGiggles Loves Wings', Wins Grand Prize
Haverford High School Best Buddies's 14th annual Wing Bowl was held in the auditorium during fourth block on Friday, January 31. In the Wing Bowl, teachers and students compete in a wing-eating contest, which raises funds for Best Buddies, an organization that helps build friendships and create opportunities for students with disabilities. The event funds trips, such as the Best Buddies Leadership Conference held in Indiana during the summer.
As the lights dimmed in the crowded auditorium and the event began, local news camera crews stood nearby. Everyone who attended the Wing Bowl made a one-dollar donation to Best Buddies. 
The five 'student wingers', Chris 'The Philly Winger' Orsini, Logan 'Angel Wing' Thompson, Courtney 'Wing Tut' Tintera, Andrew 'McGiggles Loves Wings' McGinley, and Nico 'Big Nick' Delente entered the room with their appropriately costumed entourages. Contest participants qualified by meeting a required fundraising threshold with all funds being donated to Best Buddies.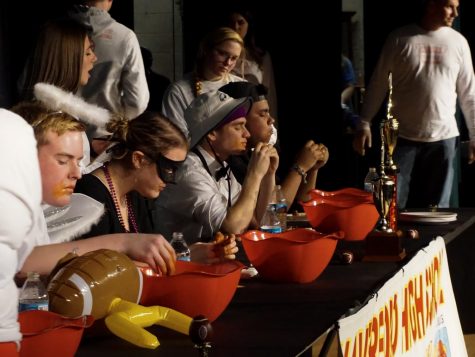 The competition consisted of three rounds: one ten-minute round for the student wingers, one ten-minute round for the teacher wingers, and a final round between the winners of the first two rounds. The winger's wings were constantly refilled, and contestants were provided a bottle of water for refreshment. 
Once the ten minutes passed, the wings were counted and the results came in. Andrew McGinley was in first place, Logan Thompson in second, Nico Delente in third, Courtney Tintera in fourth, and Chris Orsini was disqualified due to vomiting during the round. First Place went to Andrew McGinley, who then prepared to face the winning teacher in the third round.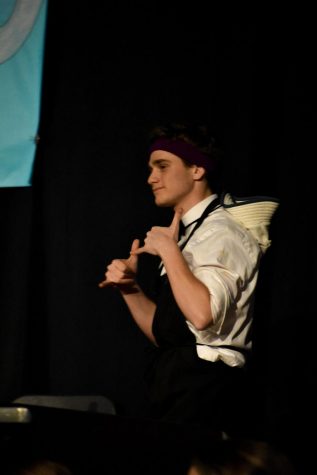 Like the students, the 'teacher wingers' ('Obi Wing Kenobi' Leon Smith, 'Swing Dog' Erica Swiniuch, 'Stranger Wings' Michael Perez, 'The Process' Daniel Lutes, and 'La Winga Dora' Meghan MacConnell) entered the room with entourages dressed in elaborate costumes. 
During the 2nd round, the announcer played random trivia with the audience, instructed students to turn on their phone lights for the song "Don't Stop Believing", threw Wing Bowl shirts at the audience, and held a contest for the most accurate recitation of, "Pardon me, staff and students." 
The results of the second round were as follows: Swiniuch in fifth, MacConnell in fourth, Perez in third, Smith in second, and, the winner, Lutes in first. McGinley returned to the stage to face off against Lutes in the final round.
McGinley, eating 7 wings in 3 minutes to Lutes's 5, won the grand prize of $100 and a handsome trophy. The event was an overall success in raising money for Best Buddies. All wings were donated by Sam's Pizza.