Special Olympics Honors Best Buddies For Inclusivity
A national champion title is bestowed upon Haverford just a few months after it received a chapter award.
Haverford High School's Best Buddies chapter, one of 103 in Pennsylvania, was named Chapter of the Year for the 2018/2019 school year. As of Friday, November 8, 2019, Haverford and its Best Buddies chapter have a new achievement to add to their list. The chapter was one of only two schools in Pennsylvania named a National Unified Champion School by Special Olympics, a non-profit organization that provides athletic opportunities to students with intellectual and physical disabilities, and honors schools for their inclusivity.
On November 8, faculty and students gathered in the Juenger Gymnasium for the banner assembly, during which the school's honor was made official. To start the assembly, Annie Gable, Haverford's Best Buddies President, and Pat Morris, one of the club's buddies, entered the gym carrying the Special Olympics torch while cheered on by the school's football team and cheerleaders.
Gable said, "Best Buddies has truly changed my life for the better." It is an activity that she hopes to be involved with for the rest of her life. 
Reflecting on the assembly, teacher Kayla Kishbaugh, the Best Buddies club sponsor, explained that the act of inclusion is "including everyone no matter their abilities or skills," and that Haverford's inclusivity really sets it apart from other schools.
Kishbaugh added, "Our student body and staff all interact with students with disabilities and include them in everything that happens here." 
Best Buddy member Morris said, "I always have friends to help me out whenever I need it, and I want everyone to know how much I love Haverford High."
After Principal Peter Donaghy congratulated Best Buddies, the director and assistant director of Pennsylvania Special Education applauded students for their hard work. "You represent what we want to expand to the fabric of every school," the assistant director said, explaining that Haverford demonstrates the "core foundation of inclusion." 
According to the Special Olympics website, a school named a National Unified Champion must have a team on which "students with and without disabilities compete as teammates." Members of Haverford's Best Buddies chapter have the opportunity to compete on the school's Bocce Ball Team. To celebrate athletic inclusion, a teacher versus student bocce game took place at the assembly, which was officiated by School District Superintendent, Maureen Reusche.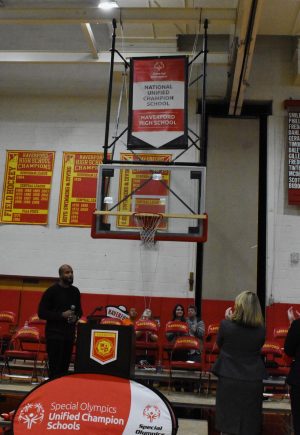 To conclude the assembly, 30 pairs of Best Buddies' one-to-one buddy friends walked through the gym while cheered on by cheerleaders and the football team. 
Becoming a banner school is a very significant achievement for Haverford. Adviser Kishbaugh said, "[Becoming a National Unified Champion School] means overall understanding for our program and inclusivity. Now, and in the future, everyone will understand the mission of Best Buddies and Special Olympics."