COUNTDOWN TO WINTERBREAK: 6 Holiday Christmas Movies From Your Childhood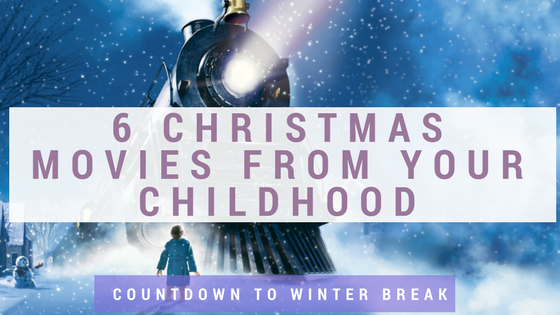 Want to relive your childhood while getting into the holiday spirit? Well, grab a cup of hot chocolate and put on your favorite christmas pajamas, because I'm here today to talk about the 6 most iconic Christmas movies from your childhood.
The Polar Express
The Polar Express is a fun movie that's based on a children's picture book. Reading it in (or, rather, having it read to us) in Kindergarten, and maybe several grades later too, was an integral part of the holiday season. It encompasses the spirit of Christmas, with magical scenes such as the classic Hot Cocoa song keeping it fun and cozy.
How the Grinch Stole Christmas (1966)
The 1966 animated special of the classic Dr. Seuss book is the one that I personally prefer. Let's be real – the newer version released in 2000 is creepy. Live action movies just can't be done in quite the same way as animations (especially with the peculiarly green main character).
Frosty the Snowman
While only 25 minutes long, this "movie" hardly qualifies as such, but it still perfectly encompasses the spirit of Christmas. It also brings us one of the most well-known (and well-loved!) Christmas songs. As the third animated movie on this list, I think it closes out the category quite nicely.
Home Alone
This story about a boy left at home while his family goes off on vacation may seem like it that has little to do with Christmas beyond the fact that it's set during the holidays, but it explores some of the meanings of Christmas that leave you with cozy feelings. It addresses sibling rivalry, family vacations, robberies, and the magic of being a child with access to your parent's credit card information – I mean, the magic of being a kid waiting for Christmas. This is one of those films that I watch with my family every year – and even though the jokes don't change, they still make me laugh every year.
The Santa Clause
Tim Allen – an actor I strongly associated with turning into a dog (if you're confused, you clearly haven't seen "The Shaggy Dog" – a classic). – stars as the new Santa Claus. What can I say about this movie? Santa dies, Tim Allen takes the suit from his dead body (well, it disappeared, but that's beside the point) and turns into him. It's really a fun movie (as are the two sequels – each getting more insane than the last. Gotta love Jack Frost, am I right?)
Elf
Elf is one of the only movies I can stand to watch with Will Ferrell in it (sorry to all of his fans – he's not quite my cup of tea); and boy, do I watch it. I'm pretty sure it's impossible to have never seen this movie, but forget Christmas Movies From Your Childhood – this is a Christmas movie for your whole life. Like Home Alone, this is a movie for all ages; it's a classic that's funny every year.
While that concludes my favorite Christmas movies from my childhood, I'd like to also leave an honorable mention for a Christmas movie that's a little less child-friendly…
Honorable Mention:
Love Actually
This is my ultimate favorite Christmas movie. I love romance – and Christmastime is the perfect place for it! There's familial love, romance, heartbreak – there's even some love across language barriers. A little sad, but a lot happy, this movie makes me laugh and cry every time I watch it (I even own it on DVD – how much more convincing do you need to watch this movie?!), which I've most definitely done out of season. If you haven't seen it, you should – I promise you won't regret it (although, I wouldn't watch it with any little ones around).
Merry (almost) Christmas!