A Magical Weekend for Harry Potter Fans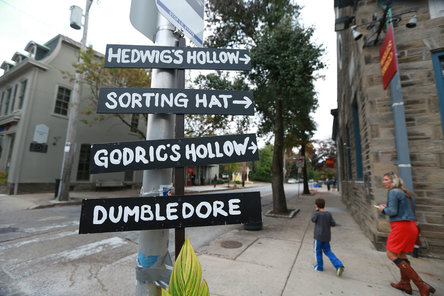 Hang on for a minute...we're trying to find some more stories you might like.
Over the summer Harry Potter fans celebrated ten years since the final book of the bestselling series came out, showing just how much of an impact the boy wizard has had on people's lives. An impact that is still passionately felt in 2017, which was nowhere more obvious than Chestnut Hill's Harry Potter Festival, a celebratory event for those who still long to see that Hogwarts acceptance letter slip through the mail slot.
Every year in October, Chestnut Hill holds a festival for people to come and let their magical inhibitions go wild. Typically the event takes up six blocks of Germantown Ave, yet, last Saturday, the festival had doubled in size, and was overflowing with fans. There were thousands of people, all of whom came to breathe in the magic that was almost palpable in the air.
Attendees ranged from children whose parents had just begun to read The Sorcerer's Stone to them before bed, and the parents themselves, dressed in the Hogwarts robes from their own childhood.
Those who had arranged the festival had obviously done so with the utmost care to attention and detail, in the hopes that even the most critical of fans would find themselves smiling in delight. There was a S.P.E.W. (Society for the Protection of Elfish Welfare) Rally, where onlookers had to swear to uphold the rights of House-elves everywhere, and a Sorting Hat ceremony, where a convincing Severus Snape declared which House you belonged to.
One of the biggest highlights of the day was the Quidditch Tournament, where teams from the Philadelphia area and different universities were encouraged to play for a victorious title.
Festival employees were dressed as witches and wizards, some of them donning the garb of other beloved characters like Minerva McGonagall who owned the bakery that hosted the cake walk, where participants voted for their favorite cake, all of which could only have been made by magic, they were that detailed.
Liz Hay, a senior, said that her favorite part of the festival was "seeing everyone's costumes for a day of shopping and fun."
And it was certainly not just events like the Quidditch Match that piqued people's interest; the street was lined with hundreds of booths selling magical and muggle wares alike. One could find anything from a pair of earrings to a handcrafted broom, that served no other purpose than fueling monetary irresponsibility and pure joy. Customers bargained with sellers and themselves, as they tried to convince their conscience that Ravenclaw Quidditch robes were not an entirely ridiculous purchase.
The shops that lined Germantown Ave on a normal day had their doors open as well, using soundtrack music to lure customers in; while most shops did not sell the merchandise that "Hedwig's Theme" promised, everyone was happy to spend the money in their pockets.
As the festival came to a close around four o'clock, feet began to slow down with a delighted exhaustion; the chatter had slowed as festival goers focused on shifting the weight of their purchases from arm to arm. Walking out of the festival, Caitlin Hickey, a senior who had attended the event for most of the day, remarked that the best part of her experience was, "The wide variety of people who were absolutely dedicated to magic of Harry Potter."
The truth of that statement was perhaps most acute as everyone made their way back home; one could see most clearly in those final moments, without the distractions of the festival, the wide array of people who had spent their Saturday at the festival. People of every age, race, ethnicity, and body type had all for one moment stripped away their differences, to enjoy a day of Harry Potter and the company that had come to do the same.