COUNTDOWN TO WINTER BREAK: Holiday Life Hacks
Hang on for a minute...we're trying to find some more stories you might like.
On the 11th day before Winter Break, The Fordian gives to you, 11 life hacks to make your holiday season easier.
The tree to garland to ornament ratio trick
Rumor has it that there is a distinct formula to making sure your Christmas tree is decorated to perfection. For every one foot of tree height, you need one hundred lights, nine feet of garland, and twenty ornaments. However, if you're like me, you tend to go a bit overboard in the light department and may want to use more lights per foot. Here's an illustrated guide for helping to hang those lights. 
An innovative use for green garland
If you find yourself picking out Christmas trees that aren't as full as you would like, you're in luck! Green garland has come to the rescue; wrap the strands around the base of the tree working upwards until you are satisfied with its look. You can find these for an inexpensive price at your local hardware store.
Tangled Christmas lights, be gone!
Have you ever struggled to undo your Christmas lights after they have been packed away i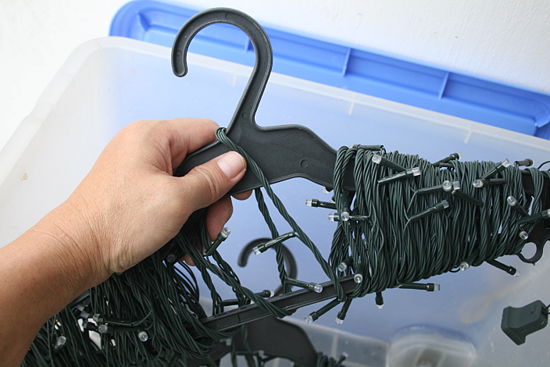 n storage all year? Well, if you wrap your lights around a hanger
prior to placing them in storage boxes, not only will you find that they aren't such a pain next year, but they will have a longer lifespan.
Leave "Santa's footprints" near the chimney.
If you have younger siblings who still trust in Santa Claus, there's a sure way to keep them believing. Take a pair of shoes and lay them where you want the footprints to go. Then, sprinkle powdered sugar or flour around them and lift up the shoes. You'll be left with "Santa's footprints," a perfect way to get any young children in your family excited.
Picturesque hot cocoa tip
You top your hot cocoa with marshmallows and whipped cream, right? Well, make it look a bit more snazzy by freezing whipped cream on a cookie sheet and use a cookie cutter to cut the shapes. It's a simple way to make your hot chocolate to look like it's straight from Pinterest.
6. Declutter your Christmas morning photo session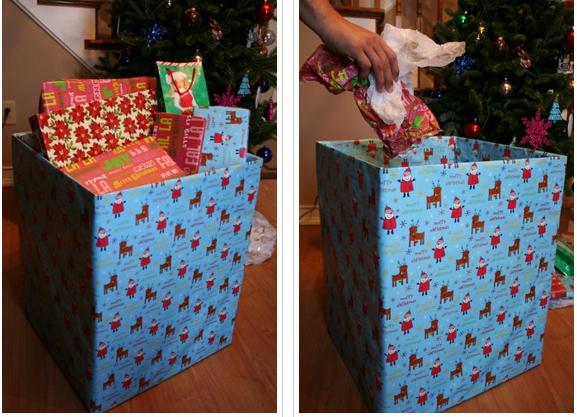 Tired of having the clutter of wrapping paper in your Christmas morning photo albums? Well, if you wrap an extra box with wrapping paper and stick the waste inside it as presents are being opened, you save yourself clean up time and busy photos. The box just looks like another present under the tree!
A perfect tablescape touch
Many families enjoy a fancy dinner at some point during the holiday break and love to design a themed tablescape. For a festive place card holders, hot glue three miniature candy canes together at the base and turn the structure upside down. Then, put your place cards in the curved part of the candy canes and sit them at each table setting.
DIY festive scent for holiday gatherings
If you find yourself out of candles, but still want you house to smell warm and inviting, you can cultivate that scent with spices you already have in your cabinet. Bring some water to a boil in a pot and stir in cloves and cinnamon among any other festive spices you choose. Let it steep until you get your desired result. This trick is perfect for holiday party preparation! Here are some recipes for a variety of simmering pot options. 
Reindeer treats for the family
The holiday season is the perfect time of year to bake sweets, but the classic chocolate chip cookie can become a bit mundane. Instead of cookies, try cupcakes! Bake your favorite cupcake recipe and top them with chocolate frosting. Then, add two white M&Ms and dot black icing in the middle of them for eyes. Next, use a red M&M for the nose and small pretzels for the ears. This is a perfect decorating activity to do with any young children you might know and the project switches out your typical sugar cookie for something fun and festive.
Egg carton to ornament holder in a flash
Looking for a safe place to store small ornaments for next year? Collect all of your old egg cartons from the month of December and when you take your Christmas tree down, put small ornaments in the spots where each egg could go. Then, stack them on top of one another in a box and pack tightly. Then, your ornaments should stay intact for the following year.
DIY Peppermint Candy Bowl
If you need a cool and innovative way to give baked goods as gifts this year, you can make an inexpensive, yet adorable bowl out of peppermint candies. Start by preheating your oven to 300 degrees and place some wax paper on a baking sheet. Then, lay one mint in the center of the wax paper and take six more around it to make a flower type shape. The mints should be touching and with as minimal of a gap between them as possible. Take twelve more mints and place them around the others in the same fashion. Next, place the baking sheet in the oven and let the mints cook for about eight minutes. Be sure to watch them cook. Then, when they come out of the oven, have a bowl ready to mold the candies with. Mold the baked candies onto the bowl and let them set until dry. Lastly, remove the mints from the bowl and fill with sweets!