Mr. Peterson announces retirement
Note: This is a satirical article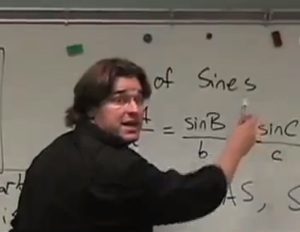 Haverford's math teacher Mr. Peterson announced his retirement in front of Mr. Howe's 4th block class about a month ago. But only recently Mr. Peterson gave the approval to make his statement official.
The official statement is as follows: "Longtime Haverford teacher Mr. Peterson has recently announced that he will be retiring in the year 2029. We understand that this announcement has come on such short notice and we hope students and faculty have enough time to say goodbye. We wish Mr. Peterson all the best in the future."
Mr. Peterson commented on his reasoning behind his announcement, "I understand that recently one of my fellow co-workers, Mr. Wangberg, retired and I liked the way he handled it. I want to be remembered and students and teachers need time to let go and say goodbye."
Haverford's art teacher Mr. Wangberg announced his retirement but didn't retire until about six months afterward. Students threw him a retirement party as tears and laughter were shared.
Many students and teachers are saddened by the news of Mr. Peterson and can often be heard sharing stories about his great teaching practices, compelling humor, and wide variety of quotes.
Senior Nick Todd remembers what he considered to be 'best day of algebra II,' "We walked into class and Mr. Peterson pulled out a Game Cube out from under his desk and we all played Mario Kart. It was the best day of class that I can remember."
Another Senior, Matt Barenello, remembers the day 'like it was yesterday' when Mr. Peterson first made the announcement to retire from teaching. "Winter break was right around the corner in Mr. Howe's 4th block class when Mr. Peterson walked in. Mr. Peterson and Mr. Howe started some small talk as the class looked on when Mr. Howe asked Mr. Peterson if he had any suggestions for the students to help them get through the rest of the semester after the holiday break. "Don't jingle most of the way, jingle all the way" said Mr. Peterson with a straight face. The class laughed but as the room grew quiet again he went on to announce that he would be retiring from teaching. Because of Mr. Peterson's great sense of humor, some of the class thought he was joking but quickly realized he wasn't. Everyone seemed shocked but accepted the decision. A slow round of applause arose from the class including Mr. Howe. The applause picked up and standing ovation followed as Mr. Peterson left the classroom."