Philadelphia Powerplay, Wheelchair Hockey Continues to Grow
Preface from Vivi Feiser:
I haven't known Jake very long- a month at most. But in that month, I've learned that Jake loves the Flyers, designs web pages, and has traveled to national and international competitions for power-wheelchair floor hockey.
Yes, Jake is in a wheelchair, but thats not a deciding factor in his life at all. Jake is your All-American highschooler, sense of humor and quick wits noticed first,  the wheelchair second. And because of this wheelchair, it has put him in touch with other kids in wheelchairs, and they have taken their friendship- their family, really- to a whole new level, playing side by side in a highly competitive league for wheelchair floor hockey.
"You can't let it hold you back. Find what you're interested in and go after it- don't think you can't do it."
Jake hasn't let a wheelchair hinder him- he has utilized it to the fastest speed and tightest turn possible.
The whistle blew and the wheels began to turn, the sticks began to swing, and the ball began to roll. It is just another Saturday of hockey for the Philadelphia Powerplay, a power wheelchair floor hockey team based in the Philadelphia Metropolitan Area. As an organization, their goal is to provide a community based competitive athletic experience for people who use power wheelchairs in their daily lives. The Powerplay plays their games every other Saturday at Bonner-Prendergast in Upper Darby and Greater Norristown PAL in Norristown. The season lasts for about 10 months out of the year, starting in September and ending in June.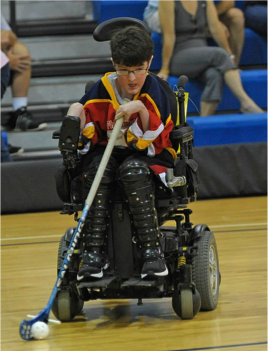 This year, the Powerplay is celebrating their tenth anniversary. The team has come a long way, from starting as a small group just hitting a ball around to a twenty-five player roster. Luke Hoban, Powerplay forward and defenseman, recalled the early years of the Powerplay, "When we first started, sometimes we didn't have enough players and my brother had to play goalie." Since those early years, more and more players have joined and the Powerplay now has enough players on a week to week basis to play a full game with substitutions. "The Powerplay has become very competitive over the years with more players and more skill" said Hoban.
Not only does the Powerplay bring competitiveness, but also friendships among players and parents alike. Everyone associated with the Powerplay refers to it as their second family or "Powerplay family." It is so much more than a game, it's a social gathering. Many of the players live with similar disabilities and the games allow parents and players to talk about treatments and methods to help with each other's daily lives. When asked what his favorite part about playing hockey is, Hoban responded, "Of course winning, but also being with friends."
The Powerplay follows most NHL rules, but has some modifications and exceptions. 3 fifteen-minute periods are played 5 on 5: 3 forwards, 1 defenseman, and 1 goalie. A whiffle ball is used instead of a puck. There is no icing and no blue-lines, which means that the off sides line is the middle red line. They also have a crease rule that is non-existent in ice hockey. Along with the crease rule and typical NHL rules, penalties include dangerous driving and ramming. There are no age, ability, or gender limits. Everyone is allowed to play as long as they know the rules and use a power-wheelchair in their everyday lives. For those who cannot hold their stick, it is taped onto their wheelchair.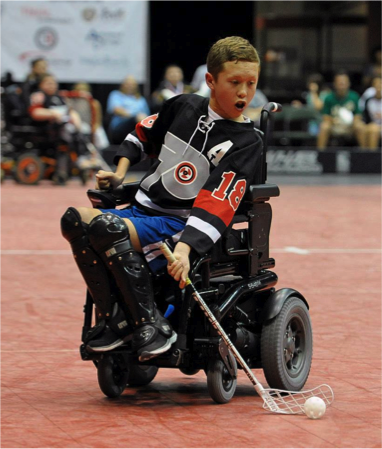 Since 2009, the Powerplay puts together a tournament team every summer to compete in US and North American tournaments. The US and North American tournaments alternate each year. The US tournament consists of the four power hockey teams in the United States: Minnesota, Michigan, North Carolina, and of course Philadelphia. The North American tournament is made up of the same teams from the US tournament plus teams from Canada. These Canadian teams come from Ottawa, Toronto, and Calgary. The players on the tournament team always look forward to tournament play. Jake Saxton, Powerplay center and two-time tournament MVP said, "The tournament games are always more nerve wracking, but at the same time, fun to play against the fierce competition."
The Philadelphia Powerplay season is currently underway and are always looking for spectators and new players. To check out the schedule and learn more about the Philadelphia Powerplay, visit www.philadelphiapowerplay.com.