Happening This Week: Best Buddies Wing Bowl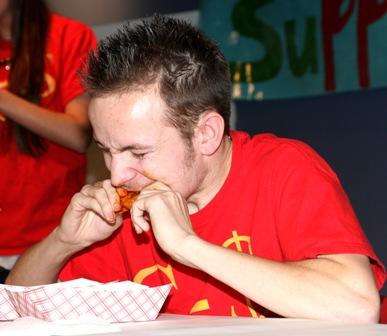 The Annual Best Buddies Wing Bowl is happening tomorrow, January 31st, during fourth block in the HHS Auditorium. Teachers and students will be featured in the eating contest, which benefits Haverford's Best Buddies Chapter. The participants decorated money jars and raised money in the weeks leading up to the event. The five teachers and five students who raised the most money won a spot in the competition. Last year, History teacher Mr. Leon Smith walked away as victor, downing 39 wings in the process. Who will win this year? You'll just have to come and find out.
If you go…
Who: Teachers Mr. Murphy, Mr. Walters, Mr. Kolins, Mr. Perez and reigning champion Mr. Smith. Students vying for the title include Chris Rymal, Gabby Casterioto, Brendan Sutcliffe, Tevin Dix, and Owen Green
Where: HHS Auditorium
When: Friday, January 31, fourth block ( 12:56)
How much: A suggested $1 donation for students
Best of luck to all the participants!
Leave a Comment