WHHS' "Comfy Cozy Coffeehouse" a smashing success as show lives up to name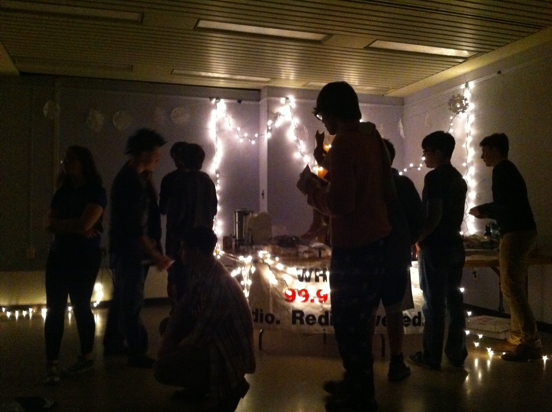 Ambient holiday lighting, various blankets, and a relaxing atmosphere transformed the Haverford Township Free Library's downstairs community space into a great venue for even better performances this past Friday at WHHS' "Comfy Cozy Coffeehouse."
An unassuming table and chairs with representatives from the radio station greeted visitors and charged a cheap $5 admission fee, directing them to go downstairs, where the concert was held from 7 to about 9:30 last Friday night.
The show kicked off with a performance by soloist and HHS Sophomore Dylan Winoski, who based his repertoire around Johnny Cash and John Lennon covers. His final selection, an original song titled "Scotch Tape" featured moving lyrics and vocals that left the audience disappointed when he announced his set was coming to a close.
Winoski was followed by Sofia Ryan, who was accompanied only by her voice and guitar. Ryan started off with the holiday tune "I'll Be Home for Christmas" as the snaps of soda can tabs alluded to the station's boom in merchandise sales; the large turnout proved to be a profitable show. Ryan continued her set with selections from 90's music, featuring a cover of "Zombie" by The Cranberries that proved to be a popular choice amongst audience members.
Other highlights of the show included Ben Blumenstock and Mike Mogavero's impressive guitar riffs, Haverford alum John Cunningham and Ray Long with tight harmonies that provided a foundation for their set, and emcee Tim Mulhern, who kept the audience engaged between acts, apologizing frequently for the "palpable humidity" that seemed to be the only drawback to the Coffeehouse.
Besides good performances, the crowd for the Coffeehouse evoked a sense of a supportive community with a friendly atmosphere. The show also saw students of all grade levels come out for the night, some for their first time. Senior Sawyer Jenkins came out "to support my cousin Mike Mogavero," while freshman Dana Kaufhold attended "because it's something to do on a Friday night."
High School teacher Mr. Mike Armine was also present at the Coffeehouse, as the staff member representative required by the agreement between the library and the High School, "just in case anything goes wrong" because, as someone who is familiar with the student body, Armine can identify and deal with possible problems quickly.
 "The idea of the Coffeehouse brings people who like punk, hardcore, indie, or those who just like acoustic together," said Armine. The recent "Comfy Cozy Coffeehouse" not only exhibited meaningful and outstanding performances, but also the ability for the student body to gather as a supportive community in the name of good live music, their peers and friends, WHHS, and something to do on a rainy Friday night.
Leave a Comment