At 8 am on Thursday, November 2nd, the other juniors and I who signed up to visit Franklin & Marshall (F&M) set off on our college road trip. F&M is a small residential liberal arts college in Lancaster, PA that specializes in undergraduate education. There are about 2,000 people in the student body, making average class sizes about 18 and the student-to-faculty ratio about 9:1. 
At F&M, pursuing multiple passions before choosing your path is easy because students aren't required to choose their major until the second semester of sophomore year. As far as transportation goes, it's only about a 10-minute walk from one side of campus to the other and everything is paved, making it wheelchair accessible and bikeable. There is also easy transportation to the nearby "city" of Lancaster, which F&M describes as a flourishing arts community. 
The commute to F&M from Haverford was about an hour and a half, and the bus ride was anything but comfortable. It was sweaty and crowded, but we passed the time with several games of crazy eights and excited chatter. The outing consisted of an hour-long indoor/outdoor tour, a break for lunch, and a talk with the Director of Recruitment, Barbara Conner.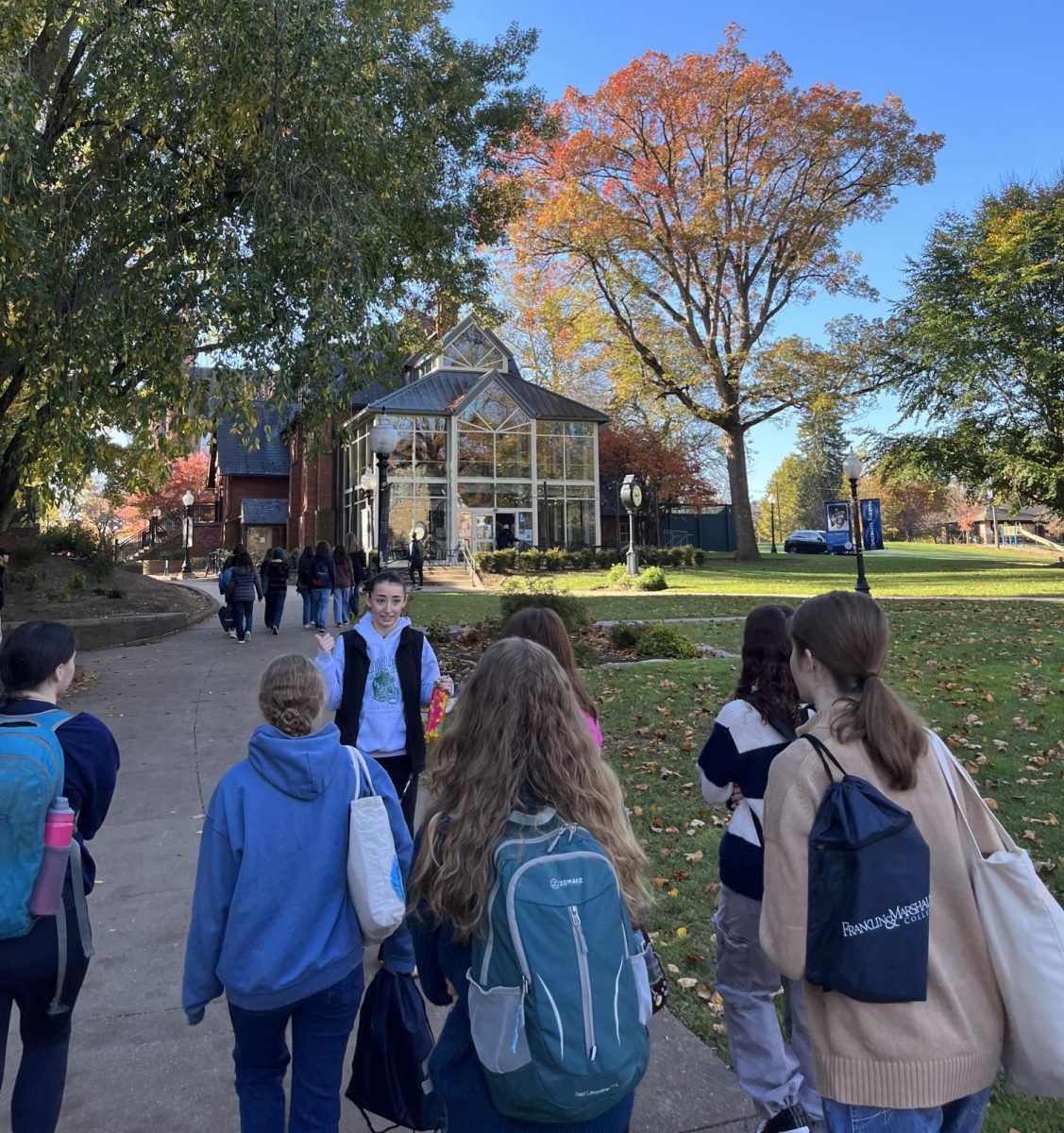 During the tour, we passed by libraries, classrooms, sports facilities, and common areas, along with all four on-campus dining spaces, the dorms, and the vivarium. 
F&M's meal plan is based on a meal swipe system in which a certain number of meals per week (freshmen have 20, sophomores have 14) are paid for by the school if you live on campus. 
Housing is guaranteed for all four years at F&M, and it is required for the first two years. F&M has a unique, Harry Potter-esk way of assigning dorms; students pick an interesting seminar course and are paired up with their roommates and dorm based on those classes. They are placed in one of five college houses, each of which has its own traditions and get-togethers. 
The vivarium is a cruelty-free research facility for animal behavior studies. This is a program unheard of at most other colleges and provides hands-on experience for students. The vivarium is home to a wide range of species, including dogs, mice, and even monkeys that like to finger-paint.
Students chose to visit F&M for multiple reasons. Lila Spoelker said, "I actually visited here with my sister a really long time ago. I didn't really remember it that much but I heard it was a good school so I wanted to come back and see it for myself." For some students, such as Brandon Dickens, F&M wasn't even in their top three options. He complained, "Well it was actually my fourth choice, but UPenn, Villanova, and Drexel were all full." 
I chose to go to Franklin & Marshall because of its stellar description on the Google form and the fact that I didn't know much else about it. And, though it may seem like a picture-perfect college from the online description, I found the campus empty, my tour guide monotone, and the school itself bland. The rooms were tiny, and every single building managed to smell bad in a different way. And, of course, being that it was November, the outdoor part of the tour was absolutely freezing. However, reactions from other students varied widely.
The only general consensus was that the food was pretty decent for a college dining hall. While I was bored by the tour, others, like Charlotte Rodgers, "really liked how the campus felt walking around" and "felt like [they] could see [themself] going to school there."
The college road trip as a whole is a great way to get to know a college while it's in session. In this case, maybe it worked too well for F&M's good. Not every school is for everyone; in the end, the only thing I got out of the trip was a complementary drawstring backpack and a pen.