On midnight of October 27, 2023, Taylor Swift released 1989 (Taylor's Version). It faced booming success; she broke her record of the most streamed album in a single day and became the most listened-to artist in the world on Spotify.
1989, named after the year of her birth, is Taylor Swift's fifth album. It is arguably Taylor's most eminent era, and it represents a period of rebirth and reinvention. It was when she shifted her musical genre from country to pop. It was when she moved from Nashville, the "music city," to the city that never sleeps: NYC. If one word was used to describe the era of 1989, the word would be timeless.
Taylor Swift signed under Big Machine Records in 2005, later signing a new deal with Universal Music Group in 2018. Over the many years Taylor worked with these companies, she released Taylor Swift, Fearless, Speak Now, Red, 1989, and reputation. After her evident success, she tried to buy back her life's work; unfortunately, she was unable to do so, and these pieces were sold to Scooter Braun. This was her final straw: she set out to re-record all of her stolen albums, leading to the birth of Taylor's Version. 
There has been a lot of criticism of 1989 (Taylor's Version). Critics said the album sounded AI-generated, it didn't have enough emotion, and it sounded too different from the stolen version (a term Swifties use to reference the original version of Swift's albums).
I completely disagree. There is a nine-year difference between the stolen version and her version, so her voice and the instrumentals are bound to sound different from the original. In no way does the difference detract from the brilliance of this album; her voice has only gotten crisper and more mature since the 2014 version. It is also important to note that Taylor must legally change a certain number of things to re-release this album under her name. If she were to keep every musical component of her songs the same, there would be no 1989 (Taylor's Version) to listen to at all. 
Furthermore, there is not a lack of emotion; there are just different emotions. For example, the original version of "Bad Blood" sounds extremely angry while in Taylor's Version, she sounds more annoyed, vengeful, and a bit smug.  Emotions vary between the intensity of the moment and the reflection on the same experiences a decade later.
A likely reason why many individuals are hesitant to accept Taylor's Version of 1989 is the concept of being unfamiliar with Taylor's newer voice. The stolen version of 1989 was a hit when first released. Many people have heard songs from this album blasting on repeat for the better part of a decade. It's like seeing a cousin for the first time in a very long time, and feeling weird because the cousins look so different from the toddlers they were still imagined to be. 
The clarity of 1989 (Taylor's Version) is refreshing, an aspect of the album I thoroughly enjoy. I love the re-record of "I Know Places." The growl in "And we run" takes me back to the live version of "Out Of The Woods." It was, to put it simply, life-changing.
In addition to the 16 songs on the initial album, 1989 (Taylor's Version) also features five vault tracks (songs that didn't make it to the original album): "'Slut!'," "Say Don't Go," "Now That We Don't Talk," "Suburban Legends," and "Is It Over Now?".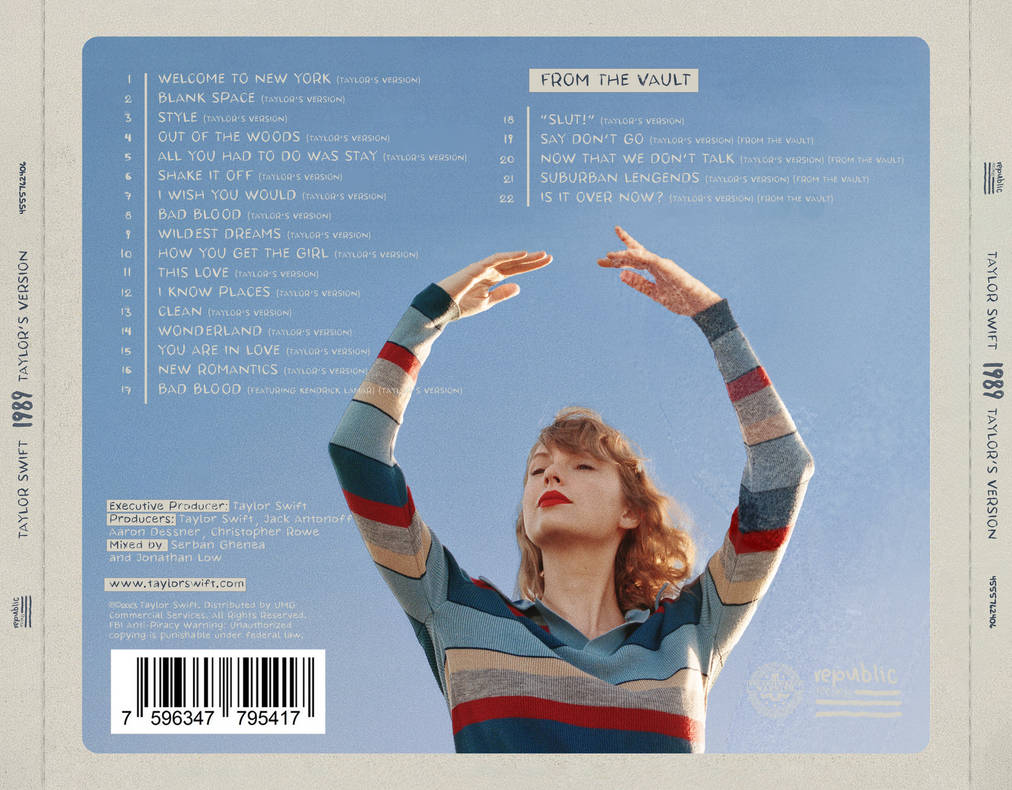 In my opinion, all of the vault tracks are amazing; however, three particularly stuck out to me. The first one is "Slut!". The lyrics and beat were just so unexpected. I thought it would be similar to "Blank Space" and give an "I don't care" kind of vibe, but it ended up being a love song. I thought it was a very good twist. The lines, "And if they call me a slut/You know it might be worth it for once"  is so heartbreaking yet beautiful because, during the 1989 era, many people have been labeling her as a "slut" for dating so many people. It had me curling up in a ball in the corner of my room and crying. 
My second favorite vault track is "Is It Over Yet?". The lyrics and music flow incredibly well into each other. I love the seagull sounds incorporated in the introduction, a bird seen in, both the music and the album cover. The lyrics, "Oh lord" and "Oh no" in the bridge, scratched a part of my brain. The bridge is amazing and brutal; the queen of bridges strikes once again. "Is It Over Now?" is truly the "All Too Well (10 Minute Version)" of 1989. 
Third place would have to go to "Say Don't Go." The song perfectly captured the essence of the moments leading up to being rejected by a crush.  I love the lyrics in this song. The pause after "I say I love you/You say nothing back" is just… *chef's kiss*. "Say Don't Go" is so "All You Had To Do Was Stay" and "You're Losing Me" coded. If ever caught in a situationship, this is the perfect song.
Overall, I adored this album. It is a lyrical masterpiece with simply inexplicably remarkable songs throughout. I believe that some songs on the stolen version are better than Taylor's Version, but overall, Taylor's Version is better. 
And the journey is not yet over. Taylor Swift still has two albums she needs to take back: her name (Taylor's Version) and her reputation (Taylor's Version).