Humans of Haverford: Record-breaking Katya Eruslanova
Junior, Katya Eruslanova, excels in both her studies and her swimming. Last year, at the PIAA 3A state swimming championships, she won gold in the girls' 200-meter IM, and this year, she not only won this title again, but also won the girls' 500-meter freestyle. In addition, Eruslanova has broken multiple Haverford High School records, proving to us all what an excellent athlete she is. The Fordian met up with Eruslanova to discuss her swimming career and her plans for the future.
The Fordian: When and why did you start swimming competitively?
Eruslanova:  I used to live in Florida, so at first it was just like I swam. My mom put me into swim lessons when I was three years old because you had to know how to swim since we lived around a lot of bodies of water. I just liked it so much that I continued it onto a competitive stage.
The Fordian: What do you love most about swimming?
Eruslanova: I really love the social aspect of it. I guess it's fun because it's like a second family. I mean, I'm part of the FordSwimDive family, and I also do a club team, so I make a lot of friends there. And then, it's kind of like this sense of swimming as an individual sport.  It's still a team sport, but you're in control of your own activity. Like soccer, the team has to work together, but  I'm in control of my own results.
The Fordian: What's the most challenging part about swimming?
Eruslanova: The outside work, I guess because you swim but there's also dry land where you just do workouts. I actually did cross country freshman and sophomore year because I liked running and I used it for cardio for swimming. You can do well if you just swim, but you can get better if you also do outside stuff.
The Fordian: What is your strongest stroke?
Eruslanova: Well, I'm an IM-er (Individual Medley), so that's all four strokes. That's the one I won at states last year; this year I also won states in the 500 freestyle. I guess I'm leaning more towards freestyle and backstroke, but overall, I'm probably an IM-er.
The Fordian: Which is the most difficult stroke? 
Eruslanova: Basically, my worst stroke I guess would be the butterfly, but because it's the first section of the IM, it doesn't really matter because I'm not supposed to sprint at the very first part of the race anyway.
The Fordian: Is there any swimmer that you look up to? 
Eruslanova: Well, when I used to live down in Florida, I swam at the same club team as Ryan Lochte, so he was an inspiration. And then Katie Ledecky, she's a big inspiration because she has been so good since she was 15 years old. I just admire her a lot too. 
The Fordian: How do you prepare yourself for a competition? Do you have a special "routine"? 
Eruslanova: I do something called "taper." Since I've been training all season, I really cut down on how much practice I have so I get more rest. Right before a meet, I always have a cup of coffee.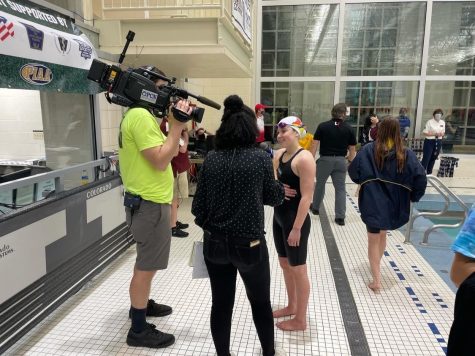 The Fordian: I heard that you recently committed to the University of Pennsylvania. Were you approached by any other schools, and if so, what made you choose Penn?
Eruslanova: Yeah, I was approached by a couple others. I chose Penn because I love the campus, first of all. And since they are an Ivy League school, they give academics more priority than athletics, but they still have a good balance. I was talking to the University of Pittsburgh too, and they really outweighed athletics over academics, but Penn emphasized academics more. If you need study time, it's fine, and if you miss practice, you just let them know. Penn doesn't really have as much academic support as Pitt does, but I still like Penn's balance better.
The Fordian: What do you plan to study in college?
Eruslanova: Definitely down the STEM path – I'm not a humanities person. I'm thinking something related to biology.
The Fordian: What do you like to do in your free time, when you're not swimming?
Eruslanova: I hang out with my friends a lot, and I hang out with my sister. My sister is six years younger than I am, but she's kind of mature for her age and I'm kind of not as mature, so it's fun to hang out with her. 
The Fordian: Continuing with the previous question's theme, here are a few questions not related to swimming. What's your favorite movie? Favorite song? Favorite food? Dream vacation?
Eruslanova: My favorite movie is probably Avatar. And my favorite song is probably "Don't Stop Me Now" by Queen, that's a good one. It's one of my "hype up" songs. I love pasta, like spaghetti and meatballs. I would love to go to Bali. I want to go to some beachy place, like a nice resort with nice water.