Two must-have homemade snacks 
Snacks are always something that you want throughout the day or late at night, but you may not be sure what you're in the mood for. Sometimes you feel like something sweet or fresh and just can't decide. Lately, I have discovered some of the best snacks that take a relatively small amount of time to prepare and taste just as good as if you were to buy them from the store. One of them is strawberry-peach fruit strips which taste almost professional and the other is granola bars which are the perfect morning snack before school or for lunch. 
Strawberry-peach Fruit Strips
Ingredients:
-1 peach
– 1 cup of strawberries
-1 tablespoon of lemon juice
-2 tablespoons of sugar (optional)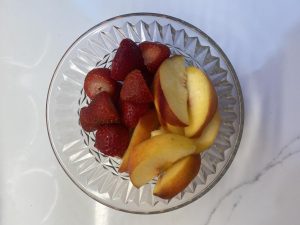 Directions:
Step One: Gather and prepare your fruit
I started off by washing all the strawberries and the peach and cutting them into pieces. 
Step Two: Blend
I then put the cut-up strawberries and peach into my blender; however, a food processor would work just as well. I made sure to blend the fruit until it had a watery consistency and no chunks leftover. 
Step Three: Heat it Up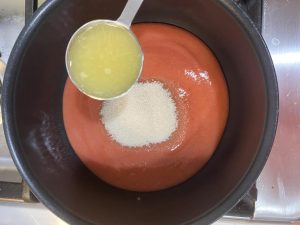 I put the pureed fruit into a saucepan on the stove. In the saucepan, I also added my sugar and lemon juice. You can add the sugar if you would like, however, I found that the fruit itself gives enough natural sugars to make it sweet. Then I put the heat on a medium-to-low setting and stirred frequently for about 10 minutes. At this time you can begin to heat your oven to 170°F.
Step Four: Spread it Out and Bake
A few seconds after turning off the heat from the stove, I poured the mixture onto a baking pan with a piece of parchment paper. I spread out the mixture on the pan into a rectangle, making sure it was the same width all the way around. Keeping the thickness the same throughout the rectangle is very important so certain parts don't dry out more than others. When the oven was at its right temperature, I put it in the pan with the mixture and let it bake in the oven for about 4 hours.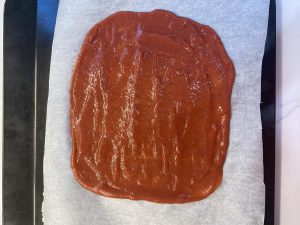 Step Five: Roll it Up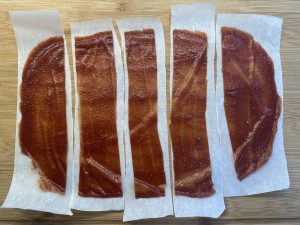 Lastly, I removed the dried fruit mixture from the parchment paper after I had let it cool for about 30 minutes.  I cut up the dried fruit and also cut pieces of parchment paper to fit the sizes of the strips that I made. I finally rolled up the fruit strips in the parchment paper to prevent them from sticking to themselves and left them in a container for me and my family to grab as a snack whenever. 
Overall Review:
I loved these fruit strips, especially knowing exactly what went into them. I shared them with my family and got really great feedback. These are super easy to have as a snack and something that I will definitely be making throughout the year. 
Granola Bars
Ingredients: 
– 3 cups of rolled oats
– ¾ cup of almond butter
-⅔ cup of honey or maple syrup 
– ½ cup of mini chocolate chips 
-2 eggs
-Add-ins like walnuts or cashews 
Directions: 
Step one: Preheat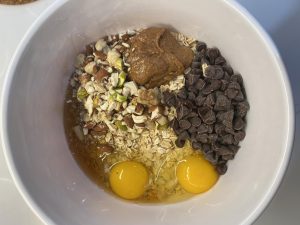 First, preheat the oven to 350℉. 
Step Two: Mix
Combine all of the ingredients in a large bowl and make sure you evenly spread out all of the ingredients throughout the mixture.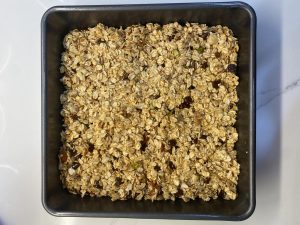 Step Three: Bake
Put the granola mixture into a greased pan or a pan with parchment paper inside. Put the pan inside the oven for about 15-20 minutes.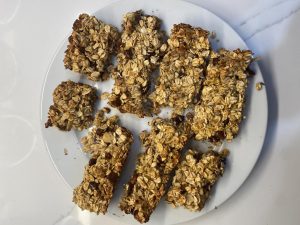 Step Four: Cool and Cut
Lastly, make sure the granola fully cools in the pan. Once it is fully cooled, you 
can cut the granola into bars or bites. Make sure when you cut that you go straight on top rather than on an angle to prevent it from breaking at different points. 
Overall Review:
I found these granola bars to be very good, and I enjoyed taking them to school with me as the perfect lunch snack. They are also very customizable and you can add whatever you want.