Coach Bogosian Retires After 34 Years at the Helm
HAVERFORD, PA – Haverford baseball Coach Paul Bogosian tipped his hat to the crowd in a farewell gesture before his team's final game of the 2021 season and his final game after 34 years of coaching. He looked around him at the family, friends, players, and coaches who had gathered to honor his legacy. Red, white, and blue banners flapped on the fences and a sea of baseball fans sat in the bleachers. The players from Haverford and Upper Darby applauded appreciatively, standing tall in their red and white and purple and gold respectively.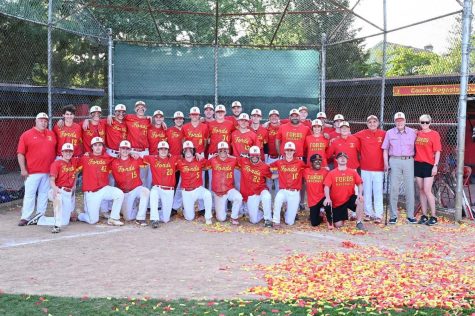 The pregame ceremony was emceed by the Phillies PA Announcer Dan Baker, a friend of Coach Bogosian. Flyers PA Announcer Lou Nolan, former Brewers pitcher Mark DiFelice, and former Athletic Director Joann Paterson were just a few of the people who spoke in honor of Coach Bogo. Current Athletic Director Vanessa Robtison presented Coach Bogo with a sign naming the dugout after him.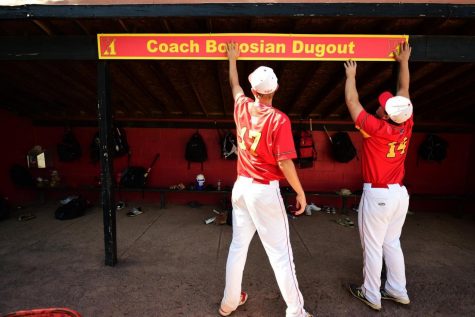 This legacy Coach Bogosian left behind is not defined by his total wins and losses, nor by the championships he won, nor by the professional players on his teams, nor by the length of time he coached. He built his legacy by giving his all and giving his best every day that he stepped out onto the diamond. There was never a day when he didn't come to the field with a smile or when he wasn't looking forward to talking with his team. He would talk about the weather or share valuable life lessons. He made sure that his team knew that he cared about them each as individuals – not only by declaring that he would be there for them whenever or wherever he was needed, but by backing his words with action. Bogo always gave of himself, using his fundraising skills to ensure that the baseball team was the best dressed in the Central League. He doubled as a photographer for prom and for other sports games.
Prior to Covid, he would make sure that his team hung out together outside of practice, he scheduled tournaments in Ocean City, and raised money for charitable organizations. He has stayed in touch with most of his players throughout his coaching career, helping them with jobs, with coaching advice, and by always being there for them as a friend. Bogo is able to look back on his career with pride, knowing that he used his position to serve the students of Haverford High School and that he made the best of every moment there.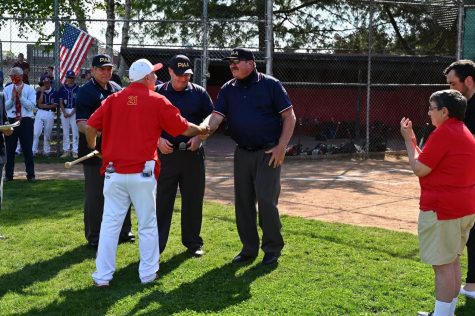 The Fords went on to win the contest 5-1. Seniors Ryan Brown and Ryan Redmond together held the Royals to only three hits, striking out eleven. Offensively, the Fords were led by senior Will Higson, who had two hits and three RBIs. Brown, Redmond, and Higson were honored for the end to their senior season along with Chris Dempsey, Ryan Buckton, Chris D'Orazio, Declan Cramsie, Hunter Kraiza, Jimmy Wright, Liam Collins, Luke Marchesani, Marc Bronstein, and Matt Tucker. The Fords finished with a 6-13 record. The players, staff, and students of Haverford High School will greatly miss Coach Bogo!