Take a Look Back at the Haverford Baseball Team's Season
Haverford's baseball team concluded its season this past Monday with a 6-13 record. The team endured challenges throughout the season, especially when the players received notice that someone they knew, or they themselves, had tested positive for Covid-19. However, with the help of Coach Paul Bogosian (Bogo), the boys kept up with tests, wearing masks, and maintaining social distance to pursue a healthy and strong season.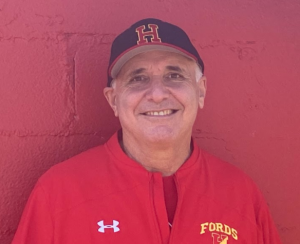 Coach Paul Bogosian, known as Bogo, coached for 47 years, 38 of those were spent coaching at Haverford High School. Bogo not only values the game, but also values every one of his players. Coach Bogo has made an impact on these boys' sports careers by supporting them through games and providing strong coaching to benefit their season. 
Because of Covid, this season had been very different. Much had been lost because of distancing: the banquet, Senior Day, regular team dinners, and team camaraderie. 
While Bogo loves coaching baseball,  he says that this was his last season.  He retired on May 17, 2021. A Haverford grad himself, Bogo truly bleeds red and gold as a result of his school and community activities, his sports photography, his on-going relationships with graduates, and, of course, his love of coaching at HHS. Bogo enjoyed his years with the team and will especially miss the kids, the coaches, and the friends he has made along the way.  Haverford will miss Bogo!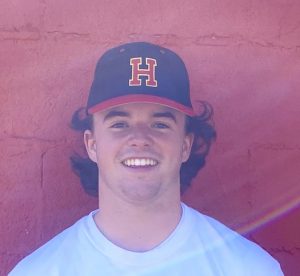 Team spirited right fielder and catcher Liam Collins has been playing baseball since he was 14 years old. For him, baseball is an escape from reality that helps relax his mind after a long and frustrating day. Collins also loves the closeness of the team itself, especially during practices. The team is like a family, not only having each other's backs but doing everything they can to help each other reach their greatest potential. 
Collins spreads positivity explaining how, if anything, COVID-19 had helped the team become closer and savor what time they had together.  He doesn't see just a goal he can reach for himself, but a goal he can achieve with his team. His goal is to be the best person he can be to his teammates and to his community.  From motivating his fellow teammates to taking time out of his practices to help his team improve their skills, Collins displayed selflessness and support. 
As a senior, Collins enjoyed his last season with the team saying "Keep grinding, do everything you can to get better, and never forget your brothers have your back".
Senior center fielder Chris Dempsey sees baseball as a game that not only needs discipline but also requires hard work. Dempsey believes that hard work and putting the team first are what make him a good player. He does his best to top his previous skills for the benefit of the team and for himself. From his short time on the team.  Dempsey has made many memories this year, one of which was going to team dinners after a game, which boosted the team and brought them closer.