Gun Violence in America: It is Time to Remember the Victims
This article will discuss gun violence, shootings, death, and suicide, sometimes in detail. Please proceed with caution. 
Every day in the United States 106 people are shot and killed. Every day 64 people die from gun suicide. 5 children, 17 or younger, die as a result of guns each day, and 2 of them are murdered. This means that each year nearly forty-thousand Americans die as a result of guns, and of those, fourteen-thousand are murdered. Compared to other high-income countries, Americans are shot and killed 25 times as often. Police in America shoot over a thousand Americans each year. Black men and boys are 20 times as likely to die in gun-related homicides compared to their white counterparts. These overwhelming statistics highlight the devastating effect of gun violence in America. 
"Gun violence in this country is an epidemic and it's an international embarrassment." That is how President Joe Biden began his April 8th announcement of executive actions to reduce gun violence in America. Shootings in Georgia and Colorado resulted in 18 deaths, causing the President to implement these executive actions. According to NPR, an executive action is "something the executive branch does. [It's] the use of any of a number of tools in the executive branch's toolbox." The White House website outlines what the implemented executive actions will do. 
The executive action says that within 30 days the Department of Justice (DOJ) "will issue a proposed rule to help stop the proliferation of 'ghost guns.'" In the next 60 days, the DOJ will also "issue a proposed rule to make clear when a device marketed as a stabilizing brace effectively turns a pistol into a short-barreled rifle subject to the requirements of the National Firearms Act," and "publish model "red flag" legislation for states." The Biden Administration "is investing in evidence-based community violence interventions." The DOJ "will issue an annual report on firearms trafficking." Finally, President Biden "will nominate David Chipman to serve as Director of the Bureau of Alcohol, Tobacco, and Firearms." Further details of each of these actions are available on the White House website as well. Shortly after these executive actions were announced, an abundance of gun violence dominated the news.
Multiple shootings every day for over a week left countless families mourning the loss of their loved ones. Each and every victim's story matters. Their stories should be told. Because of the amount of gun violence in the last week, not every shooting has received the media attention it deserves, and because of that, there is still so much left unknown about so many shootings. What follows is the stories of 4 shootings and their victims.
Daunte Wright (Brooklyn Center, MN): Daunte was 20 years old and a dad to 2-year-old Daunte Jr. He has been described by those who knew him as charismatic, loveable, funny, and excitable. On April 14th, Wright was pulled over by a white police officer who had been an officer longer than Daunte had been alive. Wright was pulled over for a traffic violation; his registration tags were expired. Then the cops noticed air fresheners hanging on his rear view mirror. They then discovered that there was a gross-misdemeanor warrant for his arrest. In the body-cam footage of Kim Potter, the officer who shot Wright, she can be heard saying "I'll tase ya! taser, taser, taser" for about 5 seconds, with a gun visible in her hand, before shooting Wright. The Minneapolis Police Department is calling the shooting of Wright an "accidental discharge," as Potter reportedly thought that her gun was a taser. Many gun control advocates and Black Lives Matter supporters have questioned the "accidental discharge" pointing out that guns and tasers are worn on different sides of the body; other advocates have mentioned the drastic weight difference between the 2 weapons. Either way, Daunte was shot and killed, and his family, friends and community are heartbroken. All of them share the sentiment that "he was just a wonderful, beautiful boy."
Tennessee School Shooting: On Monday, April 12th, the Knoxville Police Department (KPD) was notified of a potentially armed person in Austin-East Magnet High School. Police arrived at the building and located the suspect in a bathroom. Two officers ordered the suspect out, but he refused. Originally it was reported that the suspect fired at an officer, hitting him in the leg. It has since been clarified that the suspect fired and hit a trash can, not the officer. This confused the reporting police into thinking they were in danger. Not knowing this at the time, the other officer fired at the suspect, who has now been identified as 17-year-old Anthony J. Thompson, Jr. The first bullet killed Thompson and the second bullet hit another officer. The officer who was shot is recovering in the hospital but is in serious condition. Knoxville residents protested for bodycam footage, and it has recently been released. The video is graphic, but in it you can see an officer on top of Thompson after he was shot, handcuffing him. 
Adam Toledo (Chicago, IL): Last month, an officer chased 13-year-old Adam Toledo down an alley ordering him to stop. Allegedly, Toledo had been seen with a 21-year-old man when police responded to a call about shots fired. "Freeze stop! Stop right f****** now! Hey, show me your f****** hands! Drop it, drop it," the officer can be heard saying seconds before shots are fired. Adam can be seen turning around with his empty hands up as this happens. The officer can be heard radioing for help and then saying, "look at me, look at me, look at me, you all right?" His family is heartbroken, and they have yet to say anything to the public. 
FedEx Facility Shooting (Indianapolis): The lives of FedEx workers in Indianapolis were forever altered on Thursday, April 15th. The gunman, Brandon Hole was 19, and a former employee of the FedEx facility. Hole had legally obtained two assault rifles in September of this year. Hole's mother had talked to the FBI about concerns she had regarding her son; she feared he may be a danger to himself or others. She was also afraid he would commit "suicide by cop" a term used to describe when a suicidal individual behaves in a threatening way to intentionally provoke lethal action from law enforcement. Hole went to the FedEx facility where he had previously worked and started randomly shooting in the parking lot. He continued shooting inside the facility killing 8 people and injuring 5 others.  After this, Hole killed himself; police arrived shortly after 11 pm, at which point Hole was already dead.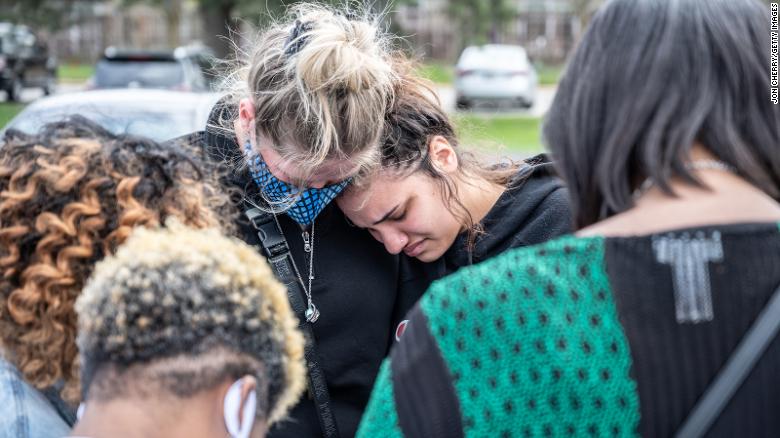 The victims were Matthew Alexander, 32, Samaria Blackwell, 19, Amarjeet Kaur Johal, 66, Jasvinder Kaur, 64/50, Amarjit Sekhon, 49/48, Jaswinder Singh, 70/68, Karli Smith, 19, and John Weisert, 74; 3 of the victims have 2 ages listed, the first age is what authorities said and the second is what their families said. Matthew Alexander was a generous, good friend, the kind you keep from when you're a teenager, and he also loved all kinds of sports. Samaria Blackwell had 3 older siblings; she was a lifeguard, she played soccer and basketball, and she wanted to become a police officer one day. Amarjeet Johal intended to go home and celebrate her granddaughter's birthday the night of the killing; she loved watching soap operas and seeing her grandchildren and great-grandchildren. Jaswinder Kaur was going to make her famous yogurt for her granddaughter's second birthday on Saturday. Amarjit Sekhon had 2 sons, one 14 and the other 19; she was described as a kind soul who was very close with her family. Jaswinder Singh had just started working at the FedEx facility that week, and he was incredibly excited to bring home his first check. Karli Smith was a recent high school graduate; she was bubbly, excited, and loved music and sports. Her mother didn't know how to tell the world just how amazing she was. One of John Weiserts two children described him as having a "goofy, cornball sense of humor," and the Vietnam Veteran also loved playing guitar. 
There were countless other shootings in many places including: Wichita, Kansas, Baltimore, Maryland, Washington, DC, Pensacola, Florida, Philadelphia, Pennsylvania, Charlotte, North Carolina, Jacksonville, Florida, Seattle, Washington, Chicago, Illinois, Columbus, Ohio, Omaha, Nebraska, and LaPlace, Louisiana. Among the lives lost were a seven-year-old girl, 2 high school students, 3 adults in a bar, a woman who was driving her car, a 21-year old man in a mall, a 29-year-old trans woman, and so many more. 
There is no proper way to express the tragedy that so many have experienced as a result of the shootings in the last week, month, year, or even decade. Loss is loss and grief is grief, no matter the circumstances. So many people are hurting right now. I am hurting right now. As Rose Kennedy once said, "it has been said time heals all wounds…the wounds remain. In time, the mind, protecting its sanity, covers them with scar tissue, and the pain lessens, but it is never gone." Families, friends, and communities are wounded right now. They are hurting, and that hurt will never go away. The United States needs to do something about gun violence, so no one ever has to feel pain like this again. Systems need to be put in place to prevent others from experiencing this hurt. It can be prevented and we need to prevent it.