Sweitzer Sisters launch Bags to Beds Project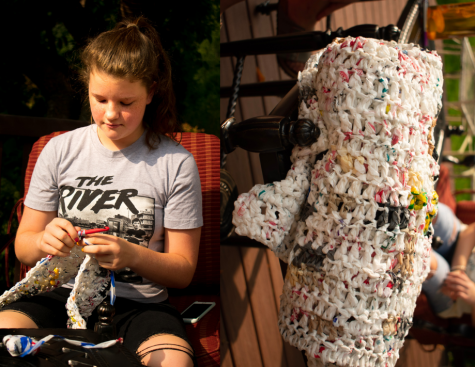 Piles upon piles of plastic bags filled with even more plastic bags tower around the picnic tables at The Grange Field. The chilly autumn air carries the sounds of rustling plastic, quiet chatter, and the guitar riffs of Cage the Elephant. Long chains of plastic yarn, called plarn, fly through the air with each gust of wind. Sisters Libby and Maggie Sweitzer lead the pack, teaching volunteers how to make plarn out of the bags. Slowly but surely, the mountain of recycled plastic bag donations is depleted, and they steadily turn into tight balls of plarn. This plarn-making party helps to speed up the process of making the sleeping mats that Libby and Maggie will crochet and donate to the homeless population of Philadelphia. 
"Especially with COVID, since homeless shelters might be filling up faster and they just have to turn more people away, our hope is that they'll be able to give them something to sleep on," Libby, a senior at Haverford High School, said. 
Maggie, a sophomore, said their inspiration came when her sister "did some research and found this organization in New Hampshire that made these [mats]." Since the organization wasn't located in Philadelphia, though, the girls decided to donate to a women's shelter in Upper Darby.
Michael Selfridge, a junior who has been making plarn for the mats, said, "Environmentalism has always been a huge passion of mine, and, especially during the quarantine months, I became a lot more conscious about my waste and plastic usage. I actually saw someone making 'plarn' on TikTok, and I thought it was a really cool way to repurpose plastic bags. When I heard that Libby and Maggie were holding plarn-making sessions, my friends and I signed up!"
Each mat takes up to twenty to thirty hours to complete, going from a pile of plastic bags to something ready to be slept on. The work is tedious, but the sisters are getting quicker with each stitch. "We're going at a moderate pace because we don't want to burn ourselves out. We did this one in two weeks," said Maggie, pointing to one of the finished mats, which is about six feet long.
Libby elaborates, "We'll go until we run out of bags, and then we'll ask people to donate more bags. We'll donate [the mats] gradually."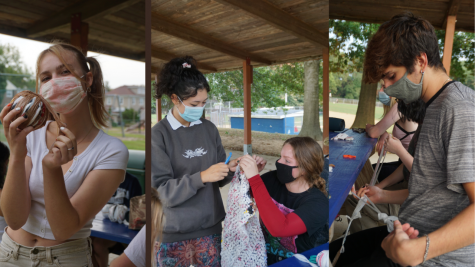 In order to reduce the amount of time it takes to make the mats, they are asking people with donations to consider making their plastic bags into plarn before donating them. Making the plarn is easy, Maggie explains. "You take a plastic bag, flatten it out, and then you fold it up into eighths and cut it into little strips. It'll form loops when you unfold it, and you link all the loops together." She sighs and laughs saying, it takes "too long."
Natalie Dumitrescu, a senior who has been helping out, said, "I wanted to get involved because Libby is one of my closest friends and I wanted to support her. . . I don't get to see my classmates that often anymore because of COVID, so it was really fun to spend time with my friends while also doing something good for others."
Many of the students who have helped out so far plan on continuing with the project and helping Libby and Maggie achieve their goal of making a difference in Philadelphia's homeless community. Selfridge said that he will undoubtedly continue to contribute, and explains, "I hope that this gives the homeless people of Philadelphia some comfort as we enter the fall and winter seasons, and I also hope that it gives more people ideas on ways to repurpose plastic to serve others."
Dumitrescu adds, "We all found crocheting them to be really fun, so I will definitely keep helping with that!"
The many hours that the sisters have put in and continue to put into these mats will certainly be well appreciated. They hope to continue this long-term project in the months to come so as to provide continuous support for Havertown's Upper Darby and Philadelphia neighbors as they battle homelessness, COVID-19, and pollution.