Humans of Haverford: Warrior Lily Walker
The name Lily Walker has become a household name in Haverford. The reason? Walker's constant smile in the midst of her battle with cancer. Freshman Lily Walker was diagnosed with astrocytoma on March 17, 2019. As one year since her diagnosis has passed, The Fordian reflected on the past year with her. 
Astrocytoma is one of the most aggressive forms of brain tumors, which requires radiation and chemotherapy to treat it. In the past year, Walker feels that she has "become stronger and more aware of people's battles, not only with cancer, but with anything." Walker's awareness of others reflects her kindness, shown when she thanks nurses after getting blood drawn or an IV put in. In spite of cancer, Walker adds that she has stayed positive and "loves [her] family and friends, maybe even more now!" 
Walker's friends have certainly supported Lily in every way possible. Walker says that she would not have been able to overcome this challenge without their support. While describing the ways they have helped, she says, "They have come to some appointments with me, and I think it was good for them to see what I go through. They are the best!" 
Freshman Lily Ewing, one of Walker's close friends, says that she has simply been "staying by her side, just loving her, and always being there right away." Ewing helped create events and fundraisers, from the 24-hour run to the Green Out pep rally and the Light Haverford Green bus tour. Ewing describes Walker as "[someone who] never stops smiling! No matter how hard it is for her, she still smiles and doesn't give up, and that shows a lot."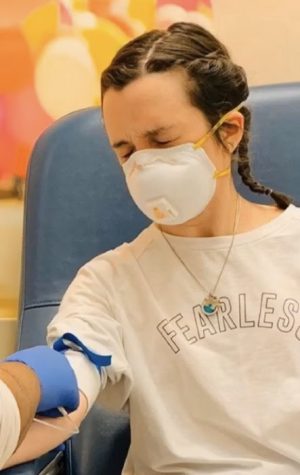 Walker's perpetual smile is her trademark, but sometimes that becomes difficult. "My radiation was not easy," Walker reveals, "Everyday I had to go back and lay on that table in silence with my music on. I had to wear a super tight-fitting mask and it was bolted to the table so I couldn't move at all. The proton beam is so precise that there could be no movement at all.  I would just lay there and wait for them to come in and tell me I could go be done." The hours in radiation resulted in the incredible news of the tumor's shrinkage. 
Haverford's response has made Walker smile! The movement to 'Light Havertown Green' has taken over the community, as most houses and businesses display green lights and decorations. When Walker took a tour of the lights, she said, "I really got to see how many people are cheering for us!" Haverford isn't the only one who is supporting Lily. Carson Wentz, the Quarterback of the Philadelphia Eagles, wears a green bracelet emblazoned with the words #LilyStrong to every game. Wentz reveals himself "in awe of her, as so much has been taken from her physically, yet she wants nothing more than to give back to others." The color green has become a symbol of Walker's battle. While Walker was in the hospital in March 2019, her aunt began creating the original shirts. "Green and blue are the colors for neurofibromatosis, which is a genetic issue I was born with," says Walker.  
In the wake of COVID-19, Walker has been taking the measures that everyone has been ordered to follow."I can only be with my family. When my mom and I have to go to my appointments down at CHOP, we must wear a mask. We constantly wash our hands when we are there and shower and change as soon as we get home," she explained.
When asked what her advice would be to other teens battling cancer, Walker replied, "I would tell them to stay strong, that they will learn so much about themselves, and they will feel so proud of themselves. I would tell their friends to stick by them, that they need their support more than anything, and to include them all the time even if sometimes they won't be able to. Cancer can isolate you. You need to know that you are thought of, even through a simple text."