How to Enliven the New Social Distancing Norm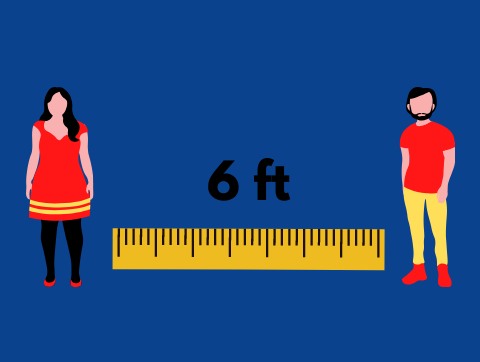 The pandemic COVID-19 is now spreading throughout the United States. This illness, caused by a novel coronavirus, can be easily transmitted from one person to many others, and those others can unknowingly pass it on. This chain continues until it infects an individual who is elderly (over 60 years old) or has a compromised immune system, leading to potentially fatal infections. Large groups increase the chance of a single person passing COVID-19 to many, many more people. Handwashing and standard coughing or sneezing etiquette were emphasized as the earliest cases of the virus first presented in the U.S. To help stem the spread of this dangerous virus, Governor Tom Wolf announced the closing of all Pennsylvania schools for two weeks beginning on March 16. He did so "to ensure the health and safety of our students and school communities." Wolf also shut down all Pennsylvania restaurants and bars, allowing only take-out options. All businesses not providing "life-sustaining" services were also closed leaving only groceries, gas stations, health-care facilities, transit services, and pharmacies open for business.
Now more than ever, Pennsylvania is implementing social distancing and urging everyone to stay at home to stop the spread of the virus. "Social distancing is deliberately increasing the physical space between people to avoid spreading illness," says John Hopkins Medicine. Social distancing is avoiding large crowds and events, hence the continuous cancellations of many spring sports, school closings, and conference cancellations. In this digital age, it is easy to stay at home but still be very connected! Apps such as Facetime, Zoom, WhatsApp, & Google Hangouts can connect groups of friends together to chatter endlessly. As schools, offices, & stores close, chances are you are finding yourself bored or in need of an activity besides scrolling through Tik-Tok or Instagram. We have compiled your go-to-guide to surviving social distancing.
Step away from your phone and electronics and play a game with your family! Although you may not have homework, you can keep your brain active with board games such as Monopoly, Scrabble, Boggle, & chess. Take this extra time to read that book you have always wanted to, but did not have enough time for before this isolation.
Just because you are avoiding large crowds, it doesn't mean that you can't enjoy the warming weather. Sports may have been postponed, but you can still hone your skills by practicing with your family and siblings. Some easy ways to stay in shape while the gyms are closed are to go for a run around your block or follow home workout videos. 
Sometimes it can be hard to hold yourself back from snacking when all the food is at your disposal. Mix things up and pick an easy recipe to spice up your normal snacks!
Of course, there's always Netflix and many other streaming services. Settle in for a movie or TV show binge in the upcoming rainy days. The chrome extension 'Netflix Party' allows you and your friends to watch the same movie or show at the same time!
Many authors, artists, trainers, and businesses are offering free online book readings, draw-alongs, workout routines, and challenges to keep your interests satisfied. A quick Google search can help you find videos or live streams to motivate you!
Remember, social distancing is for your own safety, as well as others around you. There are many ways to make your days productive and entertaining! Don't forget to encourage your friends to read the latest articles on The Fordian! Updates on new articles are posted on The Fordian's Instagram, @hhsfordian.