2020 Democratic Primaries: An Overview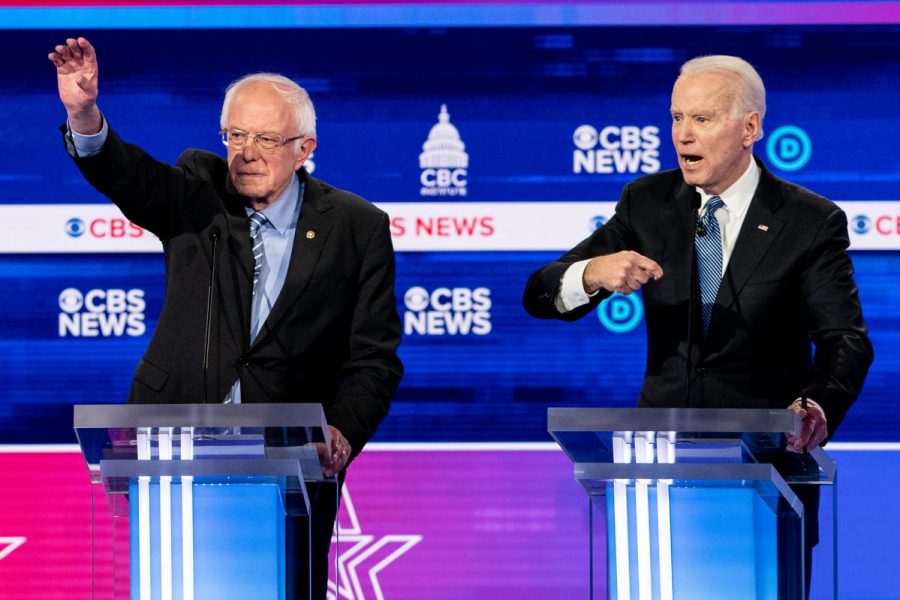 This February marked the start of the Democratic primaries. The primary elections determine which candidate will become the presidential nominee for each party. The dates are staggered among the 50 states, set between February and June of 2020. Through a complex process that varies from state to state, the top candidate is decided. Once a nominee is chosen, he or she will run against the other parties' top choice for the position of president-elect of the United States.
Initially, there were 29 candidates competing to become the Democratic presidential nominee. Today, only three remain: Joe Biden, Bernie Sanders, and Tulsi Gabbard. The primaries, which began as the most diverse in U.S. history, are now down to two white men, Biden and Sanders, and one woman of color, Gabbard (Samoan-American U.S. Representative from Hawaii). Those who have joined the campaign have all done so in attempts to defeat President Donald Trump, who will be seeking re-election in 2020. The candidates who have dropped out of the race include Elizabeth Warren – who has not yet endorsed any of the remaining candidates –  as well as Mike Bloomberg, Pete Buttigieg, Kamala Harris, Amy Klobuchar, Beto O'Rourke, and Andrew Yang, all of whom have endorsed former Vice President Biden. 
One of the most striking parts of the 2020 Democratic primary is Warren's failure. Warren began her campaign in early 2019 and slowly built up momentum. With her progressive values and detailed policy proposals, she overtook Biden and Sanders as the front-runner in September and October. She likely saw her downfall because voters were concerned about her electability as a female progressive. She also lost support among the progressive base due to her lack of important endorsements from progressive leaders, such as Rep. Alexandria Ocasio-Cortez, as well as her underwhelming performances in the first four state primaries.
The Iowa Caucus, the first primary contest of the Democratic Primary, had surprising and chaotic results. The caucus was disappointing to many Democrats because it took a couple of days for the results to come out and voter turnout was lower than expected. Buttigieg surprised many by not only winning the Iowa caucus, but also by coming in second place in New Hampshire. Biden, however, fell short. He placed fourth in Iowa and fifth in New Hampshire, causing him to lose momentum in national polls. Biden's loss of momentum and Sanders' wins in Iowa and New Hampshire would allow Sanders to become the new front-runner of the race and go on to win the Nevada caucus with large margins.
From this point, it seemed evident that Sanders was going to win the nomination. However, the results from South Carolina completely changed the game. Just before the South Carolina Primary, Biden received one of the most important endorsements in the race: an endorsement from Rep. Jim Clyburn, the House Majority Whip, who has immense popularity and influence among African-American voters in South Carolina. His endorsement greatly contributed to Biden's definitive win.  Even more shocking than the revival of Biden's campaign was both Buttigieg and Klobuchar dropping out of the race and endorsing Biden, greatly boosting his support and restoring his position as the front-runner.
Super Tuesday, which took place on March 3rd this year, is the day when the largest number of states hold primary elections for their top presidential nominee. Biden won the majority of states, bringing him a total of 823 delegates to Sanders with 663. Warren and Bloomberg both dropped out of the race following Super Tuesday, with Warren unexpectedly gaining only 33 delegates that day. Gabbard gained just two delegates on Super Tuesday, but she has not dropped out of the race. 
At this point, with Bloomberg and Warren dropping out due to disappointing Super Tuesday results, the remaining major candidates are Biden and Sanders. Biden and Sanders have very different approaches in policy and style. Sanders, a self-described democratic socialist, believes in structural reform to create "an economy that works for all, not just the very wealthy." He appeals to young voters, who feel anxious about the state of the economy, rising healthcare costs, and climate change. Biden, on the other hand, believes the first priority is defeating Trump and building on the successes of the Obama Administration. He appeals to older and moderate voters whose first priority is to beat Trump.