Haverford's Hi-Q Team Advances to Semi-Finals After Securing a Home Victory
Haverford High School's Hi-Q team competed against Radnor High School and Delaware County Christian School in its last regular Delco Hi-Q meet of the 72nd season on Thursday, February 6 at its home turf in the school's auditorium. Haverford, despite feeling the pressure, came out on top with 54 points, surpassing Radnor's 43 points and Delaware Christian's 41 points. Points earned in this academic competition, after being added to past competition scores, determine the teams' playoff positions, making for a fierce fight. 
The entire competition covers thirteen subjects, including standard high school course content, as well as general scholastic knowledge. The contest's first half incorporates questions regarding Current Events, Sports, Biology, Geography, Literature, Shakespeare, American History, and Mathematics. Competitors in the first half were junior Lauren McAdams, senior Gina Ngo, sophomore Jose Policarpio, and junior Ian Kratzinger. 

When a particularly difficult sports question was asked during the first half, Haverford sophomore Jose Luis Policarpio was the only student able to come up with the answer.  He said, "Radnor and Delco Christian have been having great seasons, but Haverford was the only one to get the sports question. That's pretty important, and I think it shows how we've really progressed as a team. I think we can win it all this year."
American Government, Art History, World History, Chemistry, and Physics make up the standard categories of the contest's second half. The toss-up questions include Mathematics and a team choice category (Shakespeare, American History, Literature, and Geography). Competitors in the second half were junior Tyler Ea, junior Emma Whittaker, senior June Park, and senior Sophie Helfer. Junior Freddy Quarshie and sophomore Caleb Schmitt were substitutes. 
After the victory, team Coach Laurie Grady said, "I feel amazing. It's always so nerve-racking going up against these two awesome teams, so coming into this competition, we were pretty nervous. We had two really good prior meets, but we wanted to do well in front of the home crowd. [The team's members] knew when they had to put the foot on the gas, and they did it. They studied, they worked so hard, they were cool, they were calm, they did everything right, so I'm so proud of them."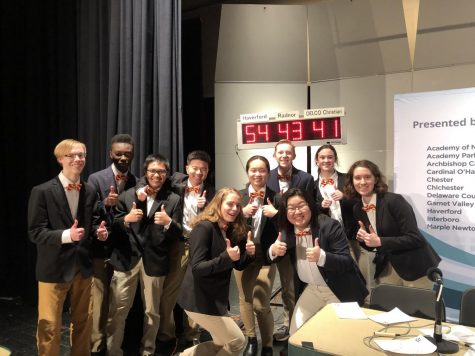 Coming out of the competition, Radnor's team coach Robert Spear said, "I feel reservedly good. We scored second place overall for the season, which gets us a home playoff meet. We had some real strong moments today."
Senior Rachel Young from Delaware County Christian School said, "I thought Haverford did great. I think each team did their best, and it was just a good, competitive meet. Everyone just had to focus and not choke under pressure." 
As a result of their winning point count, Haverford earned a place in the semi-finals and will compete against other semi-finalists on Tuesday, February 18. The team plans to compete with the same vigor they displayed in their home meet and attain another victory for the Fords.