Humans of Haverford: Tennis Player Maliha Sadaf
Out of the many sports in the world, I choose to have a racket and a ball in my hand. A lime green ball so fresh, made of fun elastic, and the felt covering helps make it milder, slowing its speed, and managing its ricochet, of course. As critical as it sounds, it certainly gives the ball a great deal of surface for a turn, which is key in the game of tennis. Forty-one girls, two coaches, six courts. Finally, there I am standing. Sweat drips down my face at a temperature of 98°. Shuffling left to right, waiting for the ball to pass over the net to me, I make a split-second decision: forehand or backhand? My eyes focus like a laser-beam ready to strike.  Brushing off the lint from my blue Nike long sleeve, I look down at my leggings covered all the way down to my ankles and to my clean electric blue sneakers with white laces. Repositioning the three safety pins securing the scarf on my head, I turn my head; my eyes make contact with a group of girls sitting on the bleachers. Tough crowd! A hijabi girl on the tennis court.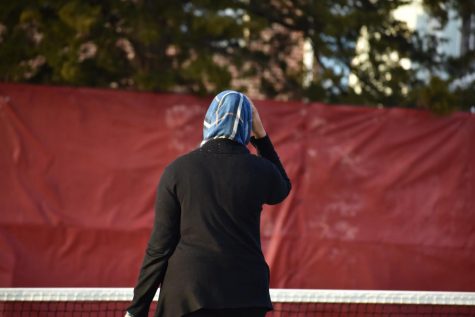 Raised in New York, my family and I took trips to Flushing Meadows Corona Park almost every other weekend. As I strolled through the park, my eyes would always look towards The Arthur Ashe Stadium, used for all US Open Series events. Its dynamic blue inner courts and a light green outer court color scheme contrasted beautifully with the lime green tennis balls. I imagined myself standing in the middle of the court with over 23,000 people cheering my name. At that point, I knew in my heart that this was what I wanted to do for as long as I could.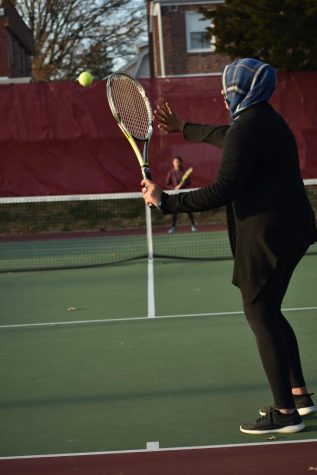 When I joined Haverford's tennis team, I became part of a community that values inclusivity through acceptance and encouragement. Although players compete to secure a place on either the Varsity or Junior Varsity teams, we only play to win and accept defeat together as a holistic unit. I am not a professional, nor am I the best. I have played tennis for only three years on a doubles team, playing for the sole satisfaction of being the only young hijabi woman soaring across the court in chase of one ball like a powerful eagle. Whether it's the slightly slippery refined grass courts, the soft clay orange courts, or the usual hard blue courts, a court in sight fills my life with light.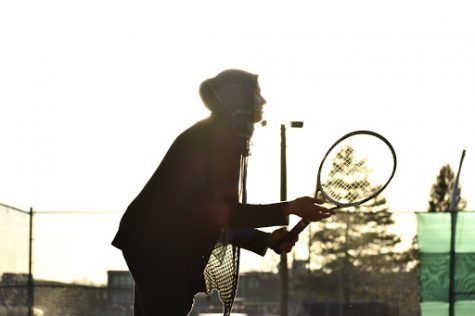 To this day, I remember the game played against a local high school in Hicksville, NY. I competed with my partner Salina, an incredible teammate, not only accepting but also supportive of my ambitions. As I prepare to serve, a clear voice behind me yells out "Get off the court terrorist, go back to where you came from!" My heart instantly sinks. There it goes again, "Take that thing off your head dirty Muslim, go take a shower." Feeling my heart race at an abnormal pace, I close my eyes and remember my elder sister's words: "hardships build character." Those three words made me realize that regardless of my attire and religious preference, I should not hold back because of the fear of being judged before given the chance to show my true skills. Blocking all the negative energy, I take a deep breath and serve. As the ball arrives at its zenith, an amazing topspin stuns the audience and more importantly my opponent. She never expected a serve like that. That's when I realized, hijab or not, "I CAN play tennis, and no one can tell me otherwise."