Drama Club Presents "James and the Giant Peach"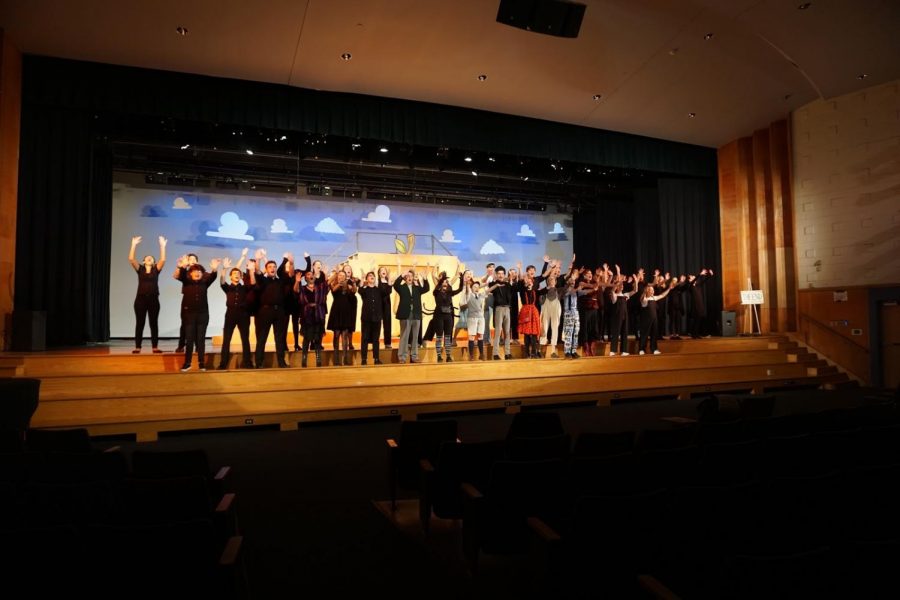 The Haverford Drama Club performed a musical adaptation of the children's classic James and the Giant Peach by Roald Dahl in Haverford's auditorium from November 14 to November 16. Everyone on and off stage put their hearts into every song, dance, and scene, and all of the hard work paid off. 
The show featured the work of talented students, including senior Jack O'Leary as the narrator, Ladahlord, and senior Noel Guidetti as James. Seniors Sam Walsh and Annajean Gionta portrayed James's cruel aunts Spiker and Sponge, respectively. The main cast was complete with a group of bugs, including senior Grazia LaRosa as Ladybug, junior Shane Leinhauser as Grasshopper, senior Pammie Cobaugh as Spider, senior Aidan Mastronardo as Centipede and sophomore Michael Selfridge as Earthworm.
James and the Giant Peach is a musical that was favored by the majority of Haverford's cast. Meghan McGrory, a senior, said she liked the selection because "Haverford fits the show very well, and the show was cast amazingly," and she was right.  Drama Club pulled off the roles perfectly, which made the show even more enjoyable for the audience. 
Drama Club members agreed that the show had been a lot of fun and performing helped them enhance their talents. They also made many friends along the way. 
In addition, the stage crew did a phenomenal job facilitating the effectiveness of the production. As sophomore McKenna Loney said, "It was a challenge for stage crew, but the show was something fun that they could help accomplish."