"Built Fords Tough" Pep Rally Animates Students Before 98th Annual Turkey Bowl
Haverford High School students packed into the Juenger Gymnasium during fourth block on Wednesday, November 27, to celebrate Haverford's football team and its upcoming game against long-time rivals, the Upper Darby Royals.
The senior football captains triumphantly ran into the gym, breaking a welcome banner as the school population cheered them on. Haverford's choir performed beautiful renditions of the National Anthem and Haverford's Alma Mater.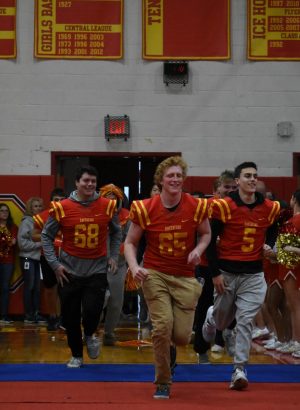 The excitement continued with the entrance of the Robotics Club sponsor, Benjamin Preddy, who announced his retirement as the adviser of the club.  Preddy created the award-winning Robotics Club 20 years ago, and the activity has since grown to about 35 members. In true Haverford spirit, the club built a robot of the school mascot, Fordinand, which was greeted by an enthusiastic reaction from the crowd.  Using a t-shirt cannon, Robotics Club members shot Fans Club t-shirts into the crowd for an exciting finish.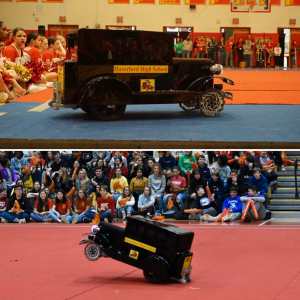 Following the Robotics presentation was the performance of the Lady Fords cheerleaders, who showed their school spirit, chanting that they were "Built Ford Tough." The crowd, chanting along with them, definitely agreed. The rally continued with the Red and Gold Club dancing to classic TikTok songs, such as "Roxanne" by Arizona Zervas while wearing large posters of the faculty's faces, including Principal Peter Donaghy, Coach Joe Gallagher (Coach Gal), teacher Leon Smith, and librarian assistant Charmagne Newman.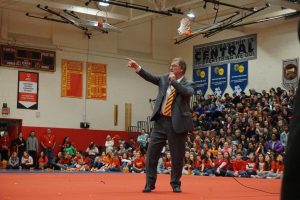 Members of the club gave the student body a preview of Red and Gold Night, which will take place in the spring. They participated in the tire pull, during which one member from each team (Red or Gold) attempted to pull a tire to their respective side as they were cheered on by the exuberant students.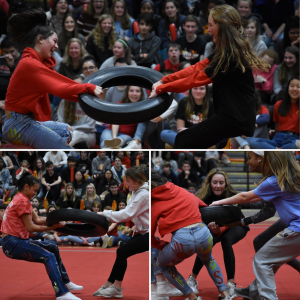 The cheering continued as the five-members of Haverford's Uniquely Golden Dance Team entered with their riveting performance to songs such as "Single Ladies" by Beyoncé.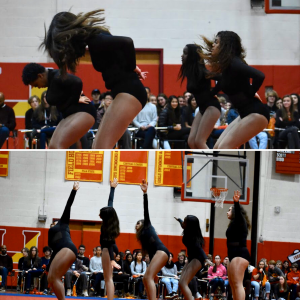 To culminate the Pep Rally, Coach Gal called the football team down from the bleachers and proclaimed that the Fords would beat the Upper Darby Royals for the 10th year in a row in the traditional Turkey Bowl.  This prediction came true on Thanksgiving Day when the Fords dominated the Royals with a 42-18 victory, the perfect start to the Thanksgiving holiday.