Haverford Faculty Outlasts Upper Darby in Overtime Thriller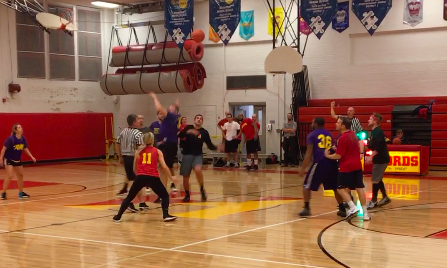 Just three nights before the traditional Thanksgiving Day football game between Haverford and Upper Darby, both schools' faculty members dusted off their high-tops to engage in their annual competition on the hardwood. The storied rivalry between these two Delaware County schools sparked the intensely competitive atmosphere, which made a thrilling game. As the score teetered back and forth during regulation play, it became obvious that the outcome would have to be decided in overtime. Thanks to clutch baskets from Principal Donaghy and Social Studies teacher Brian Hulea in the extra two minutes of play, Haverford was finally able to outlast the Royals 51-46.
This game was not just an opportunity to get in shape, but rather a part of a tradition that has lasted since 1921, when trolleys were just beginning to run through Ardmore and Llanerch. The Thanksgiving rivalry football game between the schools eventually motivated the faculty to initiate their annual basketball competition. Even greater than the tradition that has lasted for almost 100 years, the faculty from both sides agreed that this game was for pure enjoyment and love of the sport. Teacher Greg Decina, who hit a couple of three-pointers and racked up numerous offensive rebounds during the contest, explained what this game meant to him: "Mostly school pride, hard work, dedication and it's just fun." Though the Upper Darby staff were devastated by their loss, they still admitted that the opportunity they had to play was more important. "It's a tradition- it [has] been going on for a long time and it's fun for the teachers," said an Upper Darby faculty member. 
Social Studies teacher and freshman boys' basketball coach Leon Smith, who sustained injuries during the game, found being a spectator was a safer, more enjoyable choice. "It was so exciting! We got down – the  boys [the freshman basketball team] were talking trash and our principal hit a three-pointer and it was just so much fun," said Smith.
Since the teams were evenly matched, support from the Haverford students propelled their teachers, counselors, and coaches to victory. As the seconds ticked away, both teams needed a fresh spark of energy. The Royals could not find this spark, whereas the Fords received new life from the bleachers. About forty students came out to cheer on their teachers and coaches, while also vying for scholastic advantage.  English teacher Michael Christiansen, who was a key part of Haverford's push late in the second half to send the game into overtime, loved the support from the students. He said, "It's a big, big tradition and extra credit for some of my students who came out and supported [us], and we couldn't have gotten through it without them."