Frightfully Delightful Chocolates Ranked By Haverford Students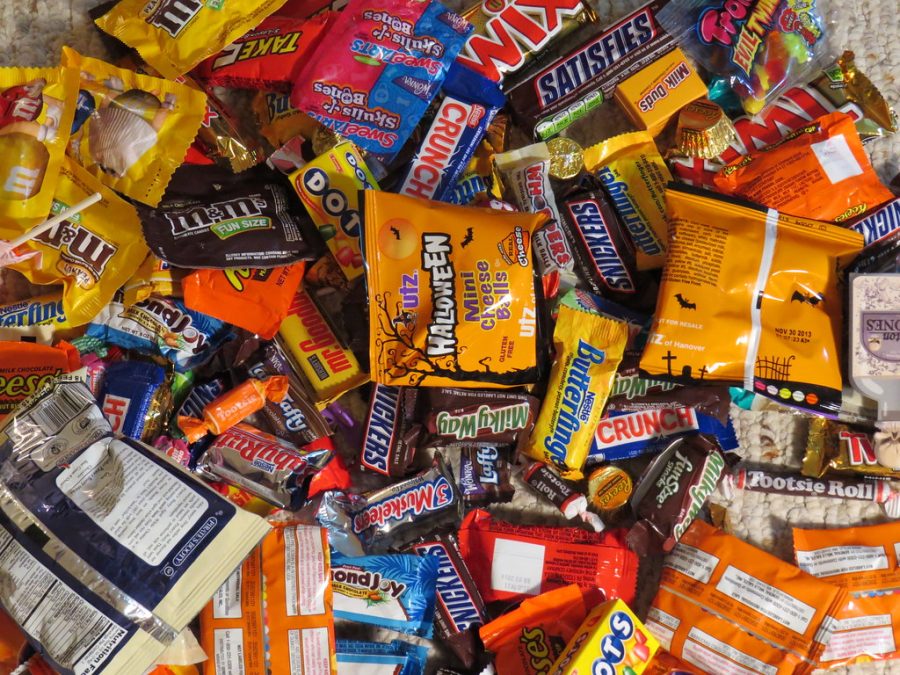 In The Fordian's new Halloween series, many of Halloween's favorite traditions are featured – one of which is eating candy! Haverford High School's students were sent a survey, asking them to choose one out of ten popular chocolate treats. The following shows a sample of 733 students' rankings from number 10 to number 1!  
Number 10 – Butterfinger
A sweet, savory, and crunchy combination, this "peanut-buttery" treat is sure to slip from your fingers if not watched. Created by Otto Scherning in 1923, these bars are made fresh in the factory each day with ground-roasted peanuts, cocoa, and molasses. It was once owned by the Curtiss Candy Company, but today it is owned by Nestle. So, if ever you are in need of a new "crispety-crunchety" snack, pop open a Butterfinger.
Number 9 – Heath Bar
Hershey's Heath bars are the best of toffee candy bars, boasting rich flavors such as vanilla, almond, and cocoa butter.  Originally made in 1928 by two brothers, Bayard and Everett, this scrumptious snack was just too small for their Illinois candy parlor. Hershey made many attempts to acquire this treat, and it eventually did in 1996. Tell all of your toffee-loving friends to look for this unchallenged delicacy in a store near them.
Number 8 – Mounds/Almond Joy
Coconuts found a new home in Mounds when they were first created in 1920 by Vincent Nitido. Peter Paul Candy Manufacturing Company (Cadbury) quickly saw the candy's potential, and purchased it in 1929, at which point, Mounds were produced at a magnificent rate.  Cadbury then improved upon Nitido's creation by adding Almond Joy to the coconut mix in 1946. Hershey eventually purchased the candy combo for $300 million in 1988. Be sure to try one, or both, of these saccharine goodies if ever you are in need of a change.
Number 7 – 100 Grand
A close relative of the "high-brow" Ferrero Rochet, 100 Grand's crunchy and caramel insides are sure to please one and all. First made in 1964, 100 Grand is still one of the only candies to offer both a rice crunch and caramel flavor.  Take this pioneer for a spin whenever you are in need of a change.
Number 6 – Snickers
Unarguably one of the most famous of peanut butter treats, Snickers' 'ooey-gooey' insides are sure to make the pickiest of mouths water.  When created in 1930 by Mars Inc., Snickers was named after one of Frank Mars', owner of Mars Inc., favorite horses.  This never-before-seen candy sent ripples throughout the chocolate community under aliases, such as "Marathon" and "The Isle of Man" in the U.K.  Take your favorite horse for a marathon on the Isle of Man when you next visit a candy vendor!
Number 5 –  Hershey's Chocolate Bar
The classic milk chocolate bar, Hershey's, was created by Milton Hershey in 1900 after several, painstaking trials resulting in error.  Junior, Hallie Farr, described it as "simplistic, but delicious" and claims " … it can go with other snacks or with s'mores." Farr summed up her feelings for her favorite chocolate by stating "You never get sick of it."  Grab this classic to make a concoction of your own for perpetual satisfaction!
Number 4 – Take 5
Take 5 is Hershey's heavenly culmination of milk chocolate, peanuts, caramel, peanut butter, and pretzels.  First sold in 2004 by Hershey, this flavorful treat has wooed connoisseurs internationally. Junior, Liz Womack, holds it as her favorite candy due to its "many layers of goodness". Why have one when you could have all five? Try a Take 5 on for size and spread your opinion!
Number 3 – Twix
The "nice and crunchy" Twix, says senior, Pammie Cobaugh, is surely one to never forget. As the battle between left and right Twix continues, many are separating due to conflicting beliefs. Take a bite of one of these "crunchalicious" bars to discover which side you prefer.
Number 2 – KitKat
The first KitKat was manufactured in 1935 in England. Since then, the delectable treat has traversed far more than merely the Atlantic, as this candy is known world-wide.  As put best by sophomore, Zach Graaf, "It's cookies and chocolate all in one!" In Japan, it is called "kitty katsu" which is symbolizes good luck, so try out your luck with this chocolate-coated wafer! If that is not enough motivation, follow junior, Catherine Corbett, who will do "anything to be like a Kardashian".
And the winner, Haverford High School's favorite chocolate is –  Reese's Peanut Butter Cups
In first place, Reese's Peanut Butter Cups Cups, invented in 1928 by H.B. Reese, bring a soft, savory twist to the chocolate, peanut-butter mix which many have loved since it's debut.  Freshman, Stefan Bilc, favors Reese's Cups for their "peanut-buttery flavor" as it "mixes well with the chocolatiness". Stop by Wawa to find out why this is Haverford High School's favorite candy!