10 Thriller Songs to Jam to This Halloween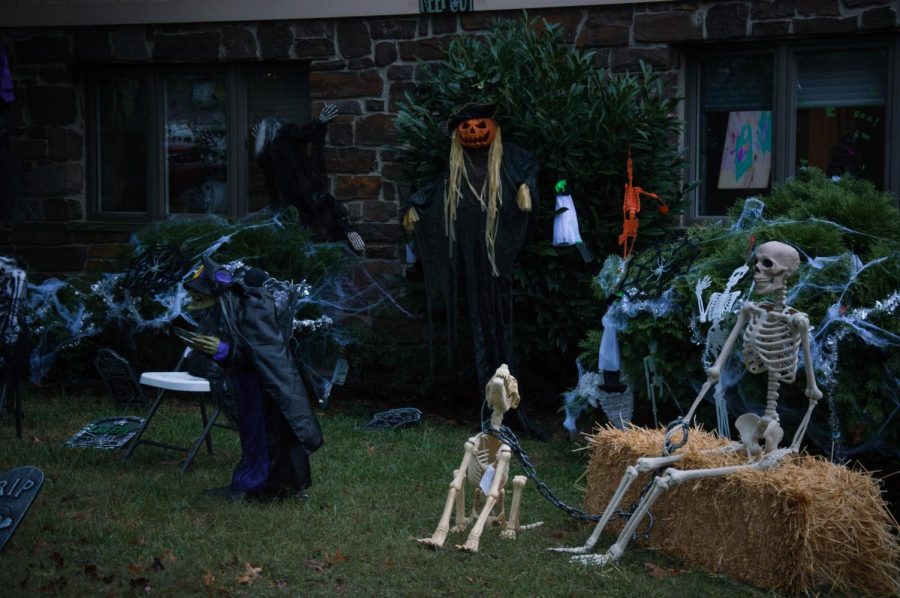 Halloween is the one day of the year when all things frightening are celebrated, and what better way to indulge than to start the night off right with a spooky playlist? However, as one ages, the "Monster Mash" and the "Scooby Doo, Where Are You?" theme song no longer fulfill one's Halloween playlist needs. To have a truly successful night, one needs a compilation of songs with more depth to them. Of course, there are a plethora of tunes to choose from, but here are ten of the best to help you enhance the terror ofAll Hallows' Eve. 
"Ghost Town" by The Specials 
Few songs evoke their era like the Specials' classic, "Ghost Town", a perfect description of social breakdown that led the soundtrack to an explosion of civil unrest. This hit, released in 1981 at the height of the U.K's recession riots, is about unemployment, inner-city violence, and urban decay, not decaying flesh. However, it still creeps out all of its listeners with a bizarre combination of eerie flute solos, ominous lyrics, maniacal, childlike la-la-las, and some spooky synth fades. 
"Excitable Boy" by Warren Zevon 
For any fans of dark humor, "Excitable Boy" is right up your alley. The bright, poppy sound of this song directly contrasts its lyrics, which describe the horrific story of a psychopathic, murderous boy. Like most of Zevon's darker ballads, the narrative is an attempt at humor rather than horror. This is achieved through irony; no matter how vile his actions, the adults around the "excitable boy" merely dismiss his disturbing behavior with the thought that "he's just an excitable boy." The juxtaposition of "Excitable Boy" is what makes it stand out, demonstrating how we as a society, have become desensitized to violence. 
"Season of the Witch" by Donovan  
As one of the first songs to fall into the psychedelic genre, "Season of the Witch" created a new era of music. Backed up by a hypnotizing guitar riff and vocals reminiscent of early Led Zeppelin, the piece conveys a certain disorientation. "Season of the Witch", however, is not about witches, but deals with the social changes coming to the forefront in the '60s. Donovan was observing himself from the outside, trying to evaluate how he and the world around him were evolving. This could be a realization that the peace and love movement of the late '60s was changing into something else, perhaps more commercial, and perhaps bewitched. 
"Time Warp" from The Rocky Horror Picture Show
The Rocky Horror Picture Show may be a musical, but it's still a spooky essential. No self-respecting Halloweenie hasn't experienced the toast-tossing, costume-clad, line-ad-libbing extravaganza at least once. With a jump to the left plus a skip to the right, you can participate and sing along to the movie's party-favorite song, "Time Warp". This song is both an example and a parody of the dance song genre in which much of the song's contents are given over to dance step instructions. So, whether you are at a Halloween party or at home with your friends, "Time Warp" is the perfect song to get up and dance to. 
"Supernature" by Cerrone 
Reaching number one on the U.S disco/dance charts in 1978, "Supernature" created a frightening vision of a not-too-distant sci-fi future where escaped mutant creatures, created in a lab to end human starvation, have rebelled against their makers, resulting in disaster. The purpose of this song is to raise environmental awareness, depicting a future in which the use of artificial chemicals has caused Mother Earth to take revenge on mankind. This revolutionized the extremely brief sci-fi disco genre and is the perfect thought-provoking song to add to your Halloween playlist. 
"I Put a Spell on You" by Screamin' Jay Hawkins
This horror-rock favorite, originally intended to be a sophisticated ballad of love, is one of the most recognized Halloween songs of all time. The ghoulish essence of "I Put a Spell on You", established by the obscure notes and rhythms of the saxophone and piano, along with the various raspy grunts and screams which Hawkins lets out during the piece, is what categorizes it as a Halloween classic. Though this classification may cause people to perceive it as gimmicky, the iconic song is nothing short of a masterpiece. 
"Red Right Hand" by Nick Cave & the Bad Seeds 
Easily the most recognized song by Nick Cave & the Bad Seeds, "Red Right Hand" has been insanely popular since its release in 1994. Nick Cave is already known for haunting vocals, but this song brings these out even further, melodramatically describing a nightmarish figure wandering in a town. The black and white music video further unveils the eeriness of the song, evocative of an old-time horror movie. 
"Somebody's Watching Me" by Rockwell
This iconic tune, released in 1984, is a great example of Rockwell's most prolific phase. The single describes Rockwell and his paranoia. It's electronic background and quick pace heightens the song's thrilling aspect. The music video accentuates this haunting single, depicting a paranoid fantasy, where he is haunted by a figure, who is disguised as the mailman but turns out to be a zombie. 
"The Ghosts of Beverly Drive" by Death Cab for Cutie 
The indie-rock song, "The Ghosts of Beverly Drive," despite its phantom-esque opening lyrics, appears reminiscent of the melancholy spirits of the 80's L.A. new wave. Therefore, when written, the ghost references were entirely to be interpreted in a metaphorical, non-paranormal sense. Nevertheless, its lyrics still offer an ominous tone to the piece, giving it some unearthly flair. 
"Don't Fear the Reaper" by Blue Oyster Cult 
This 1976 classic rock anthem was Blue Oyster Cult's first hit, released in 1976. Lead guitarist Buck Dharma wrote the song, which deals with the inevitability of death and his belief that we should not dread it. When Dharma wrote it, he was contemplating what would happen if he died at a young age. Would he be reunited with loved ones in the afterlife? The song may not sound creepy at first listen, but if one pays close attention to the lyrics, it becomes truly spine-chilling.