A Spring Break to Remember in Greece and Italy
I woke up after a restless night on Friday, April 12, my first day of spring break. I had been tossing and turning all night, excited for the day ahead of me. This was the day that I would embark on my world-language trip with my fellow students from school to Greece and Italy. A mix of exhilaration and anticipation bubbled up inside me as we boarded the seven-hour-long flight to Greece.
When we touched down in Athens and took our bus to the hotel, it hadn't yet sunk into my mind that I was in another country. I took in the surroundings. Practically every surface I could see was graffitied in one way or another. The combination of graffiti and a lush, green, mountainous landscape provided a stark contrast that was strangely beautiful.
Both Greece and Italy were loaded with history and culture. It's funny, though. Residents, here, in Haverford think Philadelphia is full of history (which it is), but Philadelphia is like an infant compared to Greece and Italy. Greece and Italy have massive buildings and ruins that are hundreds or thousands of years old. Staring up at the ancient churches, fountains, sculptures, and other edifices was breathtaking. I felt small as I looked up in wonder, contemplating how ancient societies could construct such great monuments with their limited level of technology.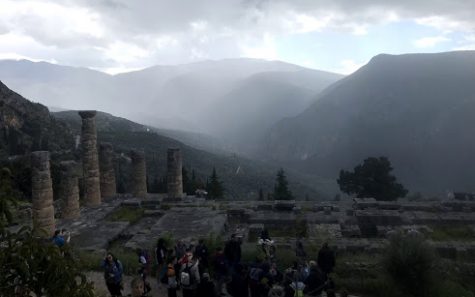 During our last night in Greece, my friends and I enjoyed a cultural evening. We were escorted to a farm where we watched how olive oil and other traditional Greek foods like tzatziki and moussaka were made. We had a fun evening of eating Greek delicacies, dancing with traditional Greek dancers, and partaking in the Greek custom of breaking plates. I have never experienced anything like it.
For the rest of the trip, we explored Italy. We kicked off our exploration in the beautiful seaside town of Sorrento, where we got a demonstration on how mozzarella cheese was produced in a farm. An elderly woman, Maria, kneaded the soft cheese by hand in the hot water as she had been doing since she was young. We had the opportunity to sample the cheese, along with other tidbits that the farm produced, such as olive oil, lemon, and orange marmalade. Throughout our stay in Italy, we were exposed to a variety of Italian cuisines, such as homemade pastas and fresh seafood, which we got to create ourselves on our final night. As we made our own pizza, rolling out the dough and spreading the sauce and cheese were harder than we had anticipated. Nevertheless, we were grateful that we had the opportunity to experience the intricate work that goes behind producing original Italian pizza. Consuming authentic Italian food like homemade pasta, pizza, and, of course, gelato everyday was something I could get used to.  
After leaving the farm in Sorrento, we spent the rest of our night in the town. The evening was like a scene out of a movie. The street lights were softly glowing and street musicians were playing as we strolled the cobblestone streets with our gelato in hand, visiting various vendors.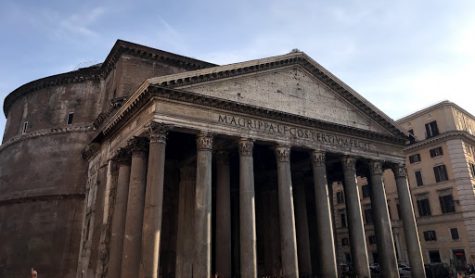 The final days of the trip focused primarily on history. We walked through the ruins of Pompeii and the Vatican City, gazing at the marvelous cathedrals and touring the Colosseum. The Colosseum was incredible.  The simple thought that such a massive structure used thousands of years ago remains standing today astonished me. While all sights were unique and amazing in their own right, the Colosseum stuck out to me the most. It was surreal seeing such an enormous and ancient ruin in the middle of a modern city, which was quite possibly my favorite part of the trip.
After a phenomenal trip to Italy and Greece during our spring break, none of us were truly ready to leave the beauty that we had experienced over the past few days. We woke up early on the last morning, made our way over to the airport, and said our goodbyes to our tour manager Joe, who helped make our trip remarkable. When we finally landed back home in Philadelphia, there were many heartfelt, teary-eyed reunions among us students and our families. Everyone was eager to tell their friends and family all about the trip. On the way home from the airport, I couldn't stop thinking about the extraordinary time I just had with all the beautiful sights I saw and friends I made along the way. This trip was truly an experience that I will never forget.
Even two months later, with my mind loaded with many things like assessments, homework, college, and jobs, I still find myself reminiscing on my trip. I still have vivid memories of the sights and sounds of Greece and Italy. I can still close my eyes and see myself standing in the Colosseum or in the Vatican. I made memories on this trip that I will hold close to my heart for years to come.