You Define Yourself: A Life Lesson From Tom Flacco
While listening to Tom Flacco, one cannot help but notice his etiquette and class. To many, the name "Flacco" is associated with high success in football. Joe Flacco, Tom's older brother, is a well-polished veteran quarterback in the National Football League. As of last month, this Super Bowl MVP winner is the new starting quarterback in Denver. Amidst these accomplishments by Joe, at the end of the day for Tom, "Flacco" is just his last name.
Tom Flacco grew up in southern New Jersey as the youngest of six. Flacco fondly remembers playing basketball with his siblings, thus gaining his competitive drive. Among them, each sibling showed exceptional athletic ability and intelligence; but most importantly, they showed character. Tom does not disappoint in this category. At many points in his interview with me for The Fordian, Flacco echoed sentiments from several well-known individuals. Flacco discussed his ability to stay in the moment, work-hard, and be a leader in the world.
Currently enrolled at Towson University, Flacco is working on his master's degree in applied information technology. This major uses the support and study of information systems to solve major challenges in today's work environment. As a quarterback for the Tigers, Flacco fits the perfect description for this field of jobs. Flacco states, "being a quarterback definitely correlates with being in leadership jobs. You control a lot of things [as a quarterback]. You're in control of what the linemen, wide receivers, and team as a whole is doing. You know what the team is capable of and need to go out and make sure you and others execute." Thus, with this work environment, Flacco will be able to incorporate his leadership skills learned on the football field. One should have no doubt of the success of future endeavors for Flacco. Leaders like him bring inspiration to many people in the world.  
Instead of advancing into the workforce, one may wonder if Flacco will follow the footsteps of his brother into the NFL. Although Flacco certainly has the skills and character of a professional quarterback, he humbly shied away from an answer when I asked him of this. Flacco replied, "I focus on what I can focus on". Flacco acknowledges that he cannot control the opinions of others on him. In truth, the only thing he can control is his own skill level and grit. Ultimately, he wants to "be the best at what he does," but if that does not result in his name being called on draft day, so be it. Before he thinks about playing professionally, he plans on finishing his last year of eligibility.
In the midst of his success on the football field, one may think the success of Joe overshadows his. However, Flacco does not note any changes in his expectations due to his brother. He states, "Being brothers with Joe does not affect my standards." Just like any sibling relationship, Joe is his own person and has been molded by his own unique experiences.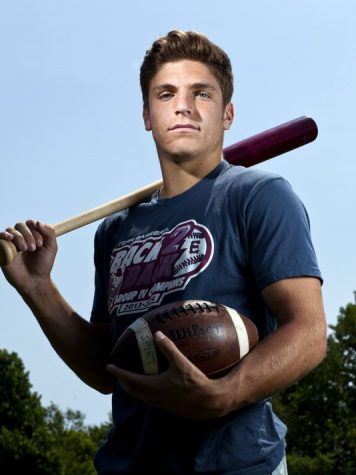 If his expertise in football is not enough to earn the young successful quarterback respect, his skill on the baseball diamond might. During his senior year of high school, he batted .506 with eight doubles, six triples and 30 RBIs. This production led him to being drafted by the Phillies in the 2014 MLB Draft.  In spite of his success in baseball, he chose to pursue football instead. To be a Division 1 athlete in one sport is impressive, but to also hold the high position in two other sports is almost inconceivable.
Students can learn the invaluable lesson from Tom Flacco that they should draw their own unique paths in life. Boasting an impressive resume – fifth for the Walter Payton Award, third place in HERO Sports, ECAC Offensive Player of the Year, CAA Offensive Player of the Year, and All-CAA First Team honors – Flacco remains humble.  During his interview with me, he emphasized that being happy is the most significant component of success for him. Flacco does not believe his name will give him access to happiness, but the ability to define himself will. In other words, his happiness is defined by his own standards and personal achievements and not his ability to replicate his brother's success or live up to the expectations of others.