Haverford's Hi-Q Team Secures Another Victory in a Competitive Match
Gina Ngo, Editor-in-Chief
January 13, 2019
Haverford High School's Hi-Q team attained another victory in their second competition of the season against Valley Forge and Sun Valley in front of many fellow classmates, who cheered on the two-time championship team in Haverford's auditorium, on Monday, January 7.  The home team scored 42 points, in competition with Valley Forge's 30 points and Sun Valley's 26 points.
Although strong nerves were present before their competition due to the fact that members were going to compete at their home stage in front their teachers and classmates, the unwavering spirit of the team and their hard work in the past few months have earned them another win.  
"With a completely new and fresh team, we had a lot of pressure going into the season, but thankfully we have great team chemistry," June Park, a junior and member of the Haverford Hi-Q team, said.  "The first few meets have been competitive, but we've worked hard for each meet and produced great results."
With just one more regular meet against teams from Radnor and Delco Christian approaching on January 30, the Fords have a final chance to shine and accumulate as many points as possible before the semi-finals and championship competitions.  In the meantime, the Fords will continue grinding on their studies to secure another victory against tough competition in a few weeks, so that they can earn a spot in the semi-finals and championship rounds.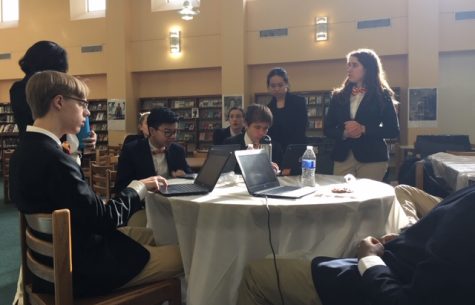 "For our next meet, we're going to work even harder because that's what this team is about.  Even if we're the best, we're going to work hard to be even better, because this season is about competing with ourselves," June Park added.  "Our goal, as always, is to bring home the victory and keep the national winner title streak alive!"
With its unfaltering enthusiasm and persistence, the Haverford Hi-Q team aims to make its fellow Fords proud and end the highly competitive season with triumph.