Look out! Sudden Changes Surround Haverford Drama Club's "Little Shop of Horrors"
Haverford High School's Drama Club will perform the musical Little Shop of Horrors as its fall showcase.  The show will premiere the weekend after Thanksgiving, on Thursday, November 29 at 7:00 p.m., Friday, November 30 at 7:00 p.m., and Saturday, December 1 at 2:00 p.m. and 7:00 p.m.  Student and senior tickets are $8, and general admission is $10.
The lead role of Seymour Krelborn, an awkward and dorky plant enthusiast, is brought to life by junior Jack O'Leary.  The leading lady, Audrey, a sweet girl suffering an abusive relationship with dentist Orin Scrivello, D.D.S, played by senior Matthew Monteleone, will be played by junior Grazia Larosa.  Some other major characters include Mushnik, the disgruntled, penny-pinching flower shop owner played by sophomore Shane Leinhauser, and the Ronnettes, a sassy girl group of school dropouts that act as a Greek Chorus.  The Ronnettes will be played by juniors Pammie Cobaugh, Annajean Gionta, Noel Guidetti, Liz Joslin, Haley Short, and senior Abby Kesselman.
Despite the talent of this young cast, adult direction and supervision are crucial in bringing success to high school dramatic productions.  Due to complications with the previous director, this year's directorial staff has undergone major changes. The entire staff has been reconstructed with new members in every position.  The new leadership adds a new face to Haverford School District – Sarah DeNight as director, as well as Haverford alumni, with Ali Caiazzo as stage manager, Jared Gross as music director, Tristan Horan as tech director, and Jenna Rogalski as choreographer.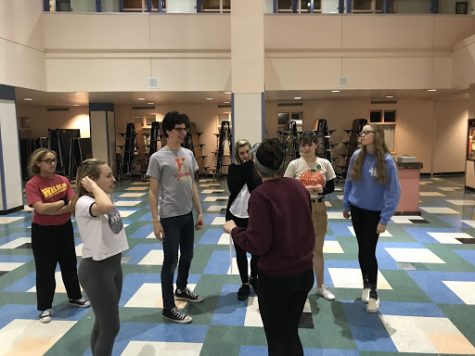 Abby Kesselman, Drama Club President and senior, who has participated in six shows of the Drama Club, had positive views about the changes.  "We really make good use of the time that we have," said Kesselman. "It's really nice to have an adult to answer to in every area, and in general, they make rehearsal really fun."
Head of the costume committee, junior Georgia Evans, who selects costumes for the cast and acts in the shows, agreed that the new staff does make rehearsal a fun and enjoyable experience for the cast.  She added, "I feel like it's been so smooth and organized, much more than last year."In general, the consensus among the Drama Club members is overwhelmingly positive with support and praise for the new staff.  The club is looking forward to many more efficient and positive show experiences in the future with the new leadership.
Little Shop of Horrors will premiere Thursday, November 29 at 7:00 p.m., with three more shows following on Friday November 30 at 7:00 p.m., and Saturday, December 1 at 2:00 p.m. and 7:00 p.m.  Tickets are on sale to the public now; they are $8 for students and seniors, and $10 for general admission. Tickets are available on Haverford Drama Club's website or in the link directly to the ticket site.
Haverford Drama Club's Website: https://sites.google.com/view/haverforddramaclub/home
Ticket Website: https://haverforddrama.ludus.com/index.php