Young Women Share Their Views on Sexy Halloween Costumes in Fishbowl Discussion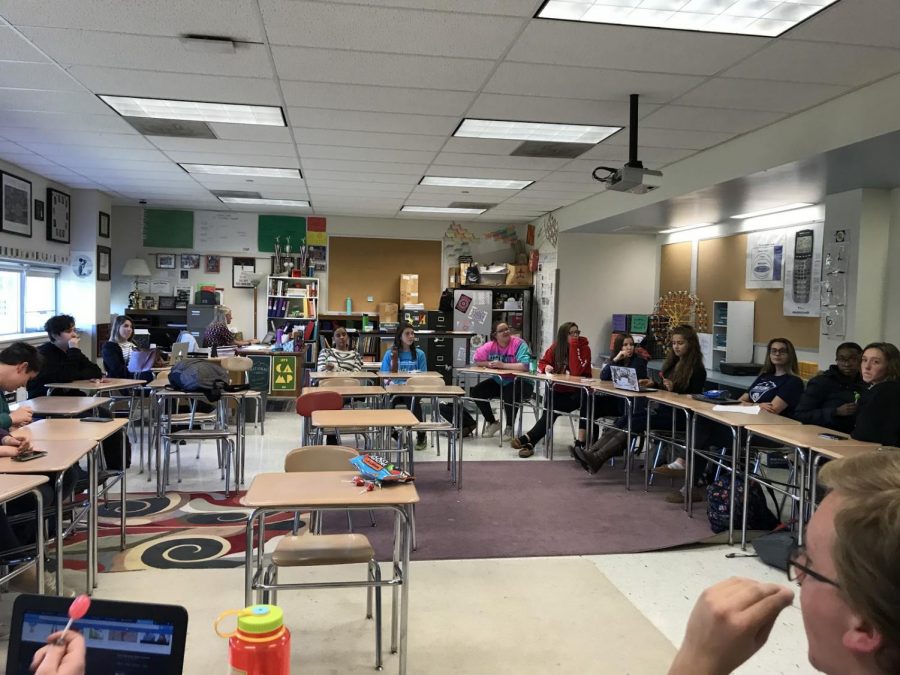 Haverford's Girl Up, a female empowerment club, kicked off the year with its first discussion on Monday, October 22.  With the end of October approaching, the topic was Halloween— the time of pumpkin carving, candy, and of course, costumes. This fishbowl discussion covered the topic of "Sexy Halloween Costumes."
Some of the questions posed during this discussion were, "What makes a costume sexy?", "Are girls limited by choice in costumes?", "Does peer pressure play into the desire to wear a sexy costume?", "Is wearing a sexy costume liberating or demeaning?", and "Should women be steered away from wearing sexy costumes?"
Many students contributed their opinions.  Several agreed that girls have little to no choice when it comes to Halloween costumes. Most women's costumes, as discussed, were meant to be worn at parties, not for trick-or-treating. Thus, girls and young women who want to participate in trick-or-treating, whether by themselves or with a friend or relative, are very limited in their choice of costumes.
The club also discussed the fact that the sexualization of women is beginning earlier in life than ever before, especially with Halloween costumes.
"It's getting younger and younger," said senior Maya Mendoza, "I've seen preteen costumes with short tutus and fishnets."
This observation was concerning for many people.  Junior Georgia Evans, President of the club, said, "I saw a sexy girl scout costume. Girl scouts are young, so it's a particularly weird thing to sexualize."
Along with this topic arose the controversy that women are much too sexualized by culture. For example, in an online search for "Women's Halloween costumes", the first results that appear all fall into the "sexy" category.  Some of the top results were "Sexy Dorothy of Oz", "Sexy Bunny Tux", and "Sexy Police Officer."  Very few of the costumes were non-sexualized.
On the other hand, in a search for "Men's Halloween costumes", less controversial results are retrieved and the list includes results such as, "Men's Realistic Robin Hood Costume", "Men's Pirate Costume", and "Men's SWAT Team Costume".  In contrast to women's costumes, hardly any of the men's costumes are sexualized.
Given that it is difficult to find a woman's costume that may not be "sexy", the participants deliberated on whether girls were forced into wearing these costumes.  Some believed that girls are forced into wearing these costumes due to immense pressure from media and peers.
"No one wants to be that one person in the group who won't wear the costume", said Girl Up Vice President Alana McCaffrey.
The group did agree that this pressure was negative and that girls should not be forced to wear anything they don't want to wear.
Despite feeling peer-pressured by today's culture to dress a certain way, some women find "sexy" Halloween costumes liberating.  One of the main arguments is that the choice of dress varies from one woman to another. McCaffrey took a poll to determine how many young women in the discussion felt that it was either liberating or demeaning.
The general consensus among the participants was that it depends on each individual woman's style and comfort in what they wear.  Some women feel confident in "sexy" costumes, while others don't. Women shouldn't be shamed either way for choosing to wear what makes them feel confident and comfortable.  Junior Jakob Gibson summed up the discussion, "You shouldn't be shamed for it, and you shouldn't be forced into it."
The next Girl Up meeting will be held on Tuesday, November 13 in room 335.  The plans for the meeting are to introduce the goals for November and discuss the next influential "Woman of the Month".