The Next Best Thing in Alt Music: Billie Eilish
Alternative musician Billie Eilish has already made a name for herself at the young age of 15. Ever since her song "Ocean Eyes" became a hit, she has been on the rise in the music industry.  Eilish's music embodies her spunk, angst, and youthful personality. She writes frank and bold lyrics about not only her own experiences, but what other people may have gone through that she hasn't. She simply puts it as, "I'm writing about the way I feel or the way I haven't felt before". Eilish's brazen, personality can also be shown more candidly through her tweets. An example being one that reads, "breaking people feels great". This year, she released her debut EP don't smile at me, and even sold out her first ever tour, in which I was lucky enough to attend.
Watching Billie perform live gave me a clearer image of her quirky, "I don't care" energy that she puts into her music. She started out her show with the theme song from TV show, The Office that transitioned into her song "copycat". Eilish made quite an entrance by taking that well known light, melodic tune and then abruptly falling into the hard bass of "copycat".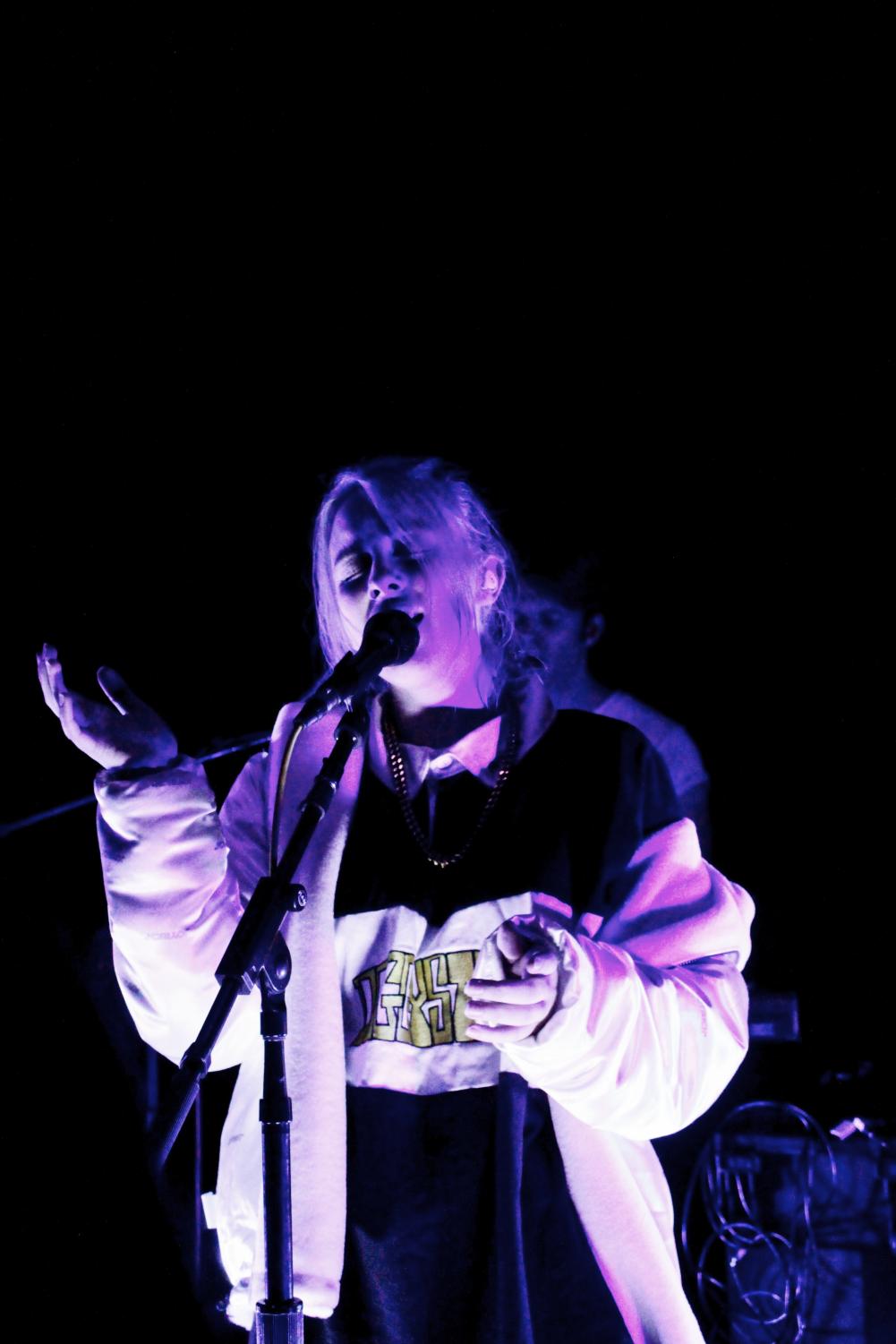 Through the show I noticed she loves adding little twists to her music to keep the audience captivated, and talking to them as well. Billie definitely has youthful and provocative mannerisms when speaking, which goes to show that she isn't about being squeaky clean. She accepts and even loves being flawed and audacious and isn't about covering up who you truly are. Billie brings such life to her music through her stage presence as well. She is visibly not content with just standing still and singing. She jumps all over the  place and her body flows with the beat of the music, and the audience follows along. Overall, this concert was a great experience. Even though I went to this show alone, I felt as if I coexisted with the people around me. We all shared the same empowerment which all originated from the amazing vocals from Billie Eilish herself.
But before I go, one last honorable mention about Miss Eilish: her fashion choices.
Billie's eccentric, 90's hip-hop esque clothing really embodies her as a person. She pushes the boundaries with mixing different colors and layering like crazy. Her outfits are almost always baggy and long on her, then matched with bright greens and yellows, and topped off with a puffy winter coat (no matter what the season is). When I first found Billie, her aesthetic made me wonder, "Who is this girl? I want to know more about her.". I believe because of her unique style, she is much more likely to grab a prospective fan's attention. Aesthetic and fashion can really mean the difference between someone listening to an artist's music and not. Eilish's funky looks really show how visuals play a huge part in making a name for yourself in the world of music.