All Hands on Tech! – The Technical Side of Once Upon a Mattress
With the opening of Haverford Drama's fall production of Once Upon a Mattress quickly approaching, the entire team behind the show has been whipped into a frenzy. However, no aspect of the club has been quite as diligent in this final hour as the Tech Crew.
Set wise, this show has proven to be a bit different from past productions. Set designer and senior student Olivia DeMarco explained that her main concern when designing for Once Upon a Mattress was mobility.
"To fill this need I thought, what if we did a sort of illusion hallway where we would have a wall behind and two slanted walls so that it would appear to be like a corridor in a castle?" said DeMarco.
This type of design is a first in Haverford Drama history, making it an interesting change for both the Tech Crew and the actors.
The execution of this design has been time consuming and strenuous, but the product is both dynamic, and eye-catching. The set features pseudo-stained glass windows (one of Liv's personal favorites), regal banners, and a complete faux stone facade.
Members of Tech Crew show a deserved pride in this work.
"We're a lot further along at this point than we have been in previous years. The set is basically up and finished," said junior member, Taylor Wren. "All we're doing now is painting little details."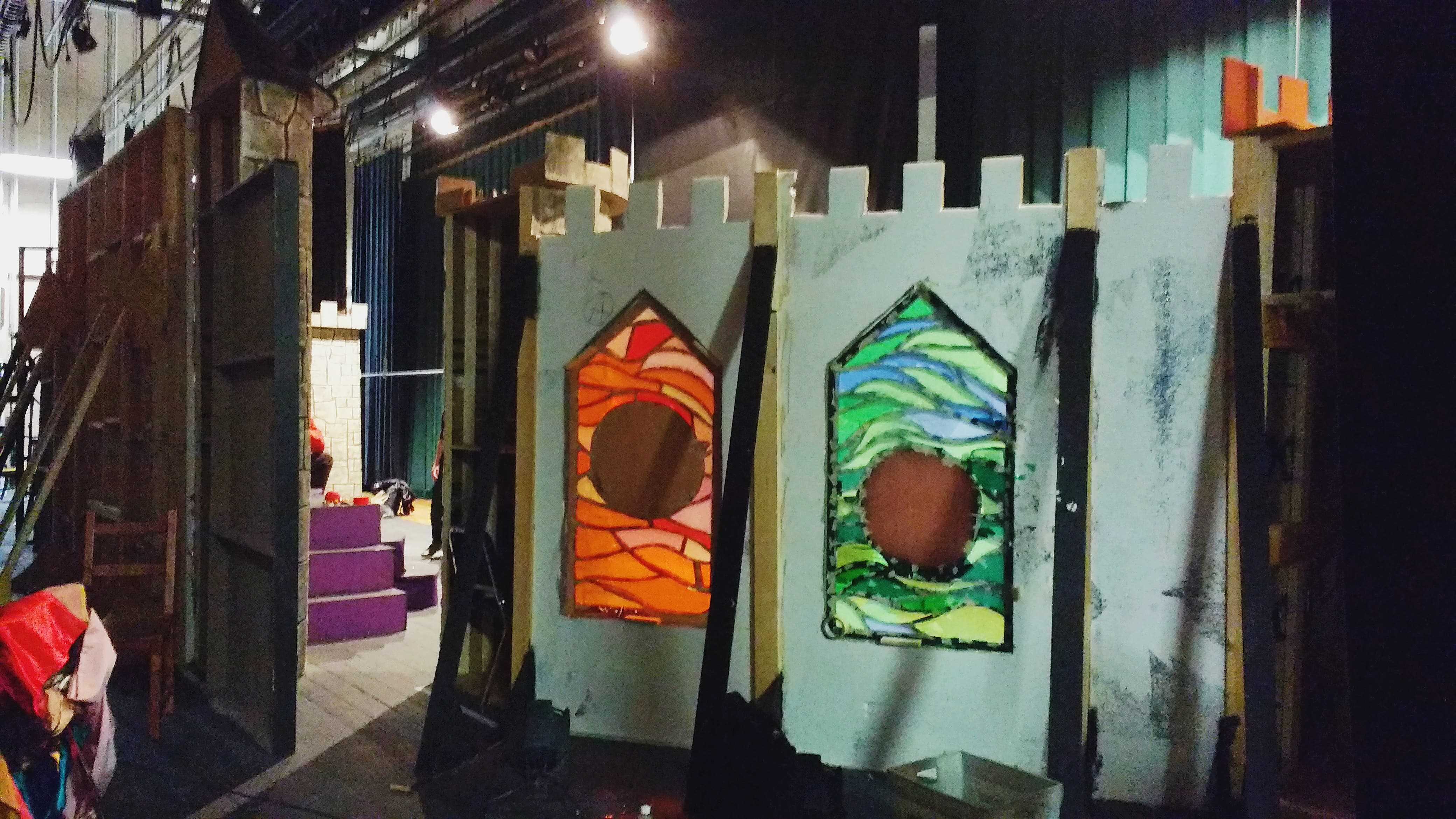 Taylor attributes this timely progress to the new Tech Director, Mr. Corsi.
"Mr. Corsi knows a lot about carpentry as a teacher of wood shop and architectural design, which has been really helpful."
Mr. Corsi, a newcomer to Haverford Drama and the process of theater production as a whole, expressed his amazement with the primarily student run Tech Crew.
"The best part is seeing how busy the kids are….how hard they work, how knowledgeable they are, how well they do their jobs." said Corsi.
Describing the new position as an enjoyable learning experience, Mr. Corsi and his battalion of talented students both look forward to his leadership in the near future.
Even though the preparation for Once Upon a Mattress  is nearly finished, the excitement among Tech Crew seems to have risen to a palpable level. After all, the shows themselves are what over one hundred students and dedicated faculty have been working towards for upwards of two months.
"That's when a lot of the memories are made where months later you look back on the show and go, 'Oh, remember when that happened?'" remarked Taylor Wren.
With opening night this Friday, December 2nd at 7pm, one can only hope for the creation of many new memories.