"The Love Of Three Oranges" impresses and delights
Students shine in weekend production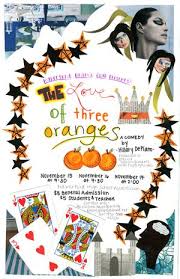 A sign on the auditorium door that read something similar to "Scents and flashing lights used in the production of this comedy" prepared audience members for what they were about to experience: an impressive display of talented actors and actresses who worked off of the audience's engagement, as well as the behind-the-scenes work of the tech crew, who integrated advanced sensory elements into this weekend's production of "The Love of Three Oranges".
Talking with the actors and members of tech crew backstage early Friday evening provided a better understanding of the tangible chemistry on display later that night.
"[The community] is probably my favorite part about being in this show. There is something about [Haverford] that is different from other plays and theater troupes that I have been in. We have such a short amount of time- it's very stressful and consolidated. When it comes together and works so fluidly- it's a really great feeling" commented senior Ian Anstee.
The comedy opened with a prologue featuring a string-ensemble arrangement of Queen's "Bohemian Rhapsody" along with the lead actor Scott Berkowitz, playing the narrator, in direct conversation with the audience, setting up the opening scenes of the production. On a side note: Berkowitz's character was integrated excellently into the plot of the story. He controlled the actions of the characters with a clap of his hands, which was clever and enjoyable to watch.
The stage was sparsely decorated, save for a large storybook as the visual centerpiece, with smaller, mobile stage pieces used for specific scenes. Lighting and audio cues added to the overall technical aspect of the production.
The plot revolves around King Silvio (Scott Collins), Pantalone (Jake DeWerth-Jaffe) and Prince Tartaglia (Ian Anstee ) as Silvio decides how to best save his kingdom with the ailing Tartaglia under his care.
Senior Scott Collins delivered a thoroughly enjoyable performance, made more impressive as "Love" was his debut on the Haverford stage. Drama Club veterans Ian Anstee, Justin Strupczewski, and Andrew DePaul delivered solid performances, each actor's strengths lying in their delivery of lines and development of their respective characters within the storyline.
Sophomore Gabe Klee proved to be an audience favorite. His character found himself in a few unfortunate situations, and always managed to make the audience laugh with reactions to what was unfolding on stage.
Opening night brought a few minor hurdles to overcome, but overall the cast and crew of "The Love of Three Oranges" presented a hilarious and professional comedy on a tight schedule. The packed auditorium and laughter that filled the air was evidence of a job well done.
The Drama Club presents their production of "Cinderella" this spring.
For more information on the Drama Club click here.

Leave a Comment