Radio Station ends big year with 'Big Show'
May 31, 2015
This past Saturday, May 30th, WHHS, Haverford's radio station, hosted the final coffeehouse concert and show of the year with the 'Big Show' at Merry Place park right here in good ole' Havertown. WHHS ended a busy year with the annual 'Big Show' that featured various musical acts, activities, food, drink, merriment, jollity, and a great, somewhat edgy, atmosphere.
The 'Big Show' featured musical acts from Moon Days, Front Yards, Verse, Sophia Ryan, Dylan Winoski, and the Stephen Lang Jazz Quartet. Throughout the night, the station's final concert showcased a variety of musical styles and genres which ranged from acoustic vocal arrangements, to mellow sounds from the flute, to solo bass. But the show also entertained with various activities and the amenities Merry Place park provides. WHHS sponsored t-shirt tie dyeing a water balloon toss that featured a megaphone.
WHHS closes their year of coffeehouses with many accomplishments such as holding a 65 birthday coffeehouse, a partnership with iradiophilly at the annual Evening of Jazz, and a big transition in concert venue from the Haverford Township Public Library now to the CREC building at the Haverford Reserve. The station also has plans to finish the full implementation of a second broadcasting and recording studio in the station, and to start live streaming thanks to a grant from the Haverford Education Foundation.
With the ending of coffeehouses for this school year, the radio station leaves behind many new improvements and plans for the future to continue to enable a unique community at Haverford.
The Fordian would like to thank Dana Kaufhold and Kate Huangpu for taking some of the pictures above at the event. We would also like to express our appreciation for all of the work the station's student leadership put into not only this show, but those from throughout the year that have made these events so memorable.
Specifically, The Fordian owes a huge thanks to General Manager of the station, Junior Dylan Winoski, for not only all of his work (that not many appreciated) at the 'Big Show' and his cooperation with The Fordian's coverage of all things radio.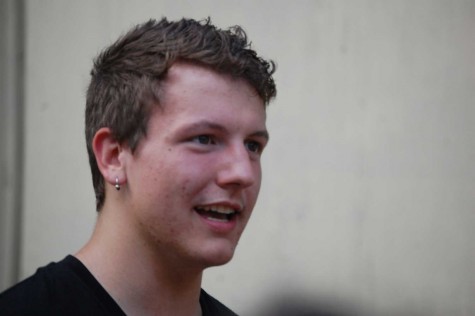 Pictures of some of the musical acts:
Moon Days –
Front Yards –
Verse –