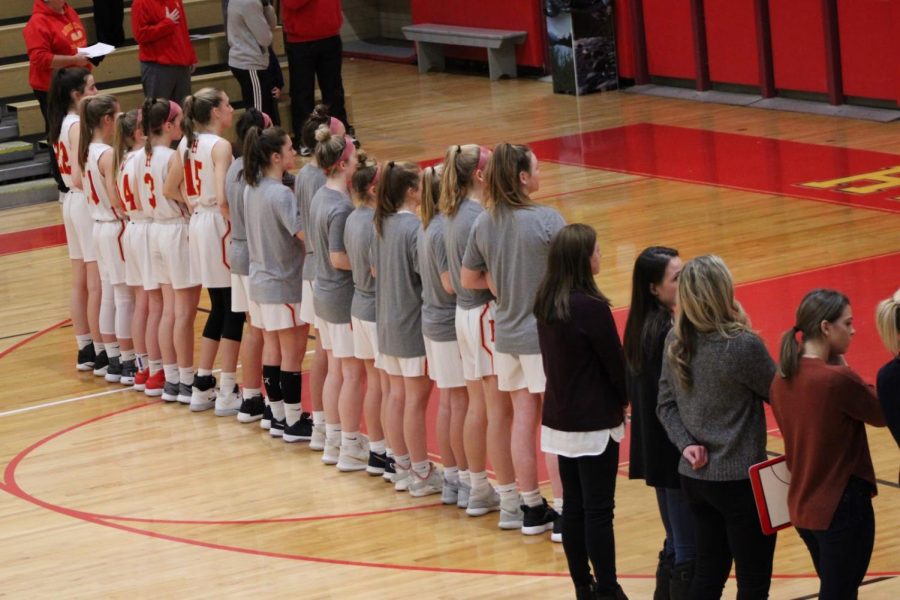 Shane Rowland
HAVERFORD – The girls varsity basketball team hosted the Haverford High School Hall of Fame Tournament to kick off their season. They lost a close game on Friday, December 6, to Nazareth Area 21-27 despite 10 points from junior Chiara MacGillivray. 
The Fords bounced back in the consolation game against Audenried Charter on Sunday, December 8, and soundly beat them 47-16. Haverford had a strong inside presence against Audenried, with post players freshman Caroline Dotsey and junior Hannah Clancy scoring 12 and 8 points respectively. 
"After graduating nine seniors last season, this year's team has a nice blend of returning upperclassmen who are getting their first taste of varsity experience as well as a handful of talented newcomers," said Haverford varsity head coach Lauren Pellicane. 
Haverford's varsity and junior varsity teams opened Central League play at home versus Lower Merion on December 10. The Aces had no answer for either of the Haverford squads. 
The junior varsity team secured a comfortable win, with a final score of 42-12, and later that night, the varsity team decisively beat the Aces 58-30. Junior Addison Brodnik and sophomore Emma Rowland both contributed 12 points, and freshman Caroline Dotsey chipped in with 10. 
Coach Pellicane was excited to see her young team get off to a good start. "Despite our inexperience, I think this team will surprise some people this year. We are taking one game at a time but our players come ready to compete and support one another. It's been a really fun group to coach," she said. 
The next home games for the Lady Fords are Saturday, January 11 at noon against Radnor and Thursday, January 16 at 7:30 against Springfield.