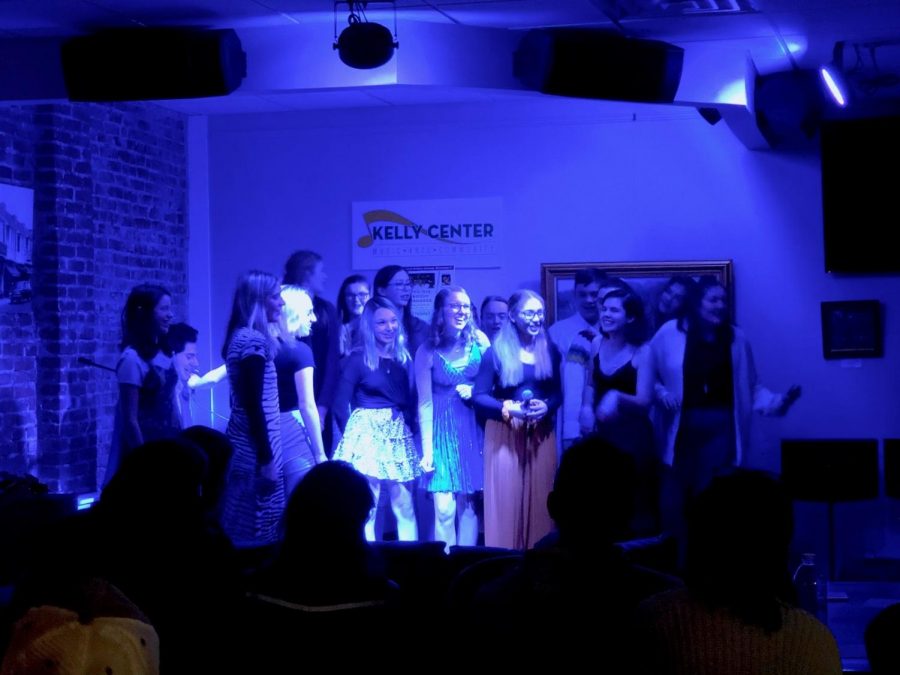 Elizabeth Wolfe
Crowds gathered at Kelly Music Center on Friday, December 13 to enjoy an evening of entertainment provided by Haverford's Drama Club members in their Winter Showcase. The purpose of the event was for students in the theatre program to display their individual talents between the productions of the fall and spring musicals. The Winter Showcase was held at one of Havertown's newest music venues, Kelly Music Center, which also sells refreshments inside at the New Avenue Cafe. The audience enjoyed an evening of talented young singers accompanied by a warm environment filled with music and coffee.
To start, a member of the Kelly Music association welcomed everyone to the event before handing the microphone over to Annajean Gionta, president of Haverford's Drama Club. After her opening remarks, Gionta introduced the first act, Haley Short (Grade 12) who opened with "What Baking Can Do" from the musical, Waitress. Although the selections for the performances were mostly dominated by songs from musicals, there was much diversity ranging from the popular Broadway musical, Mean Girls, to a song by country-pop singer, Kacey Musgraves.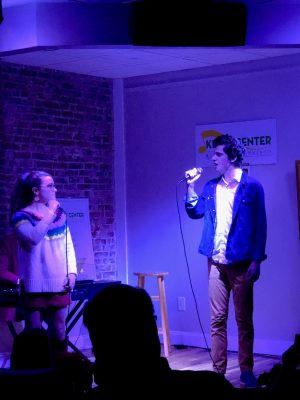 Some highlights of the evening include the very expressive performances by freshman Kateri Simmons and junior Brie Spade. Simmons, singing "I'm Sorry" by Kerrigan and Lowdermilk, got the audience snapping along, and Spade's humor-filled execution of "Andy's Song" by Joe Iconis, received some giggles from the audience. Throughout the event, senior Tommy Barnes was the keyboard player, providing live accompaniment to many performers. Closing the individual acts of the show was senior Pammie Cobaugh who performed a country-style song called "Suds in the Bucket" by Sara Evans. Along with her strong voice, Cobaugh incorporated dance moves into her performance and had the crowd clapping along.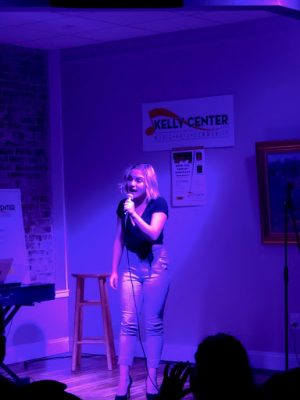 For the final act of the Winter Showcase, many members of Drama Club, including some who did not perform individually, gathered on stage to perform "Mamma Mia" from the musical, Mamma Mia, which was accompanied by senior, Jack O'Leary on keyboard. O'Leary offered his perspective on the event, saying, "I really like Winter Showcase because it gives all members of Drama Club a chance to perform any song they want and show off their individual talents."
"My favorite part about Winter Showcase is that we can hear the other voices of Drama Club who we don't always get to hear or see perform during the [fall and winter] shows. It's for anyone and everyone," said Gionta.
Upcoming Drama Club Performances: the musical, 9 to 5, March 12-14, 2020