Combined No-Hitter Pushes Fords Past Upper Darby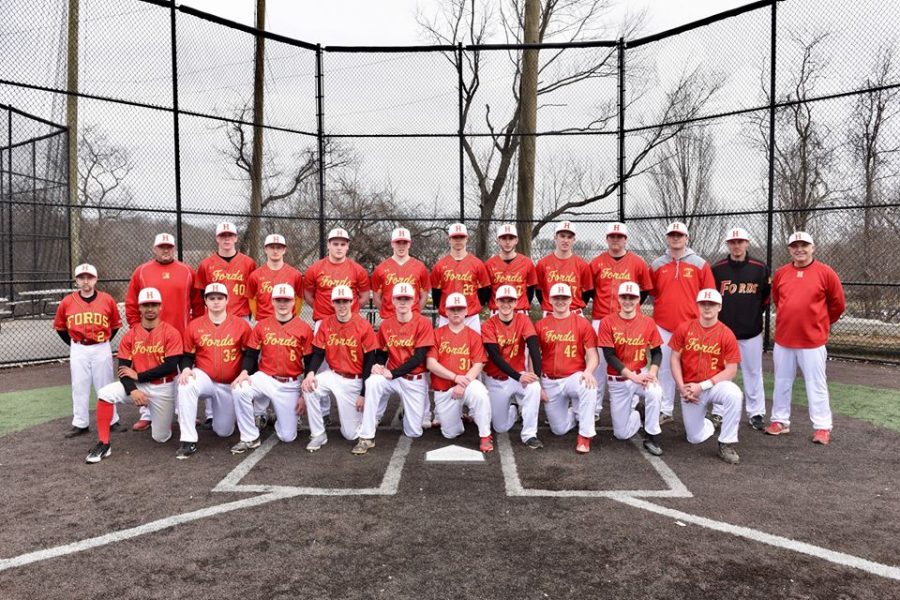 Tom Mann, Contributor
October 24, 2018
Thanks to a late-inning offensive explosion and a combined no-hitter from Tom Mann, Nick Sammartino, and Daymond Purdy, the fall baseball team came out victorious over Upper Darby in their recent match up.  The Fords' team took on Upper Darby on Sunday, October 21, in their fourth meeting of the fall.
The scoring opened in the first inning after a shaky start on the mound from Mann, when junior Adam Stuck doubled home senior Thomas Zukowski. Stuck's RBI double proved to be the winning hit, thanks to the combined pitching effort from the Fords.
After striking out the side in the second inning, Haverford went down quietly in their half of the second. Tom Mann finished his pitching outing after the third inning, recording six strikeouts, four walks, no hits, and no runs.
Junior Nick Sammartino took the mound in the fourth inning. He used an accurate fastball and an unhittable curveball to retire the side. The Fords added onto their one run lead in the bottom of the fourth inning when junior Matteo Gonzalez and senior captain Pat Lindner crossed the plate.
Sammartino took the mound for the fifth and sixth inning, once again locating his fastball and fooling batters with his curveball to keep the no-hitter intact. The Fords headed into the dugout leading by three runs after the top of the sixth inning.
The bats finally woke up for the Fords in the bottom of the sixth. The Fords pushed seven runs across the plate thanks to smart and patient at bats and great base running. The inning was capped off by doubles from captain Simon Curry and Tom Mann.
Junior Daymond Purdy took the mound in the seventh inning to close the game out. Purdy left no doubt, recording a one, two, three inning. Haverford added a 10-0 shutout victory to their resumé.
Reflecting on the team's success, Curry said, "It was an all-around team effort, and we finally woke the rakes up."
Adam Stuck gave credit to the Fords's bats when talking about the win. "We only take daddy-hacks, Pat (Lindner) had two, Matteo had one, TK (Tom Mann) had one, and I had one."
The Fords look to carry this momentum when they take on the Harriton Rams on Thursday, October 25. The Fords baseball team starts regular season play in March, and will look to contend for their first Central League Championship since 1995.